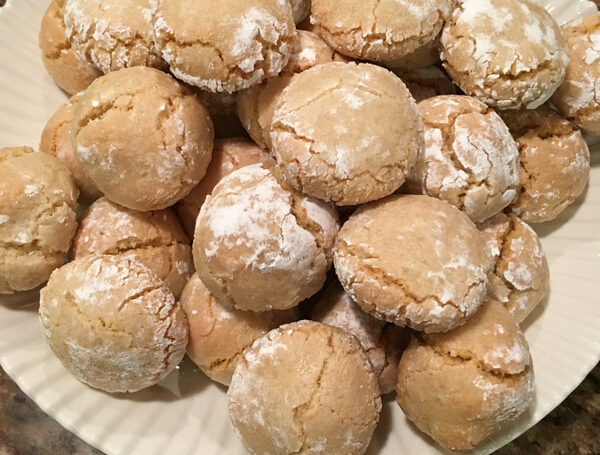 Almond Amaretti
My grandfather, Francesco, was a burly, strong man, both in physic and character. Having suffered throat cancer, he used a microphone-line contraption placed near his voice box to talk. As a young child growing up, I always found this interesting and somewhat mysterious. Despite what some might call a handicap to his voice, he certainly got his point across during an argument or conversation. Having to speak this way certainly didn't limit his desire to talk, or even want to argue with you about mundane topics!

One aspect about his character that I found somewhat amusing was his sweet tooth. For such a strong person, one would think sweets wouldn't be his thing, but they sure were! He was especially fond of two items, Perugina "Grifo" chocolates, and Amaretti cookies. The Grifo are small, solid chocolates that come both in milk and dark varieties. They are plain, and there's nothing extravagant about them. I would equate them to our plain Hersey Kisses. He had a tendency to hide a handful of these in his nightstand and would munch on them in the middle of the night. When my family would visit my grandparents, who lived just a few steps from our own home, my sister and I would often sneak to their bedroom and head straight to that nightstand. Opening the drawer, you'd be greeted with the scent of freshly laundered man's underwear, and white ribbed undershirts that Italian men are still known for wearing. But tucked at the corner, out of sight, or so he thought, we would always find the coveted Grifo. We would always sneak just one or two each and munch on them quickly. He wasn't known for generosity, so he really didn't like sharing these!

His other favored treats were the Amaretti cookies purchased from the pasticceria. Growing up during war times, luxuries such as cookies and chocolates weren't an everyday treat. And our small town didn't have a bakery. But he would often have to travel to Catanzaro, our largest city neary by, and visit a doctor for his ailments. On his way back from the doctors, he would stop at the bakery and purchase just a few Amaretti that he, and just he, would enjoy. At the bakery, they would also add Grifo chocolates to his tray, as is typical even today to have them "throw in" these little chocolates when preparing take-away trays. So the two always go hand in hand.

Amaretti and Grifo Chocolates for me will always be nostalgic. I'll never be able to have either without thinking of my grandfather Francesco (or Ciccio, as the name is often abbreviated to), my namesake.

One can make Amaretti in a variety of ways, either using almond flour or the much sweeter almond paste. I prefer using the flour. It gives the cookies a much less sweeter aftertaste and the consistency is far less chewy. The top will crack a bit, as is typical of this cookie. You could also make them using very fine ground hazelnuts. And while also delicious, the traditional flavor is almond.
Almond Amaretti
Depending on size, this recipe makes 40+ Amaretti

Ingredients
5 cups almond flour
1 1/3 cups granulated sugar
5 large egg whites
1 tablespoon pure almond extract
Approximately 1 cup powdered sugar

Instructions
In a large mixing bowl add the flour and sugar and mix well using a fork or clean fingers. Mix so that the sugar blends well with the flour and is almost unnoticeable in the mix.
In another large bowl, beat the egg whites with a hand-held whisk. Whisk until bubbles form and whites are very airy.
Add the almond extract and continue mixing until whites are fully infused with the extract.
Add the egg white mixture into the bowl with the dry ingredients and mix through using a large spoon.
Once it's starting to bind, use your hands to combine everything even further until everything mixes really well together. (If it's too sticky, you can add additional almond flour.) Let dough rest for 1 hour in the fridge or even counter. Preheat the oven to 350 degrees.
Using a cookie scoop or two spoons, make small round balls, roll between your hands to assure they are all perfectly round. Drop the cookies in the powdered sugar and coat in sugar. Place cookies on a cookie sheet that has been lined with parchment paper.
Slightly flatten the balls with your hands. Bake for about 17 minutes, but check at around the 15-minute mark as oven vary. (Variations: you can add an almond or candied cherry on top for decorations.)
TRAVEL WITH US IN 2023! CLICK LINKS BELOW FOR ALL THE INFO!
THE TUSCAN COUNTRYSIDE: MAY 6 – MAY 13, 2023.
BOLOGNA and EMILIA ROMAGNA: MAY 14 – 21, 2023
THE AMALFI COAST: MAY 22 – 29, 2023
CALABRIA: SEPTEMBER 1 – 8, 2023
PUGLIA: SEPTEMBER 9 – 16, 2023
CHRISTMASTIME IN TUSCANY: DECEMBER 3- 10, 2023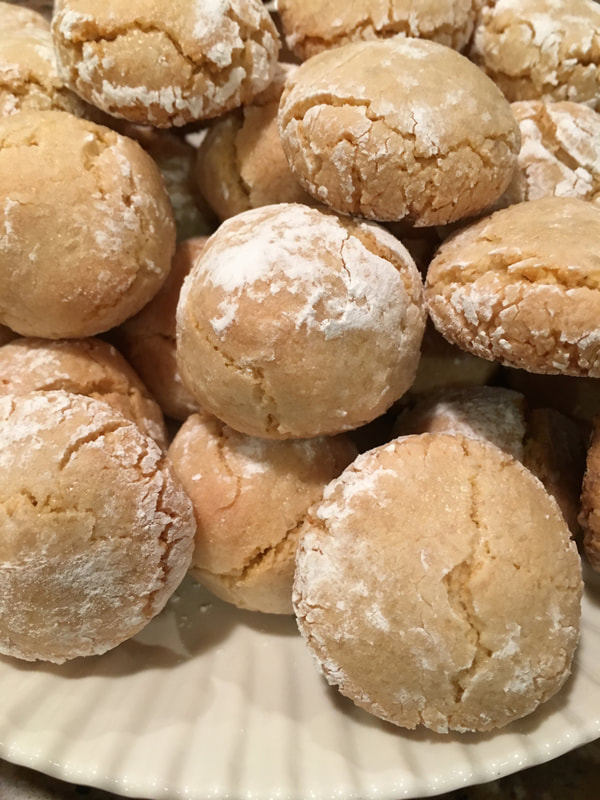 Cosa Mettere in Valigia per l'Italia
Everyone is always asking me what they should pack for Italy,
so I've created a quick reference guide that you can use for your next trip.
Hint: You don't need nearly as much as you think you do!