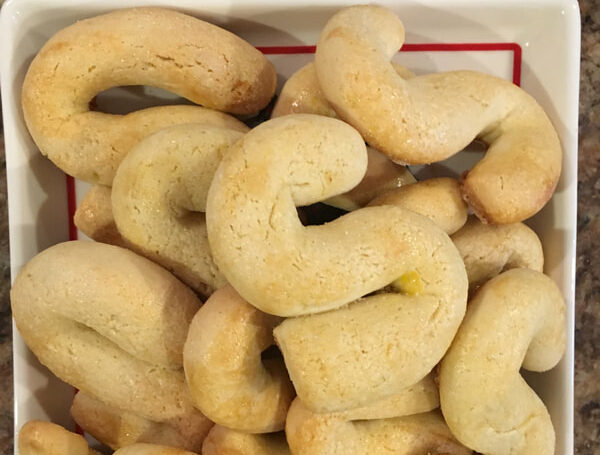 Mom's Italian "S" Cookies
While growing up in Calabria, I was blessed that my mom was a stay-at-home mom. I didn't realize what a privilege this was until we moved here to the States and she become a "working mother." Don't get me wrong, I love that my mother immediately adjusted to our new life in the US, and she had a nice job in banking, but I did miss having her home when I returned from school! Oh sigh…..
I was spoiled, no doubt about it. My school was located directly across from our home (the town I grew up in was very small!), and school let out about 12:30, and I headed straight home to a nice home-cooked meal! No PB & J for this kid, it was a full meal, with dessert afterwards! What's a stay-at-home mom to do in Southern Italy? Cook and bake the day away! And she always did it with LOVE.
I recall her "S" cookies very fondly because she made them very often, sometimes 2-3 times a week! We would have them for our morning snack in school, sometimes for breakfast, or even for dessert! These are ideal for breakfast because they are very plain, not overly sweet and very simple. Even her older parents loved them. As is typical in older Southern recipes, these call for oil instead of butter. Oil was (and still is) the fat of choice in the South so this isn't too shocking. Use the "extra light tasting" oil in this to avoid the strong scent and flavor typically found in EVOO.
Ideal for afternoon tea or dunking in a nice cup of espresso in the morning, these simple cookies are sure to delight your palates. 
Mom's Italian "S" cookies
​Depending on the size, this recipe makes anywhere from 40 – 60 cookies!
​Ingredients
4 1/2 cups all purpose flour
2 teaspoons baking powder
4 large eggs, plus 1 additional egg for the topping 
1 cup granulated sugar plus extra for topping
3/4 cup light tasting olive oil
zest of one lemon or one orange (or both for extra flavor!) 
Directions
1) Preheat the oven to 375 degrees.
2) Prepare several baking sheets by lining them with parchment paper and set aside. 
3) Whisk together the flour and baking powder in a large bowl and  set aside.
4) Using a stand mixer, combine 4 eggs, sugar, oil and zest. Mix just until all ingredients are blended. 
5) Add in the flour mix and beat on medium speed until a soft dough forms, about 2-3 minutes. Paying close attention that you do not over mix.  
6) Transfer the dough to a floured surface and give it one final mix by hand until flour is fully incorporated.
7) Pull pieces of dough and roll out ropes that are about 1 inch thick. Depending on the size of your desired cookies, dough pieces can be anywhere from 4 – 7 inches long. (Of course, depending on how much dough you use, you will end up with either a small, medium or large cookie)
8) Continue shaping the rest of the dough into Ss and place on cookie sheets about 1 inch apart. 
9) In a small bowl beat the remaining egg with a fork to make an egg wash, brush each cookie with the egg wash and sprinkle with a small pinch of additional sugar. 
​10) Depending on the size of the cookies, they will bake for 15-20 minutes, until the cookies are golden brown on top and on the bottom. 
*For added sweetness, these can be glazed with a glaze made of confectionary sugar,  1 -2 teaspoons of milk and zest of one lemon or orange. Stored in an airtight container, these can last up to several weeks. 
TRAVEL WITH US IN 2023! CLICK LINKS BELOW FOR ALL THE INFO!
THE TUSCAN COUNTRYSIDE: MAY 6 – MAY 13, 2023.
BOLOGNA and EMILIA ROMAGNA: MAY 14 – 21, 2023
THE AMALFI COAST: MAY 22 – 29, 2023
CALABRIA: SEPTEMBER 1 – 8, 2023
PUGLIA: SEPTEMBER 9 – 16, 2023

Cosa Mettere in Valigia per l'Italia
Everyone is always asking me what they should pack for Italy,
so I've created a quick reference guide that you can use for your next trip.
Hint: You don't need nearly as much as you think you do!