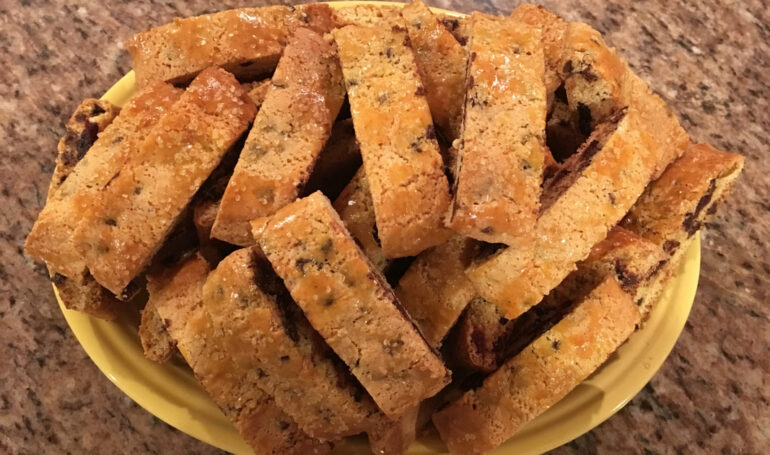 Soft-Bake Chocolate, Cherry & Orange Biscotti
I've determined that biscotti are the "chicken soup" version of the dessert world. Is there anything more comforting than a good cup of coffee and a few freshly baked biscotti? I think not, and much like chicken soup, biscotti can heal all that ails you. Feeling feverish? Have a cup of tea with some biscotti! Feeling down? Cheer yourself up with some biscotti! Queasy stomach? Grab some biscotti, it will settle that right down! Sprained your ankle? The biscotti may not help here but they certainly will not make it worse! I kid, of course, but I've yet to come across a situation in which biscotti didn't improve it. Especially the freshly baked kind. 😉
I like to think that I have a nice baking repertoire. I make a mean crostata, my anise pizzelle are raved about, and the butter balls? Everyone says that mines are the best they've had. I love baking and enjoy sharing just as much. I also love coffee and my coffee must always be accompanied by a treat. I've determined that my coffee gets lonely without a freshly baked treat next to it! Some desserts are more finicky than others and take a long time. But biscotti are so forgiving and easy, that they always love you right back with a delicious outcome. They can last for days in a cookie tin (if you are able to resist them, that is), they come in hundreds of varieties and are very adaptable. You can add nuts, fruits, chocolates or a combo of these. You can leave them all out and have a simple version. Scent them with citrus zest, anise, vanilla, rum. The combos are endless.
Here is a classic combo that I just adore: cherries, chocolate and orange. These are very flavorful, not overly sweets and because I do not double-bake this version, they are soft, and only slightly crunchy on the outside. The inside is very soft and crumbly. Comforting, cozy and scrumptious, be sure to make these for your next event, or just because.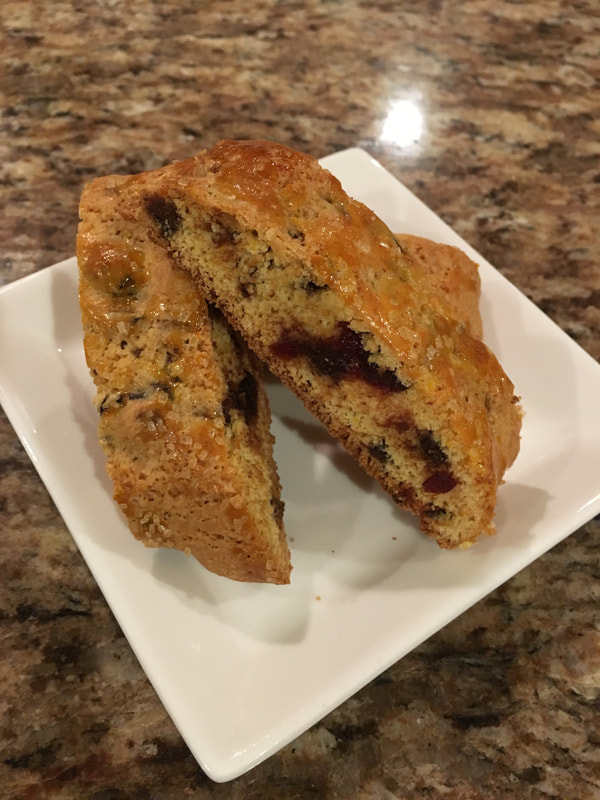 Soft-Bake Chocolate, Cherry and Orange Biscotti
Yields 3 logs – each resulting in 14 – 16 biscotti
Ingredients
3 ½ tablespoons butter, melted and cooled
3 cups flour + 1 extra tablespoon
1 ½ cups sugar
pinch of salt
2 teaspoons baking powder
1 cup dried cherries
1/2 cup mini semi-sweet chocolate chips
3 eggs
3 egg yolks, divided
Zest of 1 orange
2 tablespoons honey

Directions
Preheat oven to 350 degrees. Set your oven rack to the second to last position from the bottom. Prepare two baking sheets with parchment paper and set aside.
In a large bowl add the flour, sugar, pinch of salt and baking powder. Using a hand whisk or fork, mix the dry ingredients and set aside.
In a medium bowl, add the cherries and chocolate chips and add the 1 remaining tablespoon of flour. Coat the fruit & chocolate pieces with the flour and set aside.
In a stand mixer, mix the three eggs and two egg yolks. Add the orange zest and honey and mix well.
Slowly add the flour mixture to the egg mixture, alternating with the cooled melted butter, mix all the ingredients well until combined.
When the biscotti dough is well mixed and all ingredients have been combined, reduce the speed of the mixer to the lowest speed and carefully add the cherries and chocolate. It's unlikely that all the cherries & chocolate will be added by the mixer so transfer the dough to a floured counter and continue mixing by hand until everything is well combined.
Divide the dough into three equal portions.
Shape the dough into 14-inch logs and place them on the prepared cookie sheets. Do not add more than 2 logs per cookie sheet, as they spread during baking. Slightly flatten the logs and shape so that they are as uniform in shape as possible.
With a fork, blend the remaining egg yolk and using a pastry brush, brush the logs with the egg. For added crunch, sprinkle some granulated sugar on top, if desired.
Bake biscotti for 25 minutes, until they are golden in color.
Remove from the oven and allow baked logs to cool for 5 minutes. Using a serrated bread knife, slice the logs into 1-inch biscotti and transfer them back to the cookie sheet, cut side down.
Return the cookies to the oven, which has been turned off but is still warm. Keep cookies in the oven for an additional 5 – 8 minutes. Longer if you desire a crunchier biscotto. Store in an airtight container. Biscotti will last for several weeks. 
TRAVEL WITH US IN 2023! CLICK LINKS BELOW FOR ALL THE INFO!
THE TUSCAN COUNTRYSIDE: MAY 6 – MAY 13, 2023.
BOLOGNA and EMILIA ROMAGNA: MAY 14 – 21, 2023
THE AMALFI COAST: MAY 22 – 29, 2023
CALABRIA: SEPTEMBER 1 – 8, 2023
PUGLIA: SEPTEMBER 9 – 16, 2023
CHRISTMASTIME IN TUSCANY: DECEMBER 3- 10, 2023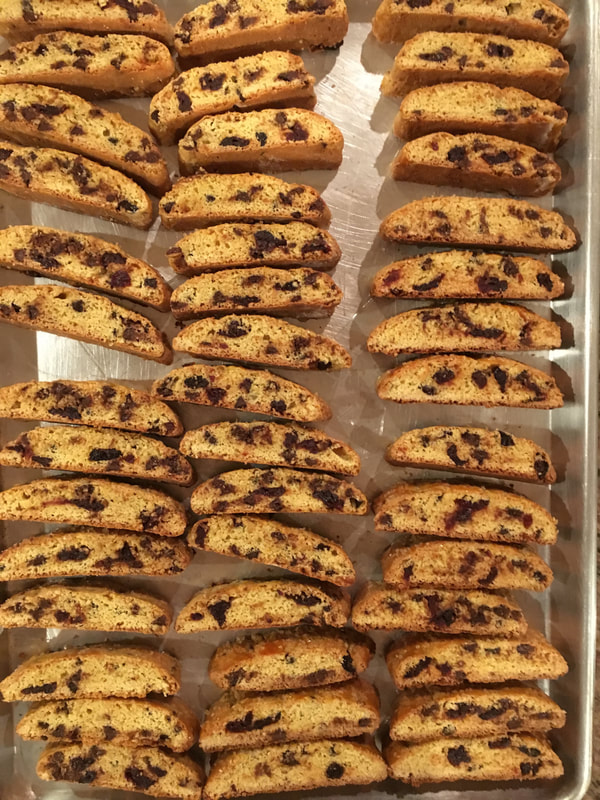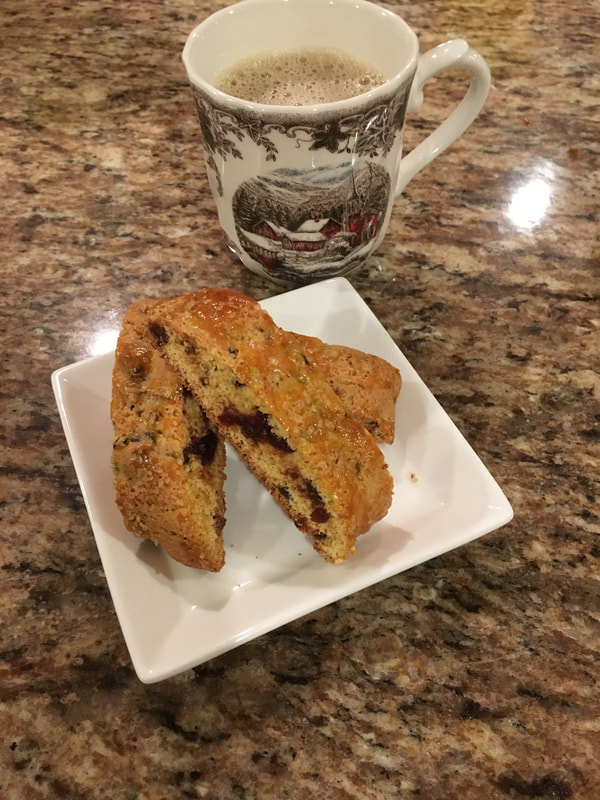 Cosa Mettere in Valigia per l'Italia
Everyone is always asking me what they should pack for Italy,
so I've created a quick reference guide that you can use for your next trip.
Hint: You don't need nearly as much as you think you do!