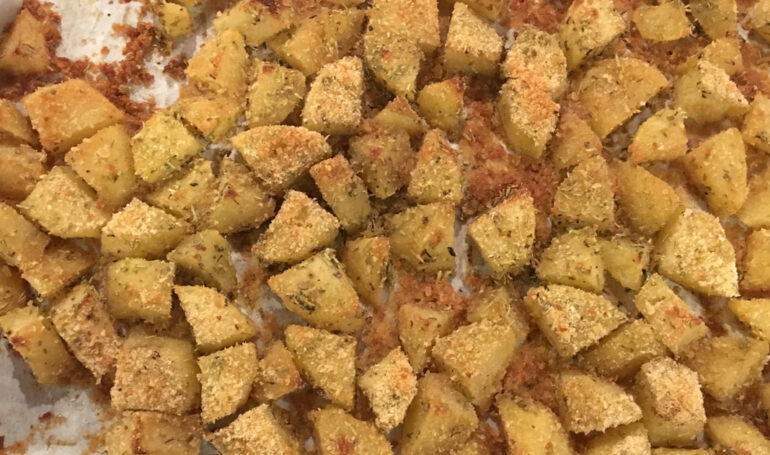 Seasoned Roasted Potatoes with Breadcrumbs
We're currently living during a period which we never expected. Many of us all over the world are being asked to stay home due to COVID-19, and I'm doing just that, and hope many others are doing the same in an attempt to "flatten the curve," as the experts say. Our 2020 culinary tours are postponed for next year, and while we're extremely disappointed, we understand it's what's best for everyone.
I'm spending these weeks on cooking and baking, having all my groceries delivered. As a homebody, this isn't much of a sacrifice for me. I love spending time at home, especially the kitchen, and I am finding comfort on preparing dishes and baked goods. It takes the mind away from current reality, which we all need sometimes.
Tonight, we had roasted chicken for dinner, and like a match made in culinary heaven, roasted potatoes seem to always be served with roasted chicken. Tonight, rather than adding them to the same pot as the chicken, I baked them with seasonings and topped them with bread crumbs. This is a homey dish, humble at best, but it makes the perfect side dish to chicken, fish, turkey, or frankly, just bake a tray of these as snacks! They are tasty, cheap and use limited ingredients, which I'm sure you have on hand already.
The below doses are just recommendations, I never actually measure anything when preparing a dish such as this, it's not needed! Just toss everything, add it to a baking sheet, and go! But if you're a novice in the kitchen or one to measure stuff out, the below doses will give you something to work with. Enjoy these comforting potatoes tonight as the perfect contorno or side to whatever it is you're cooking!
Cube the potatoes to about 1 inch in size. Try to cut them all the same size for even cooking. In the bowl, I have about 6 peeled and washed potatoes, they were on the smallish size, so this is the perfect amount for 4 people or so.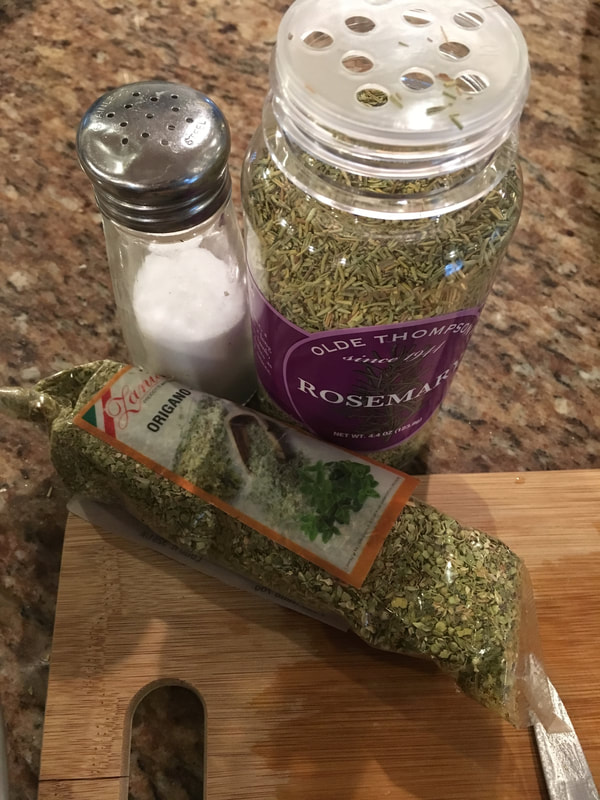 I used some basics for seasonings, nothing fancy here. Rosemary, some origano that I actually picked up at the outdoor market in Venice, salt and olive oil. The origano brought back such wonderful memories of a culinary tour of Veneto that I led with TV personality and chef Joanne Weir. I bought several of these packets (they were 3 for 5 Euros) at the market during our day trip to Venice. We're going through such a difficult time right now that I teared up a little just thinking about the wonderful week we shared. I know we will be back in Italy soon, but right now, it just seems to far away.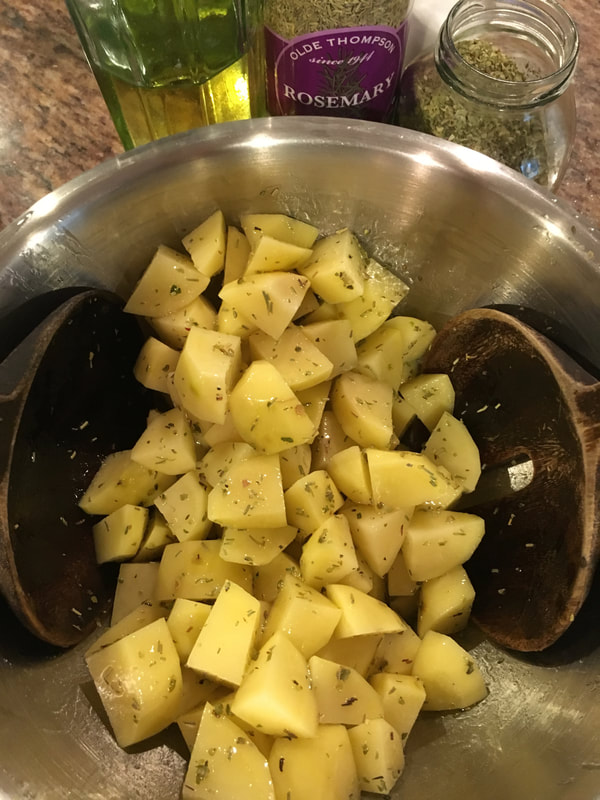 To the bowl with the potatoes, add the dry herbs, salt and oil and mix with your hands or wooden spoons. I used my trusted salad spoons. I have had these for years and I love them so much for mixing things. I didn't add any black pepper or crushed red pepper since I was enjoying these with family members who don't like heat, but you could certainly add some spice and heat to this, I think it would go very nicely actually.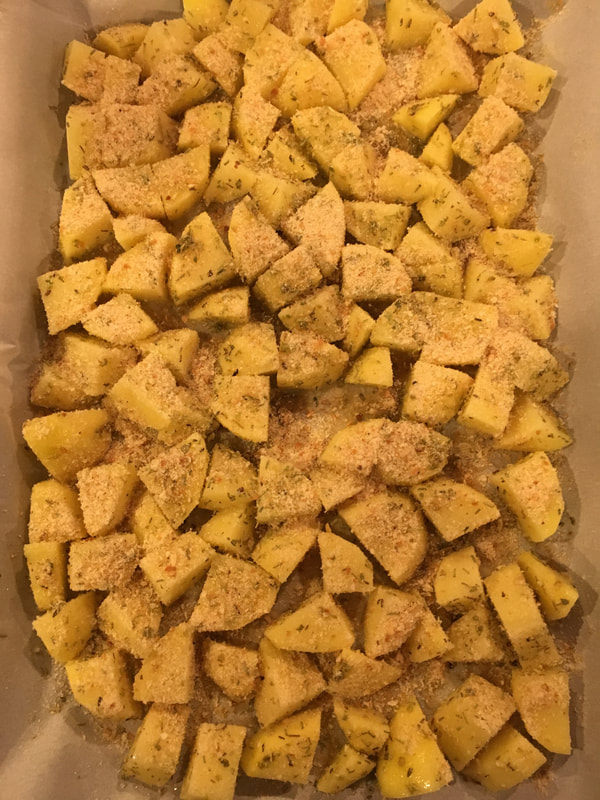 Add the potatoes to a baking sheet that has been lined with parchment paper and top with the breadcrumbs. Drizzle some additional olive oil on top. Make sure the potatoes are cut side down. My picture came out rather orangy, not sure why. I didn't bother taking a better one. I was trying to limit grabbing my phone while cooking. These days, it's all about the germs so limiting touching too many surfaces while cooking!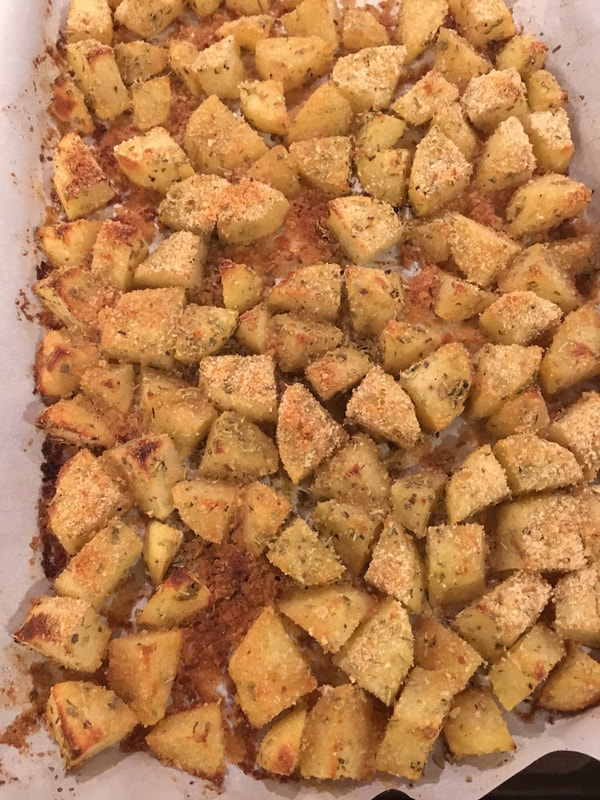 How great do these look right out of the oven? Those crunchy bits are delicious! The key is to not turn them or touch them at all while they are cooking in the oven. Just leave them there. No turning or anything else is required. I placed them on the second to top rack, while the chicken was roasting on the lower rack, maximizing the oven space!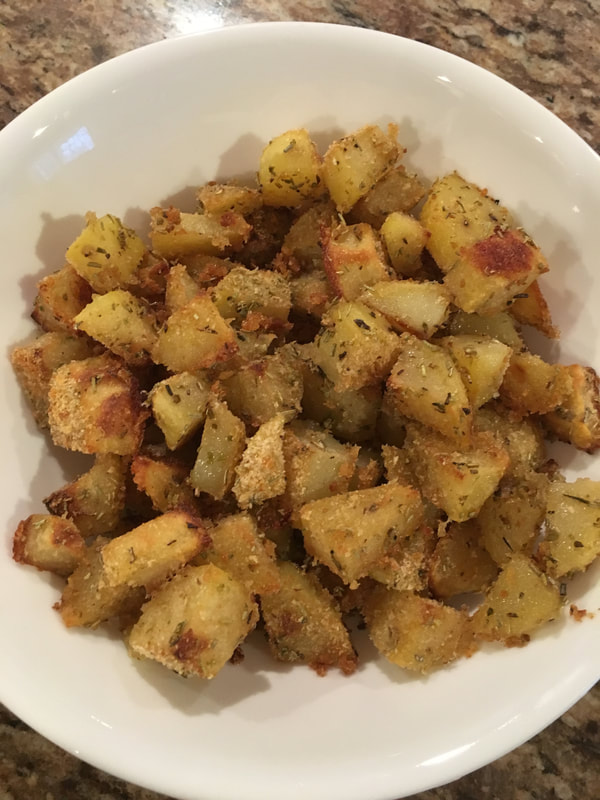 Plate and serve! These are going to go fast, so make sure you make plenty of them, more than you think you'll need, they are addictive! 
Seasoned Roasted Potatoes with Breadcrumbs

Ingredients
5 – 7 medium sized potatoes, peeled, washed and cubed to 1 inch bubes
2 tablespoons dry origano
2 tablespoons dry rosemary
Salt to taste – about 1 teaspoon
4 tablespoons olive oil, plus additional for drizzling
1/2 – 3/4 cup fresh breadcrumbs
Directions
1. Preheat oven to 375 degrees. Line a baking sheet with parchment paper and set aside.
2. In a mixing bowl, add the potatoes, dry herbs, salt and olive oil and using your hands or wooden spoons, mix well.
3. Add everything to the baking sheet and top with the breadcrumbs. Drizzle additional olive oil on top and bake for 30 – 35 minutes. During the last 2 or so minutes, turn the oven to broil and broil the potatoes to crunch up the top. Do not mix or turn the potatoes while cooking. Plate and serve!

Cosa Mettere in Valigia per l'Italia
Everyone is always asking me what they should pack for Italy,
so I've created a quick reference guide that you can use for your next trip.
Hint: You don't need nearly as much as you think you do!