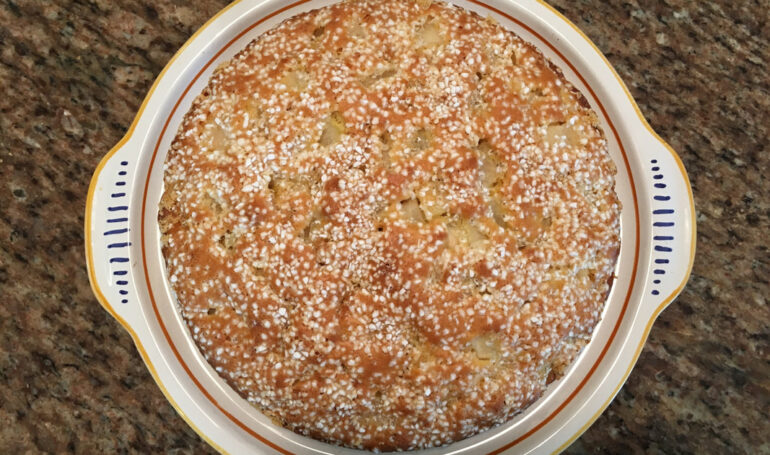 Italian Pear Cake
I just received far too many pears on my recent food delivery, and this being Easter week, I figured it was as good time as any to make a delicious pear cake. I love simple recipes, in case you hadn't figured that out yet, and this is one that is simple, delicious, spongy and perfect for coffee and tea. Ideal for Easter breakfast, or any day breakfast, really!
As any cake, it starts off creaming sugar and butter, adding eggs, and adding the dry ingredients. It's easy peasy and takes minutes to prepare. The key is having perfect room temp butter, so make sure you leave it out on the counter for a few hours before getting ready to prepare the cake.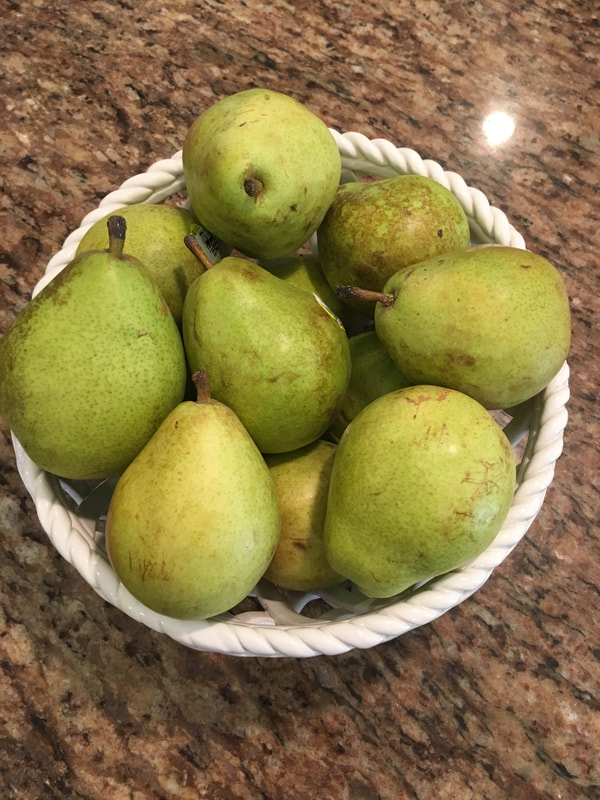 This is the delivery of pears received from this week's grocery delivery. We're getting our groceries delivered during this pandemic and sometimes we get more or less than expected. These are far too many to eat in one week, but perfect for baking! You could use any type of pears you have. They should be firm and not passed their prime.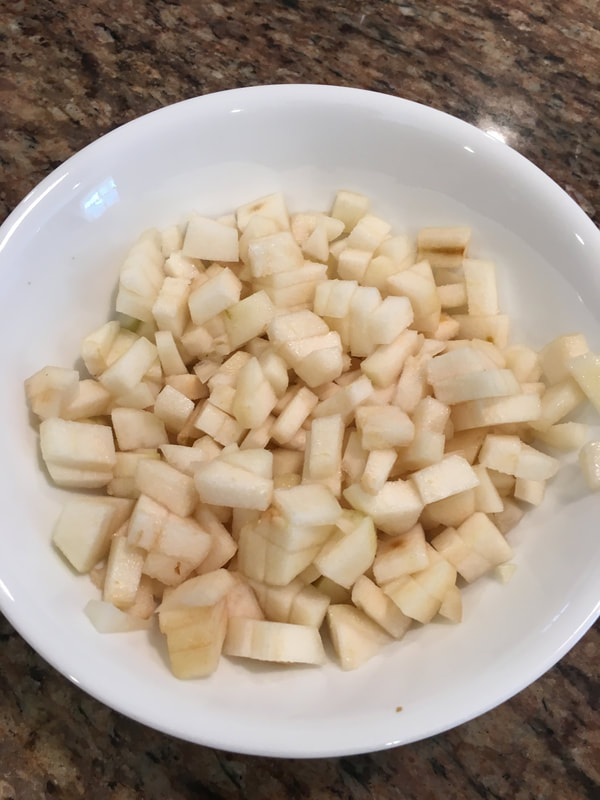 Here they are peeled and diced. You can see the dices are pretty small. Anything larger, and they would just sink to the bottom of the cake, which we don't want. You want the dices evenly distributed in the cake and not at the bottom.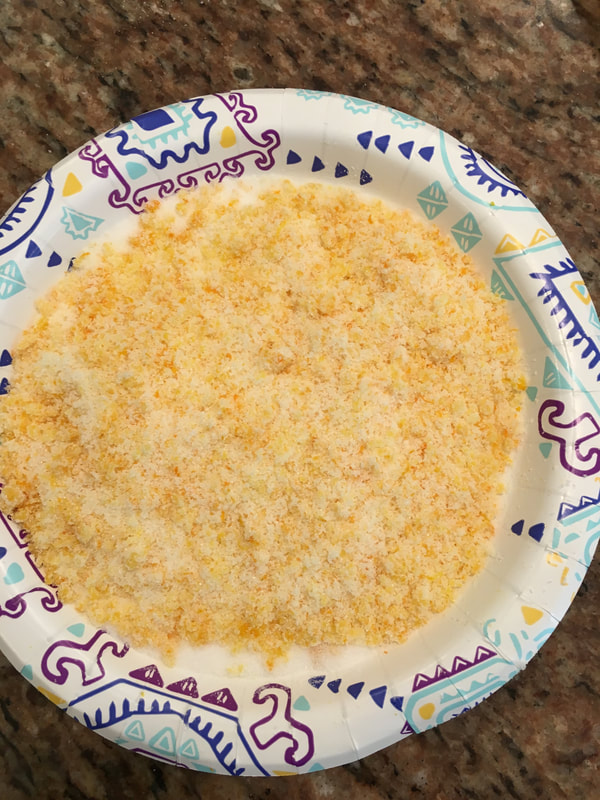 This is the sugar and orange zest combined. You don't have to mix them in like I have here, but I find that the citrus flavor is more pronounced if you do this. The natural oils are released and flavor is intensified, which is great!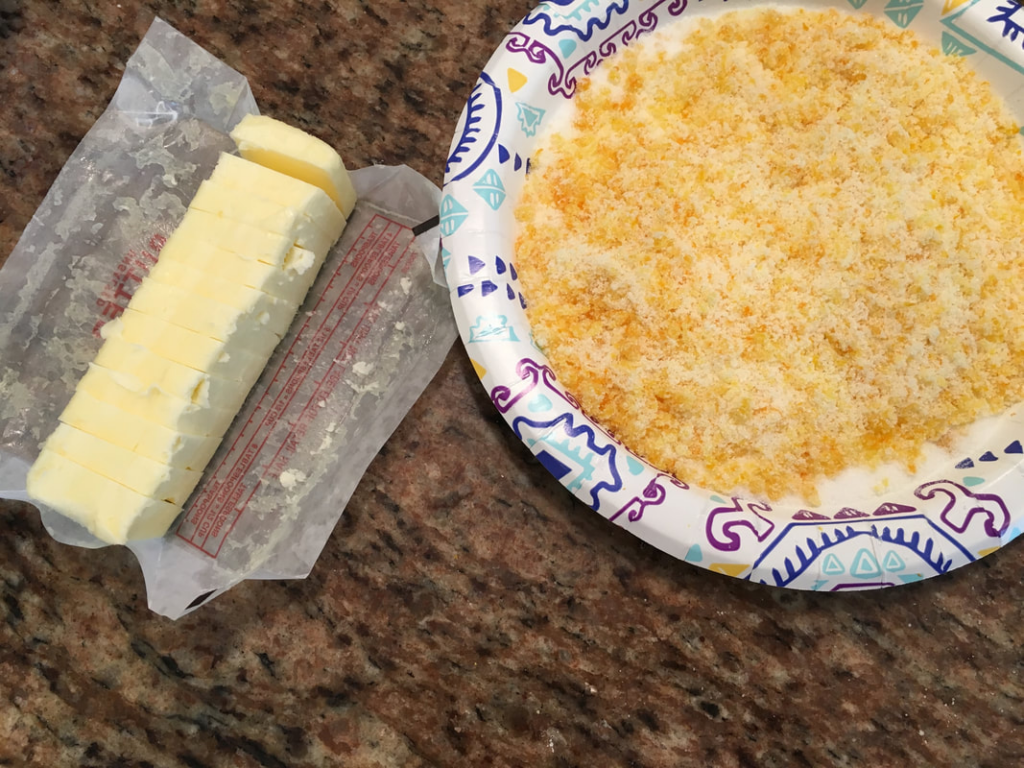 Here, the butter has been left at room temp for about 3 hours. You can speed up the process by popping the stick in the microwave for a few seconds before using, but I find that leaving it out and letting it come to room temperature naturally gives better consistency. You could also microwave a tall empty microwave-proof drinking glass for several minutes, then place the stick of butter in the glass and let it sit. Either way you select, it's important that the butter is softened.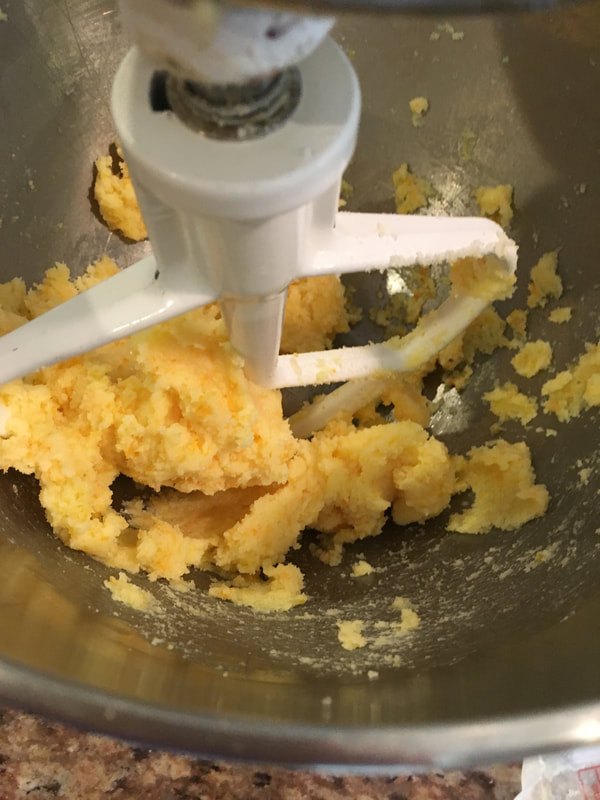 This is the butter, sugar and zest, look at that lovely orange color. We're not yet at the point of adding the eggs, a few more minutes or beating are needed.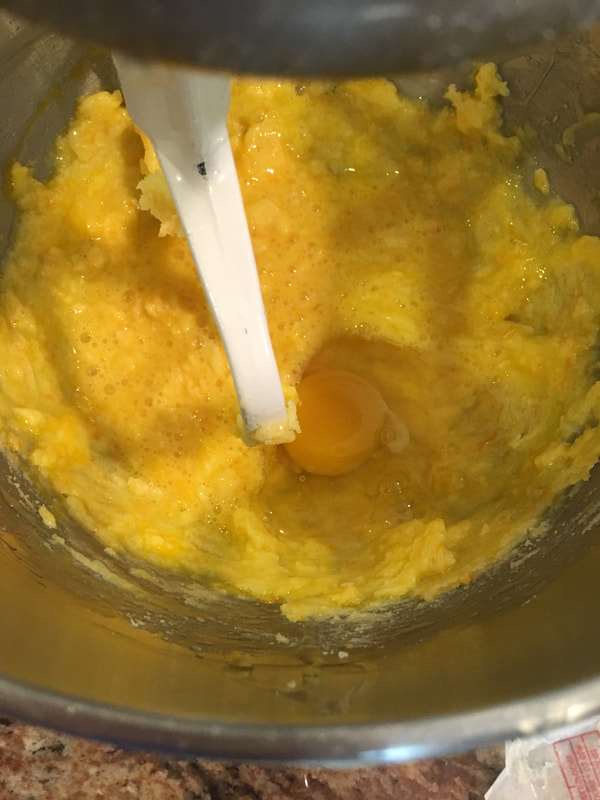 Add the eggs, one at a time, scraping down the sides every minute or so.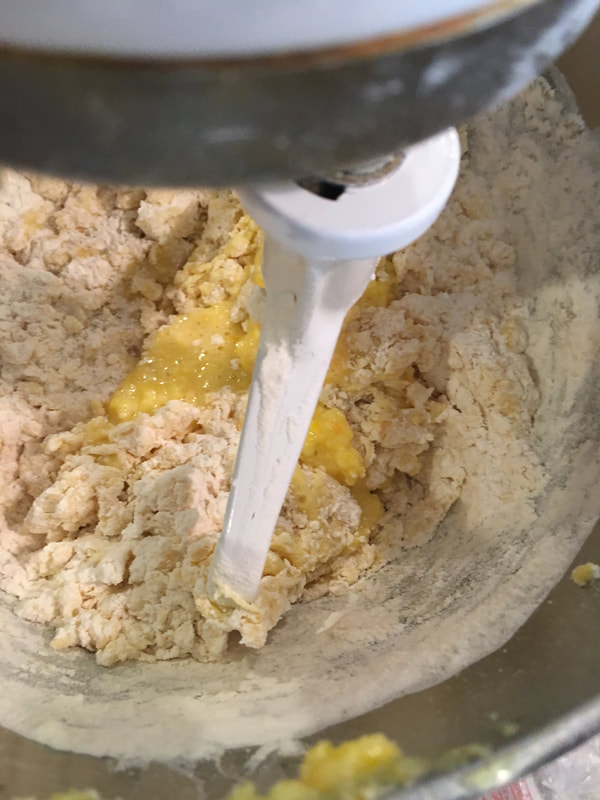 Adding the dry ingredients until combined. They should be well incorporated, but do not over mix.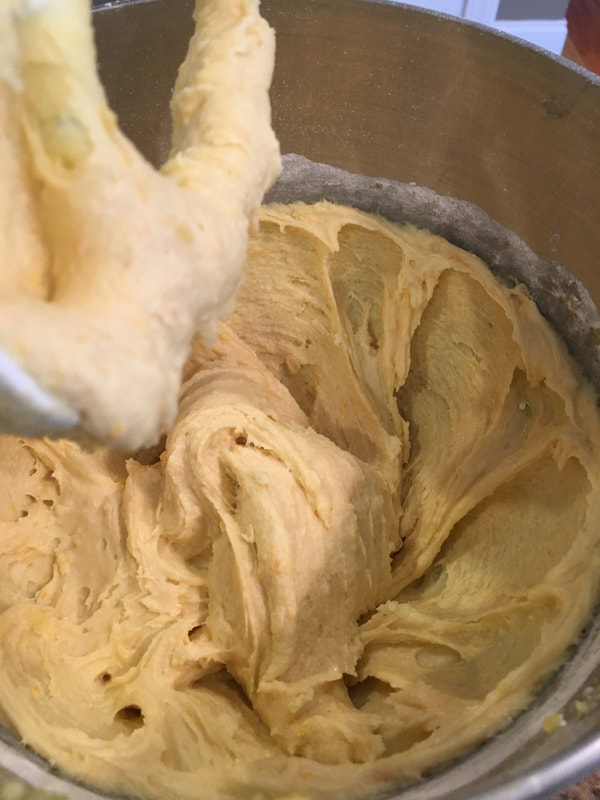 This is the perfect constancy of everything but the pears being combined. Remove from the stand and mix the last few times with a spatula.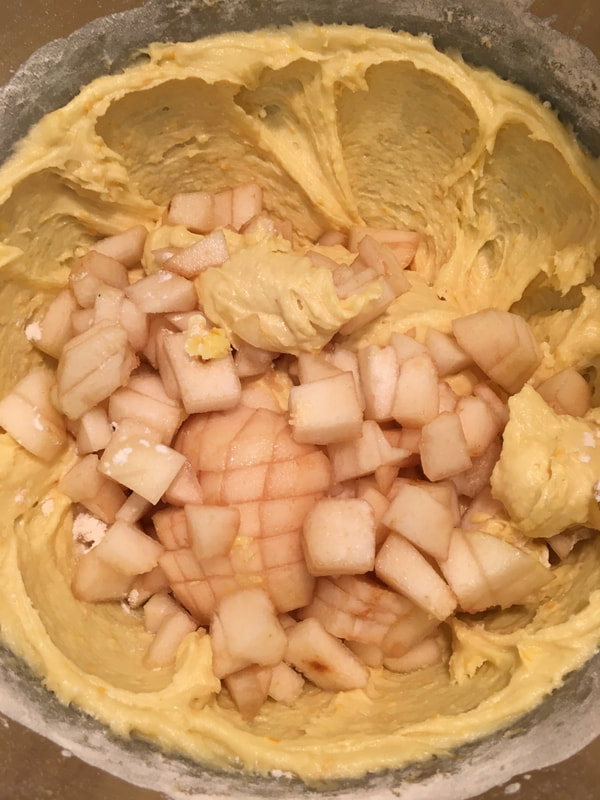 The mix is ready for the pears, which should be added by hand and not the mixer. Again, at this point, just mix until combined, do not over mix.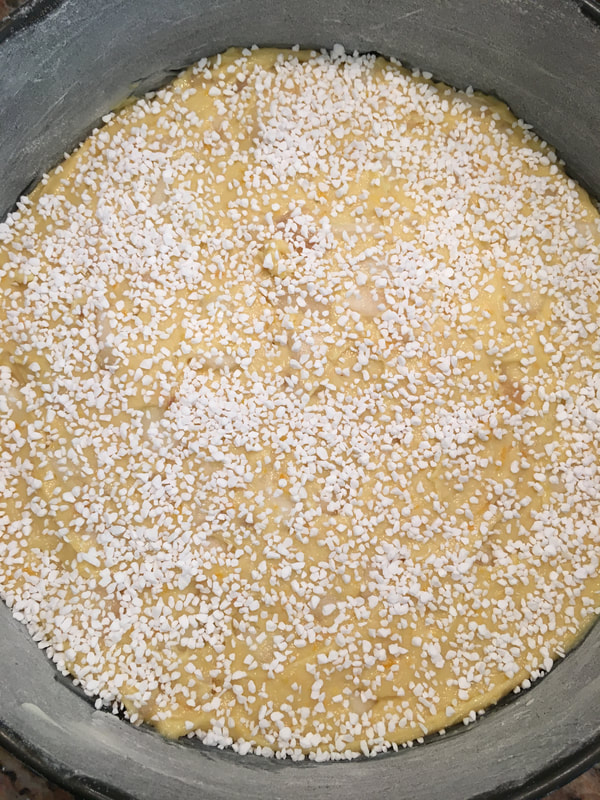 Ready for the oven. I topped the cake with sugar crystals, which is completely optional, but I find it adds a nice touch and nice crunch.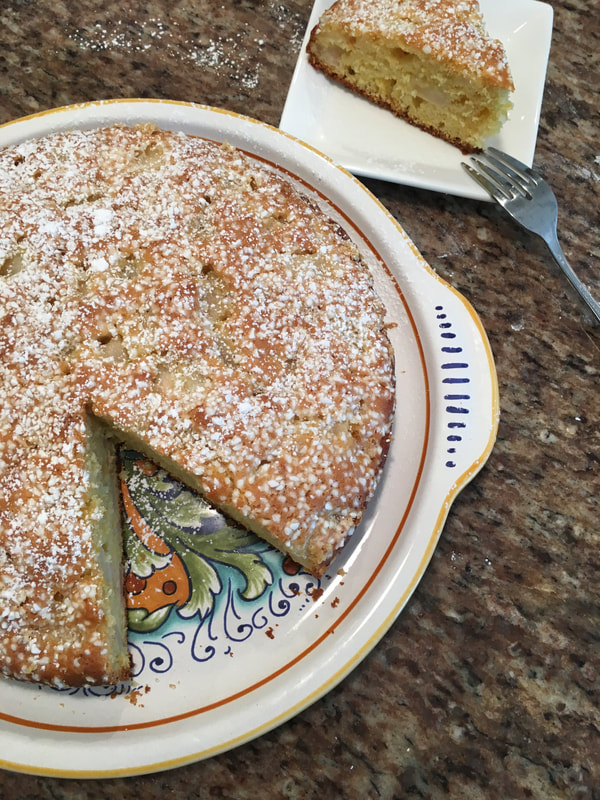 Who's ready for a slice?? I know I am! 
Italian Pear Cake
Ingredients
Non-stick Cooking Spray
1 stick unsalted butter at room temperature
3/4 cups granulated sugar
3 eggs
1/2 cup milk (whole/2%/skim)
citrus zest (from 1 lemon or 1 orange)
2 1/4 cups all purpose flour – sifted
1 tablespoon baking powder
1/4 teaspoon salt
4 pears of your choice, peeled and diced
Optional – the below are optional toppings to the cake:
1 – 2 tablespoons sanding sugar
1/2 teaspoon cinnamon mixed with 1 – 2 tablespoons sanding sugar
Directions:
1. Preheat oven to 350 degrees. Prepare a 9-inch or 10-inch round pan by spraying it with nonstick cooking spray, or cover with a thin layer of butter and flour the pan. Set aside. 
2. With the mixer on low-medium, start by beating the softened butter together with the granulated sugar and zest and mix until the mixture is well mixed and incorporated.
3. Add the eggs, one at a time and the milk. Mix well after each addition.
4. With the mixer on low, add the sifted flour and baking powder. Also add the salt.
5. Add the pears to the mixture and incorporate them using a rubber spatula, not the mixer.
6. Arrange the cake batter in the prepared pan. Spreading evenly. Add the sugar crystals or some cinnamon sugar, if using. Bake in a preheated oven for 38 – 40 minutes, or until a toothpick inserted in the center of the cake comes out dry.
8. Remove from the oven and let it cool completely before removing from the pan. (If you serve the cake warm or hot, it will appear undercooked, so best to cool completely before serving.) 

Cosa Mettere in Valigia per l'Italia
Everyone is always asking me what they should pack for Italy,
so I've created a quick reference guide that you can use for your next trip.
Hint: You don't need nearly as much as you think you do!