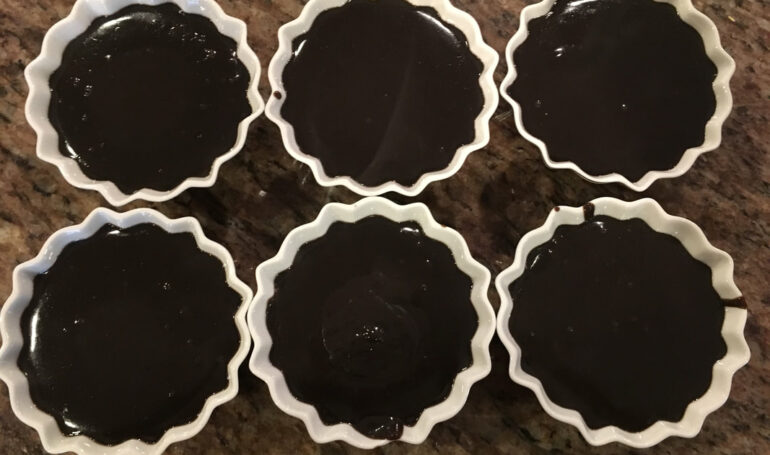 Dark Chocolate Espresso Pudding
Lots of cooking and baking has been taking place in my kitchen lately. I'm working on a second cookbook (you can grab the 1st book here), so lots of recipes are being tested and retested. I can't yet post those recipes, you'll have to take my word that they're delicious, but I can post everything else that's happening in my kitchen!
Recently, I got a graving for homemade pudding. It's not a frequent craving, but when it hits, it must be satisfied! I had all the ingredients on hand, so I whipped up a batch of my favorite kind, the dark chocolate kind, with added espresso powder. This pudding is pure decadence. It's super dark, rich and not at all sweet. You could say that this is an adult pudding, and likely not too appealing to kids. But it's the perfect ending to any dinner. The ingredients are your basic pudding ingredients, cocoa, corn starch and milk, likely all of which you have on hand right now, even during this time when we're all limiting food shopping.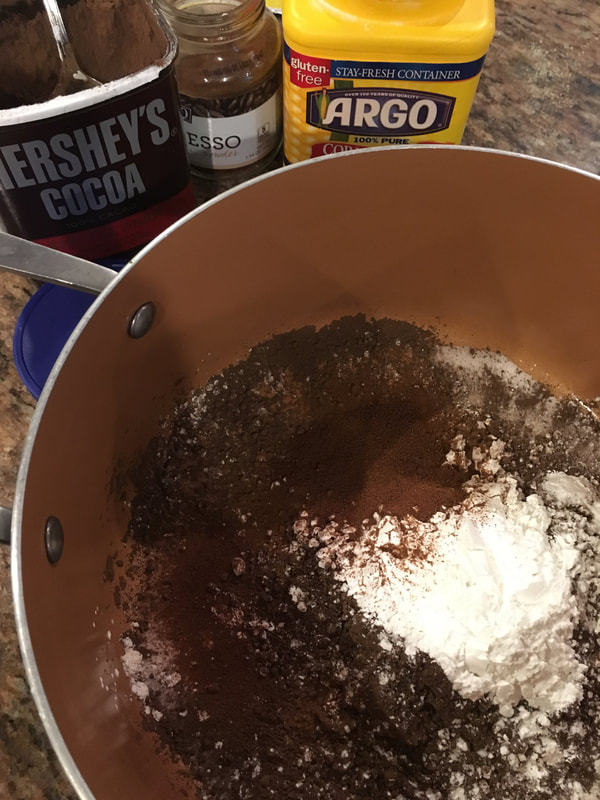 All the dry ingredients are added to a medium stock pot. Using a whisk or fork, blend everything together.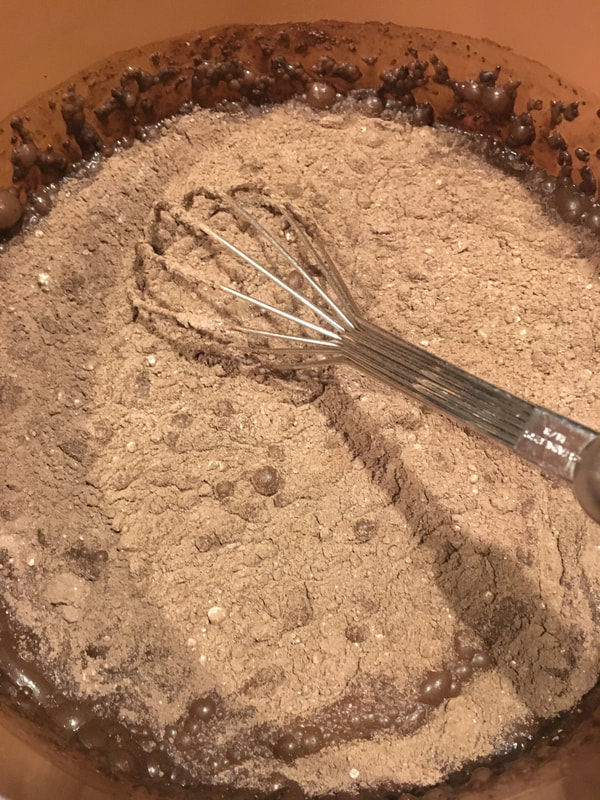 The milk is then added. Whole milk works best. I have tried it with lower fat milk and the pudding just doesn't thicken up as much. Sure it's lighter, but if you're going to have pudding, have pudding!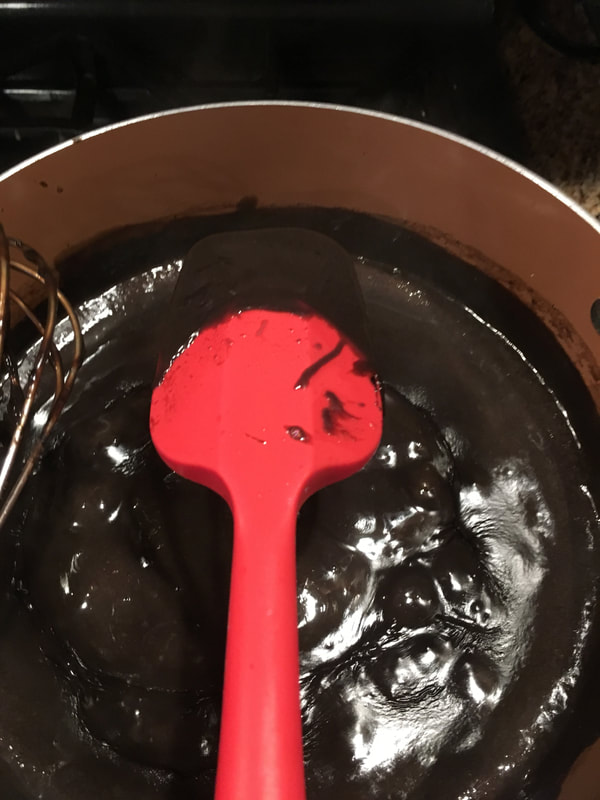 Bring everything to a low boil and cook until the back of a spoon or spatula is coated with the pudding, see image above. Look at how dark this pudding is!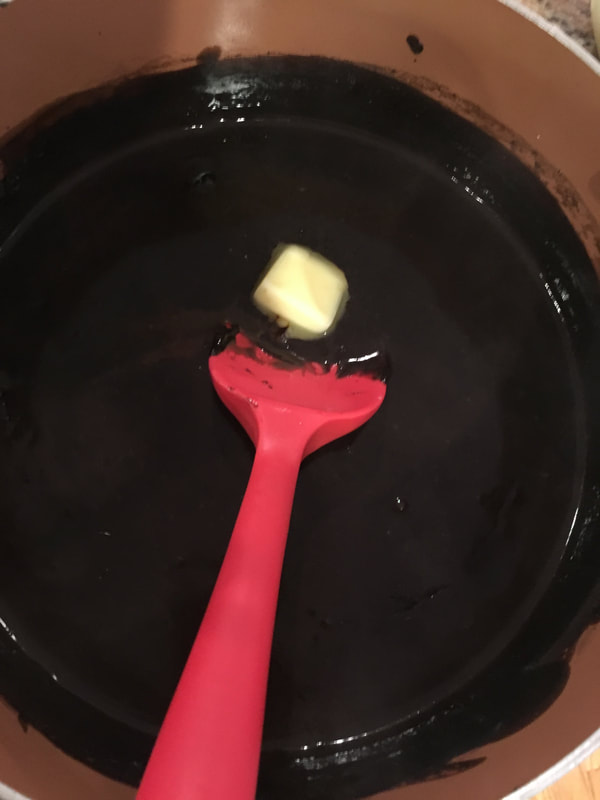 After the pudding has thickened, remove it from the heat and add 1 tablespoon of butter and 1 teaspoon of vanilla extract. Scoop pudding in 6 bowls and refrigerate for at least 5 hours.
DARK CHOCOLATE ESPRESSO PUDDING
Makes 6 servings
1 cup sugar
1/2 cup dark cocoa powder
1/4 cup cornstarch
2 tablespoons instant espresso powder
Pinch of salt
4 cups whole milk
1 tablespoon unsalted butter
1 teaspoon vanilla
Whipped cream – optional
Instructions
1. In a medium sauce pan, add the sugar, cocoa powder, cornstarch, espresso powder and a pinch of salt. Mix everything with a whisk or fork, breaking down any lumps.
2. Add the cold milk and whisk everything together.
3. Bring the pot to the stove and allow mixture to boil for one minute, while mixing constantly. Do not over boil.
4. Remove from the heat and add the butter and vanilla, mix well until the butter is melted.
5. Place in serving bowls, cover with plastic wrap directly over the pudding so a skin does not form. Refrigerate completely before serving.
Enjoy topped with whipped cream. This, of course, is optional, but I find that this being so dark, the whipped cream is a perfect topping.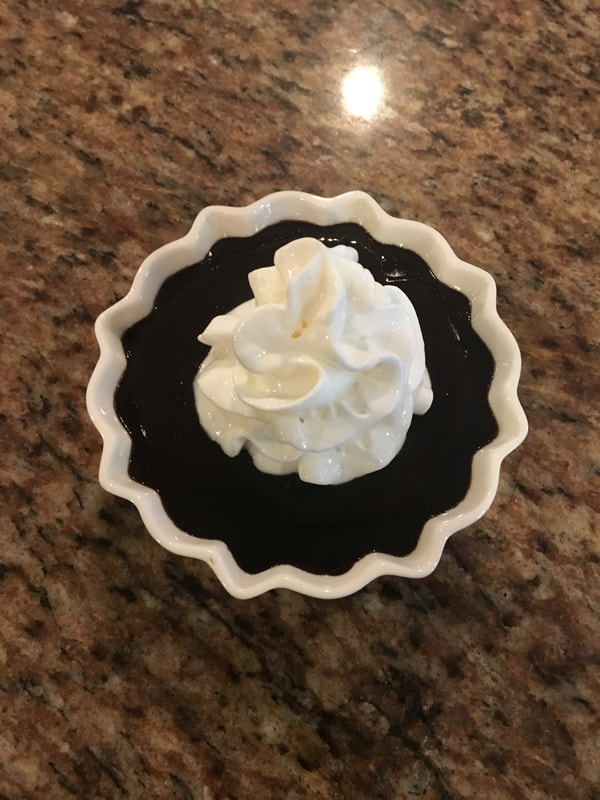 Cosa Mettere in Valigia per l'Italia
Everyone is always asking me what they should pack for Italy,
so I've created a quick reference guide that you can use for your next trip.
Hint: You don't need nearly as much as you think you do!