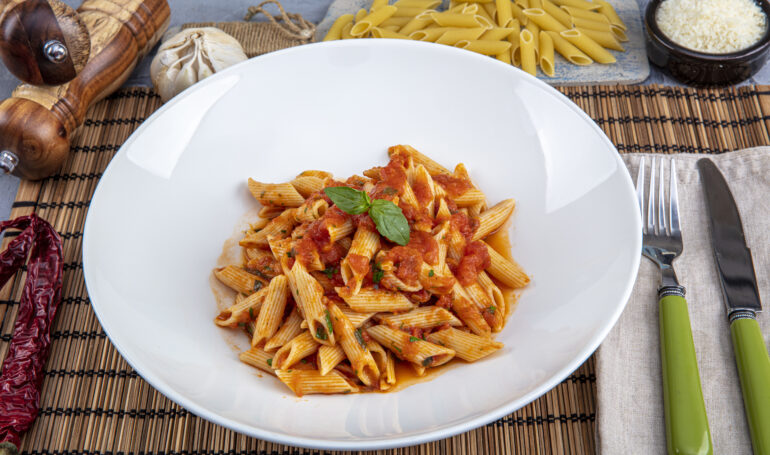 Pasta with Fresh Tomato Sauce
Summer is in full swing in the Northeast, and with it, so is the Italian vegetable garden. At this time, in any garden owned by Italians, you will surely find rows and rows of tomatoes, not to mention basil and lots of it! Growing up in southern Italy, I was fortunate to have access to delicious organic produce year-round. Since my dad was a greengrocer, we always had fresh vegetables and fruits on hand. But the bounty really comes to life in summer when tomatoes are at their peak, as are peaches, cherries and figs!
One summer dish that was always on rotation in my mom's kitchen was a simple fresh tomato sauce. This sauce was the base for many dishes throughout the week, but preparing it to just top some pasta was the most delicious way to really enjoy its simple flavor. While in the winter, you will find me using some high-quality canned San Marzano tomatoes, I take advantage of what Mother Nature offers us during this time of year. It's nearly impossible to prepare this sauce when tomatoes are not at their peak. If you don't have a garden, purchase fresh tomatoes at your local farmer's market. I hate to say so, but this recipe is one that grocery store tomatoes will not do. Unless, of course, you are lucky enough to find some perfect, vine-ripen tomatoes.
This fresh tomato sauce cooks quickly, and it breaks down nicely as it cooks. You really don't end up with large chunks of tomatoes. If you prefer a chunkier sauce, cook it for a bit less than I instruct in the recipe below. This sauce is also ideal as a base for pizza!
Some of my other favorite summer recipes include Pasta with Basil Pesto, my Olive Oil Cherry Cake, and anything with eggplant or zucchini, like Pasta Alla Norma, or Pasta with Zucchini Pesto and Prawns. Take advantage now of all this great produce, before the season is over!
Happy Cooking! And be sure to pick up a copy of Pasta in a Pinch, my cookbook where a version of this recipe was featured!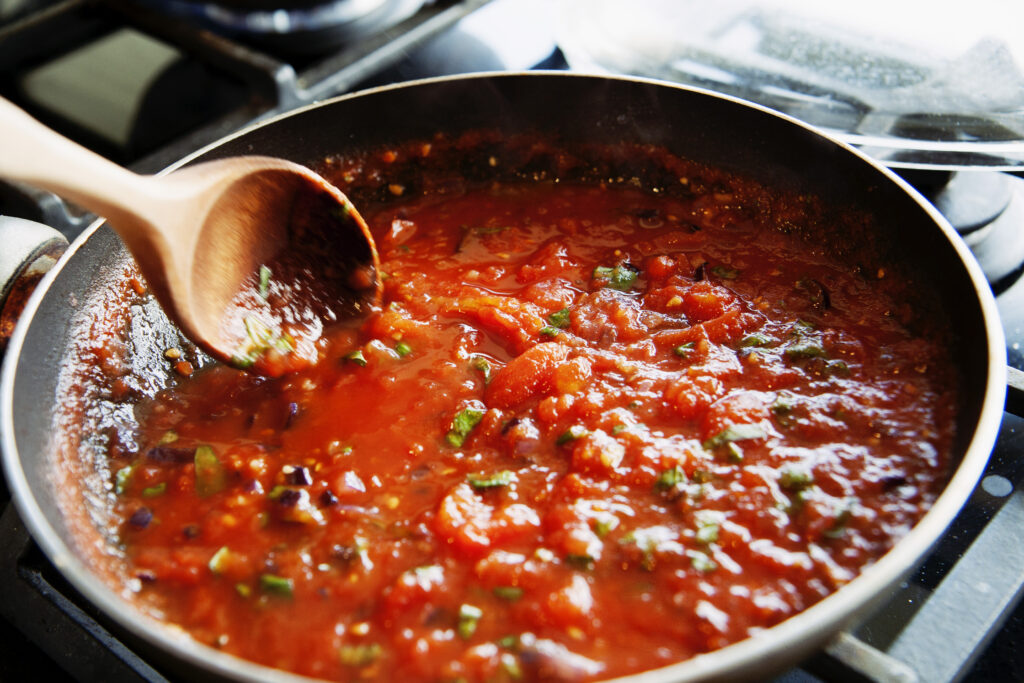 Pasta with Fresh Tomato Sauce
Serves 4 – 6
Ingredients
4 to 5 pounds vine-ripened tomatoes
3 tablespoons extra virgin olive oil
3 garlic cloves, minced
¼ cup fresh basil leaves, chopped, plus more for garnish
1/2 teaspoon salt, plus more for the pasta water
1 pound dry pasta, shape of your choice
Freshly grated Parmigiano cheese for serving (optional)
Instructions
Fill a large bowl with water and ice and set it aside.
In a 6-quart pot over high heat, bring 4 quarts of water to a boil. With a small paring knife, carefully cut an X at the bottom of each tomato.
Using a slotted spoon or spider, carefully lower a few tomatoes at a time into the boiling water, and boil for about 30 seconds. Carefully remove
each tomato from the boiling water and place them in the bowl with the ice water. Continue until all the tomatoes are blanched.
Remove the outer skin from the tomatoes. It should start peeling easily where the X is. Quarter the peeled tomatoes and place them in a bowl.
Heat the olive oil in a large sauté pan or skillet over low heat. Add the garlic, basil, and salt. Sauté for 2 to 3 minutes. Add the tomatoes and cook for about 25 minutes on medium – low, uncovered, stirring occasionally. The tomatoes will break down while cooking.
Meanwhile, in a 6-quart pot, over high heat, boil about 4 quarts of salted water. Add the pasta, stir, and cook for about 2 – 3 minutes less than the
box instructs, to just under al dente.
Scoop out about 1 cup of the cooked sauce and place it in a small bowl, set it aside.
Drain the pasta and add it to the sauce in the pan. Stir and cook the pasta and sauce together for about 3 minutes. Plate and top each serving with about 1 tablespoon of the reserved sauce and a few more basil leaves. Top with Parmigiano cheese (if using).
Serve immediately while hot.
This sauce is great not just with some pasta, but you can use it with ravioli, tortelloni, and to make eggs in purgatory. It's also great to cook some meatballs in it, braciole, or use a few scoops in soups and stews. It also freezes well for later use, like in the winter when fresh tomatoes aren't at their best. Feel free to add some chopped onion, and some parsley, if you desire it!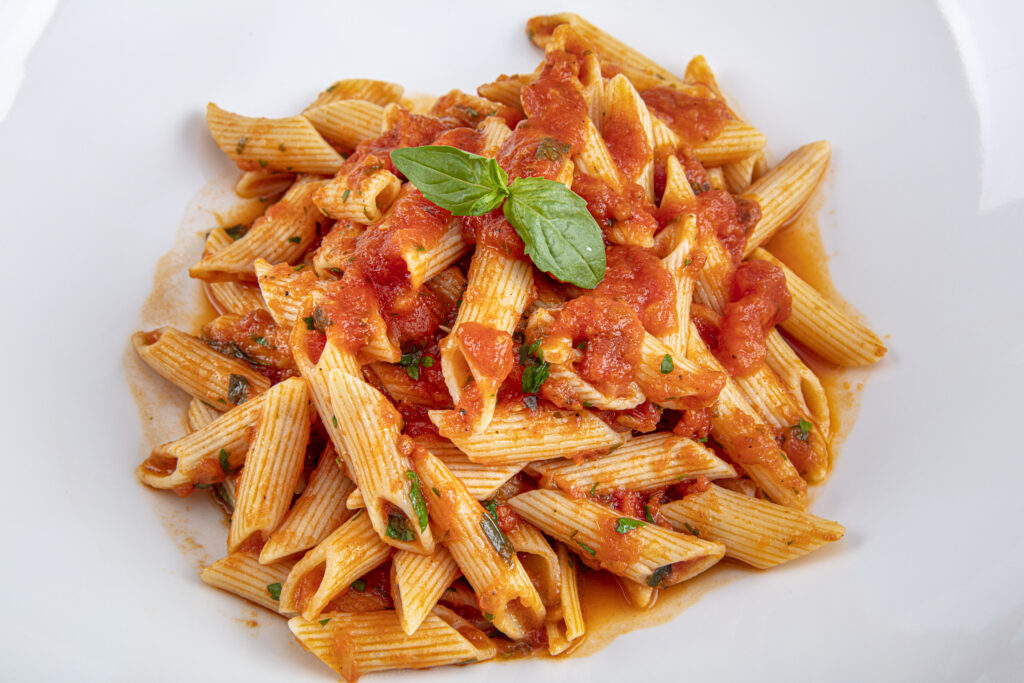 Cosa Mettere in Valigia per l'Italia
Everyone is always asking me what they should pack for Italy,
so I've created a quick reference guide that you can use for your next trip.
Hint: You don't need nearly as much as you think you do!