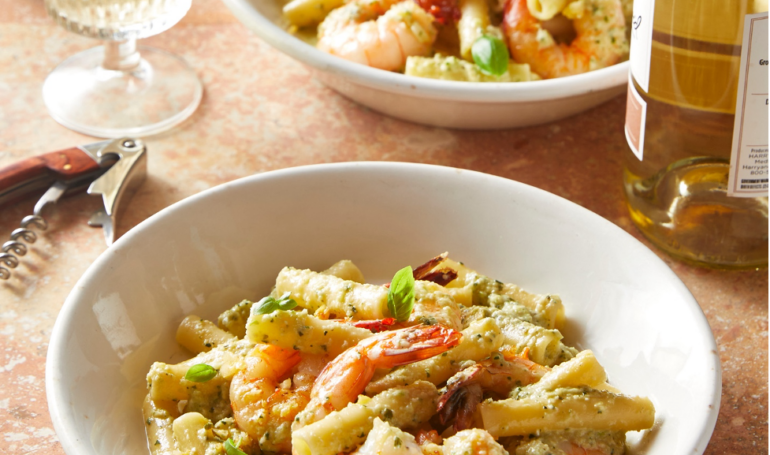 Pasta with Zucchini Pesto and Prawns
Zucchini with prawns (or shrimps) is a classic Italian combination served all over Italy, but especially in the South, where seafood is abundant and zucchini grow easily under the hot southern sun. This is an ideal summer dish when both zucchini and basil are at their peak, and we all often turn to lighter pasta dishes, as opposed to heavier meat based ragu' pastas often eaten in cold, winter months. This dish comes together super quick, in under 30 minutes, so it's the perfect week-night dinner, when everything else seems like too much work during hot days! In this dish, we create a delicate pesto with the zucchini and dress some wonderful mostaccioli or ziti pasta. To make the prep easier on yourself, purchase peeled and deveined prawns or shrimp. Your fishmonger is there to help and will be happy to assist you.

Pasta with Zucchini Pesto and Prawns
Ingredients
2 medium zucchini
½ teaspoon salt, plus additional for salting the pasta water
1/3 cup pine nuts
5 basil leaves
½ cup Parmesan cheese
½ cup extra virgin olive oil + 2 additional tablespoons
1 lb mostaccioli or ziti pasta
1 garlic clove, minced
1 lb prawns, peeled and deveined

Instructions
Using the course side of your box grater, shred the zucchini and place them in a colander lined with paper towels. Lightly salt them and set them aside for 15 minutes to draw out some of their liquid.
Meanwhile, turn the heat on high and bring 4 quarts of salted water to a boil in a 6-quart pot. Add the pasta, stir, and cook to just under the al dente state, about 2 minutes less than the box instructs.
Once the zucchini are strained, place them in a food processor. Add the pine nuts, basil and grated cheese and pulse several times. Stream in the oil, pulse again until you have a creamy consistency.
Heat the 2 remaining tablespoons of olive oil in a large sauté pan set over medium heat. Add the garlic and prawns and cook for 5 minutes, or until prawns turn pink and are cooked through. Drain the pasta, reserving 2 – 3 tablespoons of the pasta water. Reduce the heat to low and add the pasta to the sauté pan. Add the pasta water, and mix well, cooking the pasta for an additional few minutes.
Turn the heat off and add the pesto. Mix well and serve hot or at room temperature.

Cosa Mettere in Valigia per l'Italia
Everyone is always asking me what they should pack for Italy,
so I've created a quick reference guide that you can use for your next trip.
Hint: You don't need nearly as much as you think you do!