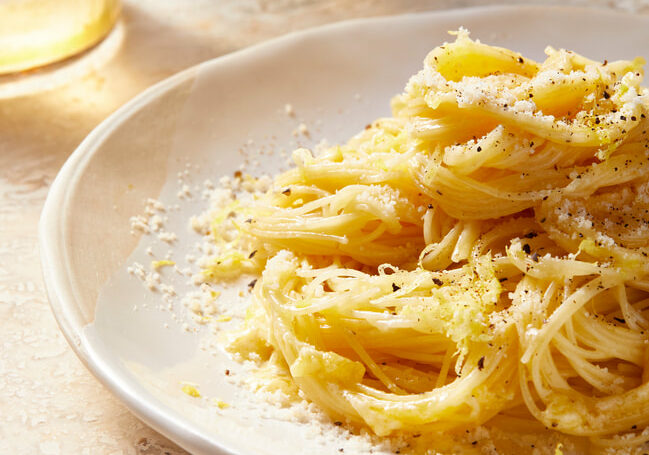 Lemon Angel Hair Pasta
A favored dish in Sicily, one of Italy's top producer of lemons, this pasta dish is light, refreshing and particularly summery. It's also widely prepared and served in Campania, and the Amalfi Coast, where the lemons are huge. Some recipes skip the heavy cream and just use the oil and butter, but unsurprisingly, it's more delicious with the cream.

Ingredients
2 medium lemons
Table salt for salting the pasta water
1 lb Angel hair pasta
½ cup heavy cream
2 tablespoons butter
1 tablespoon olive oil
½ cup Parmesan cheese
Ground black pepper (Optional)

Instructions
Using a box grater or micro plane zester, zest the lemons and set aside. Juice one of the lemons and set the juice aside. Reserve the other lemon for something else.
Turn the heat on high and bring 4 quarts of salted water to a boil in a 6-quart pot. Add the pasta, stir, and cook to just under the al dente state, about 2 minutes less than the box instructs.
Heat the heavy cream, butter, olive oil and lemon juice in a large sauté pan over medium heat and bring to a simmer. Cook for 3 – 4 minutes.
Remove the pasta from the water using a tong and add it to the sauce. Add 2 – 3 tablespoons of the pasta water and continue cooking for an additional 2 minutes.
Remove from the heat and add the grated cheese. Top with ground black pepper, if using and serve hot.
Another Pastability
Shrimp Lemony Angel Hair: Adding shrimp to this dish is a wonderful way of adding some protein. Add some clean and deveined shrimp during the end of step 3, cook for 3 – 4 minutes, or until shrimp turn pink.

Prep Help: When using both the zest and the juice of any citrus fruit, always be sure to zest first before juicing the fruit. It's almost impossible to zest any fruit once it's been squeezed out of its juice.

*This is an exert from my book entitled "Pasta in a Pinch." Get your copy onAmazon!

Cosa Mettere in Valigia per l'Italia
Everyone is always asking me what they should pack for Italy,
so I've created a quick reference guide that you can use for your next trip.
Hint: You don't need nearly as much as you think you do!