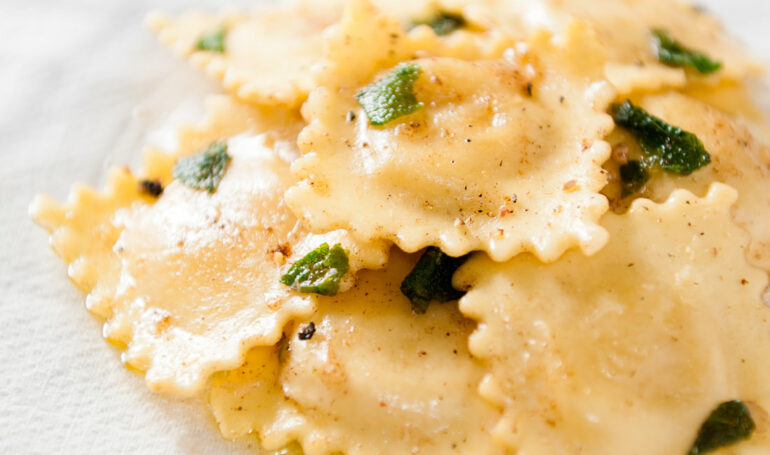 Ravioli in Butter and Sage Sauce
Summer is just days away which means less oven cooking and more quick dishes. Myself, like many of you, look for recipes that are quick, yet fulfilling and delicious. Who wants to spend hours in the kitchen during the summer?? In comes this light and delicate recipe of ravioli and in bitter and sage sauce! Can a sauce really be so simple, economical, quick, and delicious as this one? It sure can! Ravioli, butter, and sage are a classic combination that cook in record time, are ideal for week-night dinners, but sophisticated enough for week-ends or even for that dinner party you've been meaning to put together. When it comes to the ravioli, you can select fresh or frozen, but for this simple sauce, I find that the fresh ones, which you can find in your grocery store's refrigerated isle, or sometimes in the daily section, are best. Choose a filling that is not too overpowering, such as ricotta or pumpkin. Be very watchful of the ravioli as they cook as they cook quickly, and overcooking these is a sure way of ruining your dinner as they will burst open and have the filling completely spill out. Who wants empty ravioli? So just be mindful and sample one 1 – 2 minutes before the cooking time listed on the package, as the package cooking time is often too long, in my opinion. Chopped toasted walnuts or pecans are a great addition to this dish. Add a tablespoon directly on each serving dish before serving.
Ravioli in Butter and Sage Sauce
Serves 4

Ingredients
Sea salt to taste
1 pound fresh ravioli (filling of your choice)
½ cup unsalted butter, cubed
3 garlic cloves, minced
¼ cup sage leaves cut into ribbons
Ground black pepper to taste
¼ cup grated Parmesan cheese

Instructions
1.In a large 6-quart pot, bring 4 quarts of salted water to a boil over high heat. Add the ravioli and cook for 1 minute less than instructed on the package. Stir occasionally while the ravioli are cooking, paying close attention not to overcook or they will open up.
2. Meanwhile prepare the sauce. Add the butter to a large sauté pan set to low heat. Melt the butter fully and cook for about 2 to 3 minutes, until butter is slightly browned but not burnt. Butter will get foamy. Add the garlic and sage and mix well. Season with salt and pepper.
3. Drain the ravioli and add them to the sauté pan. Mix gently to combine and cook for 1 minute. Do not overmix as the ravioli are rather delicate.
​4. Divide the ravioli in 4 serving plates, add some of the sauce on top, and top with one tablespoon of grated cheese each. Serve hot.

Cosa Mettere in Valigia per l'Italia
Everyone is always asking me what they should pack for Italy,
so I've created a quick reference guide that you can use for your next trip.
Hint: You don't need nearly as much as you think you do!