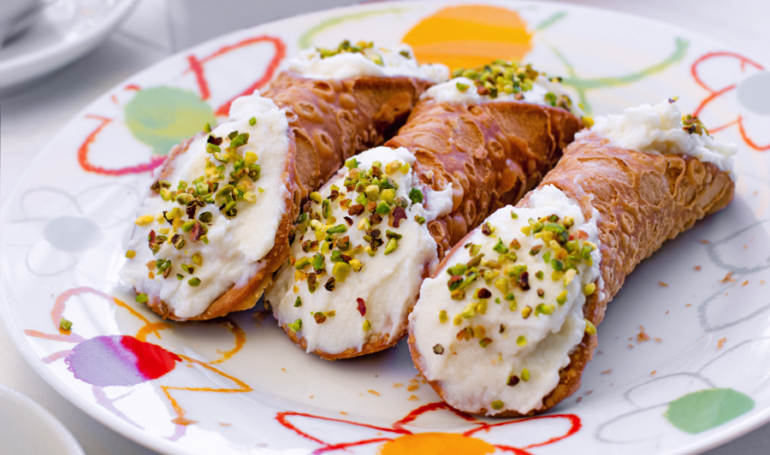 Quick Ricotta Cannoli
Is there anything more delicious than a ricotta cannoli? A classic Sicilian dessert, cannoli are tubular fried dough, filled with a smooth and creamy filling of ricotta. Purchasing pre-made shells saves hours of time in the kitchen, not to mention that by not having to fry the shells, the clean-up is a snap. There's no shame in getting a little help in the kitchen once in a while. Let's call it semi-homemade, shall we? Amazon has several options for different size shells; you can also check your local grocery store's bakery department too, as they will likely have them, and sell you some empty shells to fill at home. Because the filling is only a few key ingredients, purchase the best ricotta you can find, made from whole milk only. Bel Gioioso is my preferred brand when I made them at home.

Cannoli are best filled immediately upon serving, so prepare the cream when you're done with dinner and ready to serve dessert. Or you can prepare the cream beforehand, refrigerate it, and just hold off on filling the shells until you're ready to serve. You can refrigerate them for up to 1 day, but expect the shell to get a bit soggy.

Ingredients
½ cup heavy whipping cream
½ cup powdered sugar, plus additional for dusting
4 cups whole milk ricotta
8 large cannoli shells
16 maraschino cherries (optional)
½ cup miniature chocolate chips (optional)
Crushed pistachios (optional)

Instructions
In a medium bowl whip the whipping cream and sugar using the whisk attachment of the mixer. Mix until fully whipped and stiff, about 3 to 4 minutes.
Add the ricotta to the whipped cream and gently fold the ricotta into the cream using a rubber spatula. Mix just until combined, do not over mix.
Using a pastry bag or a plastic freezer bag with the tip cut off, pipe the cream into the shells. Decorate with a half maraschino cherry at the end, or dip the end of each cannoli into the chocolate chips or crushed pistachios, if desired. Add to serving platter and dust with additional powdered sugar. Serve immediately or refrigerate for a max of 1 day.

Cosa Mettere in Valigia per l'Italia
Everyone is always asking me what they should pack for Italy,
so I've created a quick reference guide that you can use for your next trip.
Hint: You don't need nearly as much as you think you do!