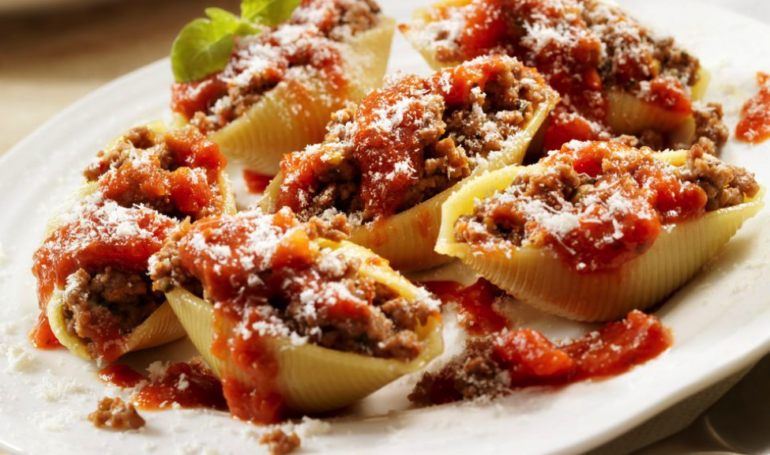 Meat Stuffed Sheels
My first cookbook is entitled The Five Ingredient Italian Cookbook, my second cookbook is Pasta in a Pinch and my third cookbook, to be released later this year is entitled 30-Minute Italian. Do you see a theme here? I love creating and recreating recipes that are easy, ideal for week-nights and that don't keep the home cook tied to the kitchen for hours on end. With that said, sometimes an occasion calls for something a little fancier, and requires a little more work. Que in the meat stuffed shells. Now, we all know and many of us make the ricotta stuffed shells, and those are good, but meat ones? Meat ones are, well, honestly, so much better! I recently led a Zoom cooking class where we prepared these and folks could not believe how great they were. Sure, they take a bit of effort, and you also need to prepare a homemade tomato sauce beforehand, but they're the perfect week-end meal, when you have a bit more time and want to prepare something special.

Homemade Tomato Sauce
Yields about 3 cups of sauce

Ingredients
3 tablespoons olive oil
½ small onion, diced
2 garlic cloves, minced
2 tablespoons chopped parsley
2 tablespoons chopped basil
Salt to taste – about 1 teaspoon
1 28 oz can of crushed peeled tomatoes
1 cup water

Instructions
In a medium saucepan, add the oil, onion, garlic, parsley, basil and salt and simmer for 2 – 3 minutes, until oil is hot and onion is slightly translucent.
Carefully add the can of tomatoes. This will splatter about a bit as it hits the hot oil.
Add the water. Reduce the heat to low, cover with lid and let that simmer for 15 – 20 minutes. Meanwhile, prepare the stuffing for the shells.
Filling for the shells
Serves 6

Ingredients
1 12-oz box large stuffing shells
2 – 3 tablespoons olive oil
1 tablespoon unsalted butter
1 small onion, finely diced
2 – 3 garlic cloves, minced
1 – 2 tablespoons chopped parsley
1½ lb ground meat (you can use beef, beef + veal, or all turkey)
Salt – to taste
Ground black pepper – to taste (optional)
½ cup freshly grated Parmesan cheese, plus additional for top
½ – ¾ cup fresh breadcrumbs
3 cup prepared tomato sauce, divided (see recipe above)

Instructions
1. Bring a large pot of salted water to boil.
2. In a large sauté pan set to medium – low heat, add the oil and butter and heat for a minute. Add the onion, garlic and parsley and sauté for 2 – 3 minutes until onion is softened and slightly translucent.
3. Add the ground meat, season with salt and pepper, and using a wooden spoon, break it down to a crumble and cook the meat for 15 minutes, continuing to stir to assure nothing is sticking to the pan. If the meat is drying up too quickly, reduce the heat.
4. Close the heat and add the grated cheese and breadcrumbs and mix well.
5. Add about 1 cup of the prepared sauce and stir into the meat gently. Mixture should be moist, but neither overly wet, nor dry. If it's too wet, add an additional tablespoon or so of breadcrumbs. If mixture is too dry, add a few additional tablespoons of the prepared tomato sauce.
6. Meanwhile, add the shells to the boiling water and cook according to instructions for pre-baking, generally about 9 – 10 minutes. Drain the shells completely.
7. Preheat oven to 375 degrees. Line a Pyrex dish or other baking pan with about 1 cup of the prepared tomato sauce. Spreading it on the pan evenly. Stuff each shell with a generous amount of the meat filling and add it to the pan. Continue until all the shells are stuffed, lining the shell tightly next to each other. Add the remaining sauce on top of the shells and using the back of a spoon or small spatula, spread the sauce. Sprinkle additional cheese on top of the shells and bake uncovered for 25 minutes. Serve hot.

Cosa Mettere in Valigia per l'Italia
Everyone is always asking me what they should pack for Italy,
so I've created a quick reference guide that you can use for your next trip.
Hint: You don't need nearly as much as you think you do!