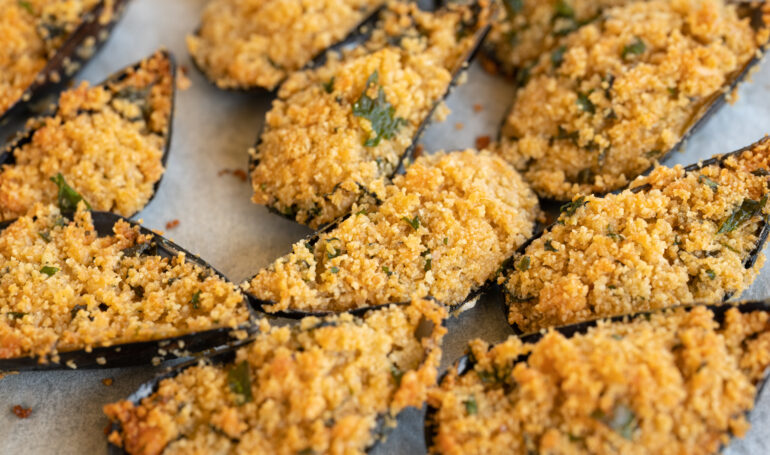 Mussels au Gratin
Easter is almost here, which means it's just a few more Fridays to Lent. Growing up in Italy, we tried to have seafood every Friday, even during non-Lent weeks. Surrounded by the ocean, it's easy to opt for seafood any day of the week. In the US, the seafood section at the supermarket is the most expensive spot, so good seafood is almost a luxury! Whereas in southern Italy, it's relatively inexpensive, you can also catch your own!

Quick, delicious and with a hint of crunch, these mussels au Gratin are a wonderful option for a quick week-night dinner when you want something delicious and healthy, but time is of the essence. This is another staple served in Calabria, Sicily and Puglia, where the surrounding oceans offer a bounty of fresh seafood. Be sure to spend a few minutes scrubbing the mussels clean and debearding any noticeable hair. To mix things up, you can follow the same exact recipe with clams.


Mussels au Gratin
Cozza Gratinate
Serves: 4 – 6

4 tablespoons olive oil, divided
2 pounds mussels, cleaned and debearded
½ cup dry white wine
1 cup fresh bread crumbs
2 garlic cloves, minced
Juice of half lemon
1 tablespoon white wine vinegar
2 tablespoons chopped parsley
Sea salt to taste

Preheat broiler of your oven, or to 450°F.
To a large sauté pan set to medium heat, add 1 tablespoon of olive oil and heat it for 30 seconds, until just slightly warmed. Add the mussels and white wine, cover with a lid and cook for about 5 – 7 minutes, until mussels open up. As the mussels cook, prepare the topping.
To a small bowl add the breadcrumbs, garlic, lemon juice, white wine vinegar, parsley and the remaining olive oil. Season with desired amount of salt and with a fork, mix to combine until bread crumbs are moistened and well mixed.
Remove mussels from the heat and discard any that have not opened up after 7 minutes on the heat. Separate the empty portion of the shell and discard.
Add the mussels to a baking sheet and spoon about 1 – 2 teaspoons of the breadcrumb mixture on top of each mussel. Bake for 2 – 3 minutes, until breadcrumbs are browned and crunchy. Serve immediately while hot.

Cosa Mettere in Valigia per l'Italia
Everyone is always asking me what they should pack for Italy,
so I've created a quick reference guide that you can use for your next trip.
Hint: You don't need nearly as much as you think you do!