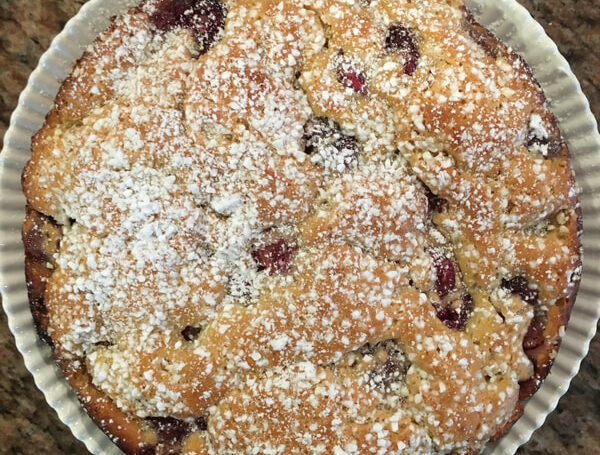 Olive Oil, Cherry and Yogurt Cake
Because it's summer, my time of year!
Ok, maybe not. I must confess, summer is not my favorite season. It's hot, sticky and humid. Although summers usually mean I return to our home in Calabria and spend the days at the beach, it's still not my favorite season. But there is one thing I adore about summer, and that's the fruit! The peaches and plums, nectarines and melons, and watermelon, lots and lots of juicy watermelon dripping down my arm. And let's not even start on the figs from Calabria!
But my favorite by a long shot? Cherries! I love, Love, LOVE cherries! The more the merrier. They're sweet and tangy at the same time. They're bite size nuggets of goodness and one begs another. I could (and have) eat them by the pound!
It seems to be a particular good year for cherries and I sure have had my share this summer. My local grocery store recently had a sale when you buy at least 5 lbs, and that wasn't hard to do at all, so I decided to make a delicious cherry cake. Perfect to go with coffee, this cake is light, tangy, citrusy and perfect for summer dessert! Be sure to make this for your next BBQ outing! While social distancing, of course.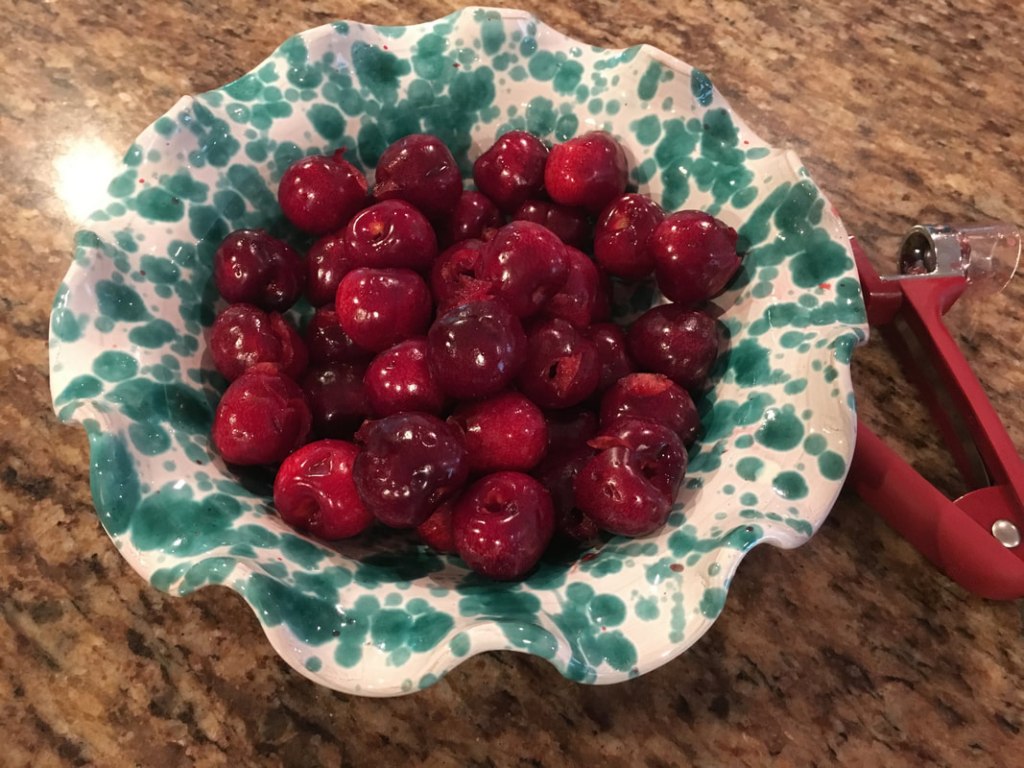 You will need a few cups of pitted cherries for this cake. I used a cherry pitter to help me out. It's a quick tool that also works to pit olives. I love me a multi-purpose gadget! Mine's a few years old, I believe it comes from Williams-Sonoma, but I could be mistaken. Amazon is sure to have one.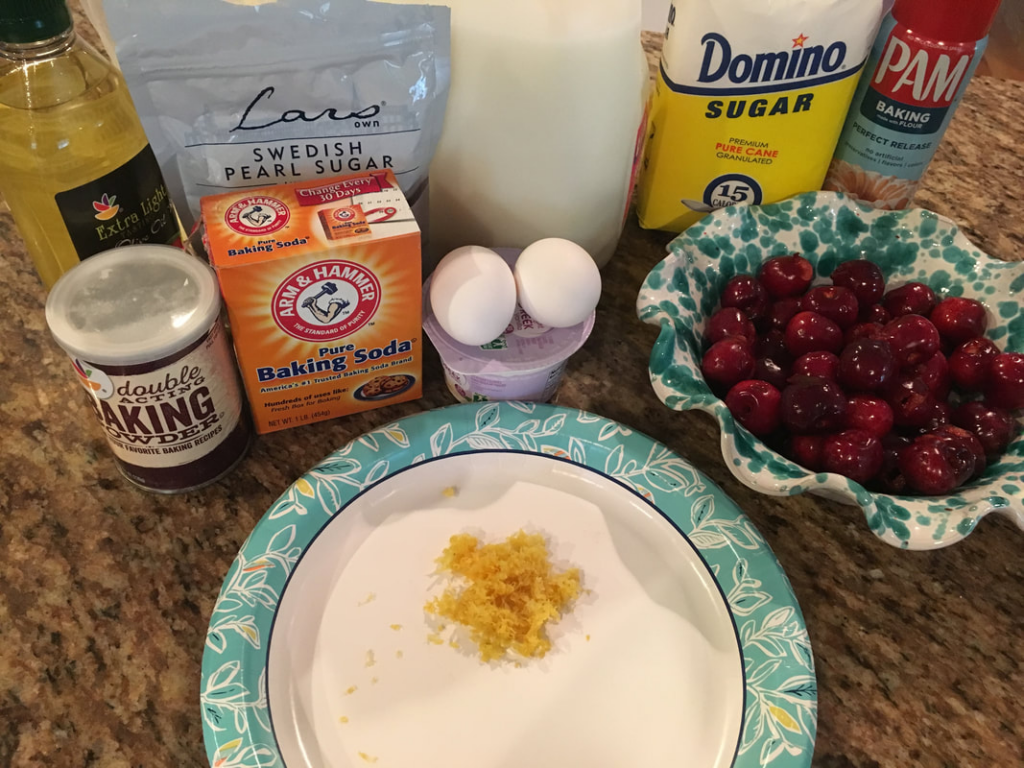 Get everything measured out before you get started. This will make it easier as you're going on with your recipe. Lars Swedish Pearl Sugar is optional, but I love it on top for an added crunch. I add it to a lot of cakes, as you might have seen on previous recipes. Purchased on Amazon and I highly recommend it for that extra touch on cakes and cookies.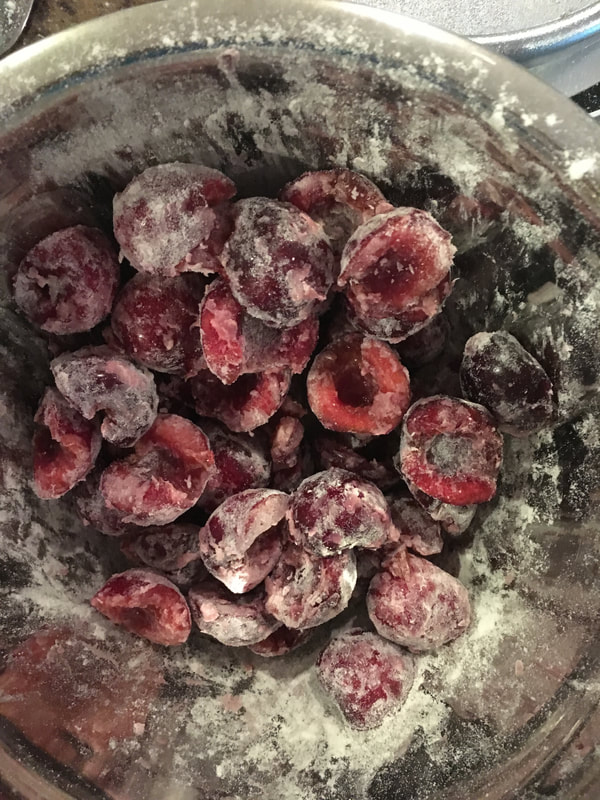 Cut the cherries in half and dust them with a tablespoon or so of flour to prevent them from sinking to the bottom of the cake.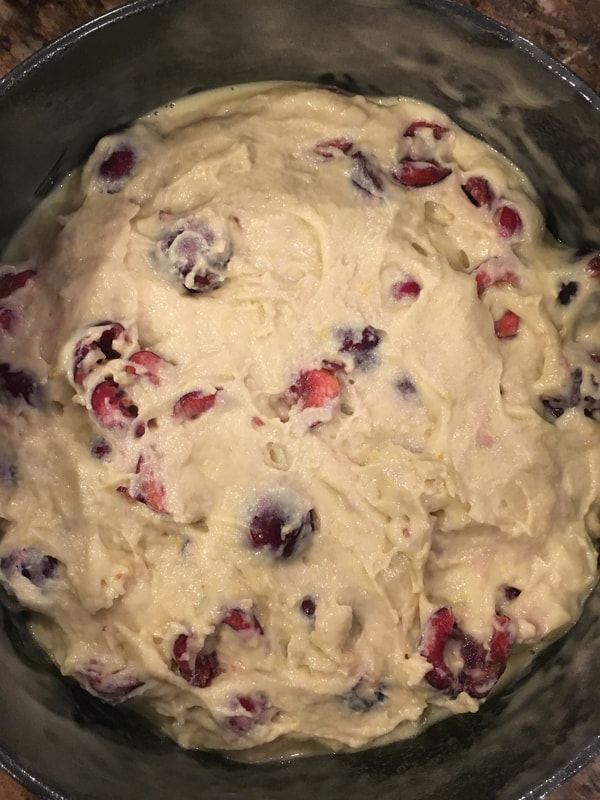 Spread the batter on an 8 or 9 inch springform pan. Here it is, almost ready to go in the oven! Still needs some sugar crystals! A springform pan will be helpful in getting it out, but you could use any pan. This batter is actually great for muffins too!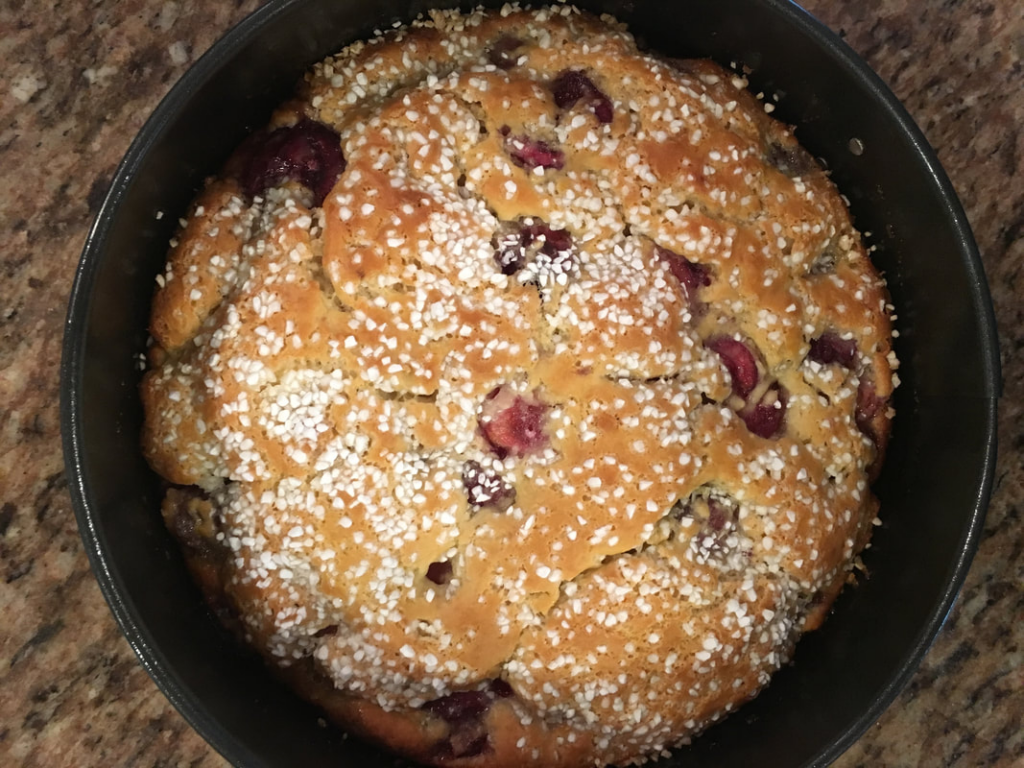 Fresh out of the oven! Resist the temptation and let it cool fully before inverting from the pan!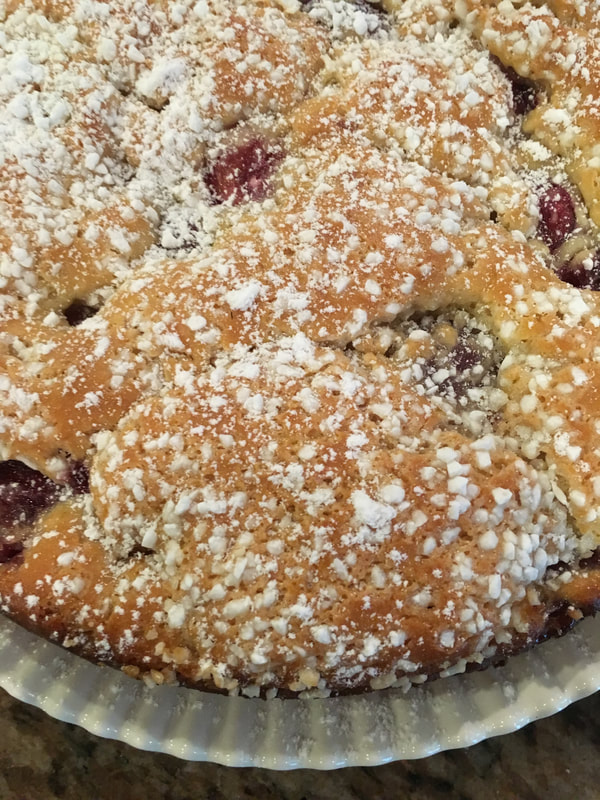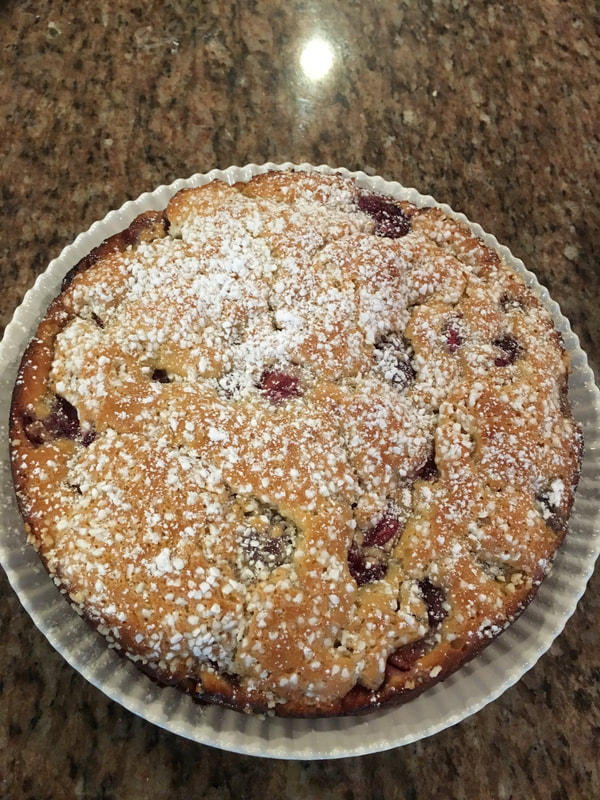 OLIVE OIL, CHERRY and YOGURT CAKE
Ingredients
2 cups fresh cherries, pitted and halved
1 1/3 cups all purpose flour + 1 tablespoon for dusting the cherries
2 teaspoons baking powder
1/4 teaspoon baking soda
2 medium eggs
3/4 cups sugar
zest of 1 lemon or 1/2 orange
1/4 cup light tasting olive oil (you can substitute vegetable oil)
1/2 cup vanilla greek yogurt
1/4 cup milk (I use skim, any will work)
2 tablespoons sugar crystals or regular sugar
Directions
1. Preheat oven to 350 degrees and prepare a springform pan by buttering and flouring it or using nonstick cooking spray, set aside. (Alternatively, this will make 12 cupcake size small muffins.)
2. Pit the cherries, cut in half, dust with 1 tablespoon of flour and set aside.
3. Mix the flour, baking powder and baking soda in a small bowl and set aside.
4. With a handheld mixer, or stand mixer, beat the eggs, sugar and zest until light and fluffy.
5. Slowly add the oil and mix well. Add the yogurt and milk and mix on low until combined.
6. Add the flour and mix just until incorporated, do not over-mix.
7. Using a spatula, add the cherries and mix into the cake batter. Spread the batter into the springform pan, or any other pan you are using, and top with the sugar crystals or the regular sugar.
8. Bake for 43 – 45 minutes or until the edges are golden. Cook completely before removing from the pan. (Adjust cooking time if making muffins/cupcakes.)

Cosa Mettere in Valigia per l'Italia
Everyone is always asking me what they should pack for Italy,
so I've created a quick reference guide that you can use for your next trip.
Hint: You don't need nearly as much as you think you do!