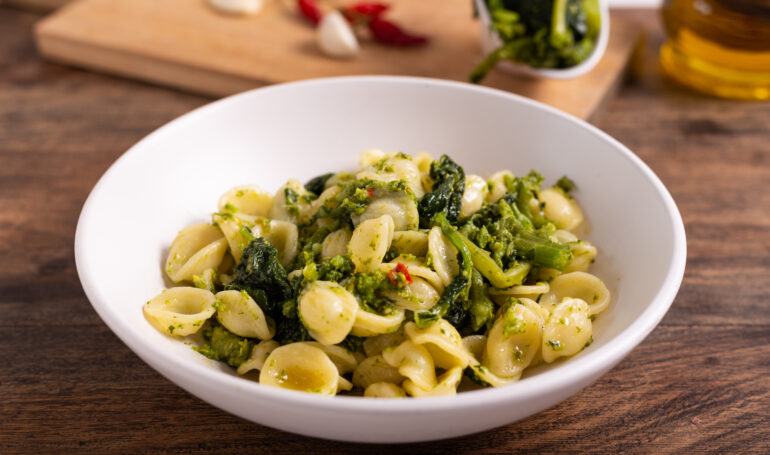 Orecchiette with Broccoli Rabe
We are currently in Puglia on an amazing culinary and culture tour, so I found it timely to share with you a little bit about one of its most recognized and iconic ingredients, the orecchiette pasta.
Certainly orecchiette are one of the quintessential pasta shapes of the Apulian cuisine. As a matter of fact, Bari even has a street dedicated to them, and like all pasta shapes, it's possible to cook them in a thousand different ways depending on your taste buds. Orecchiette, are certainly the undisputed queens of the culinary tradition of Puglia. The love for them is passed on from generation to generation and their homemade preparation follows rituals that mothers and grandmothers guard with care.
But what are Apulian orecchiette specifically? Where did they come from?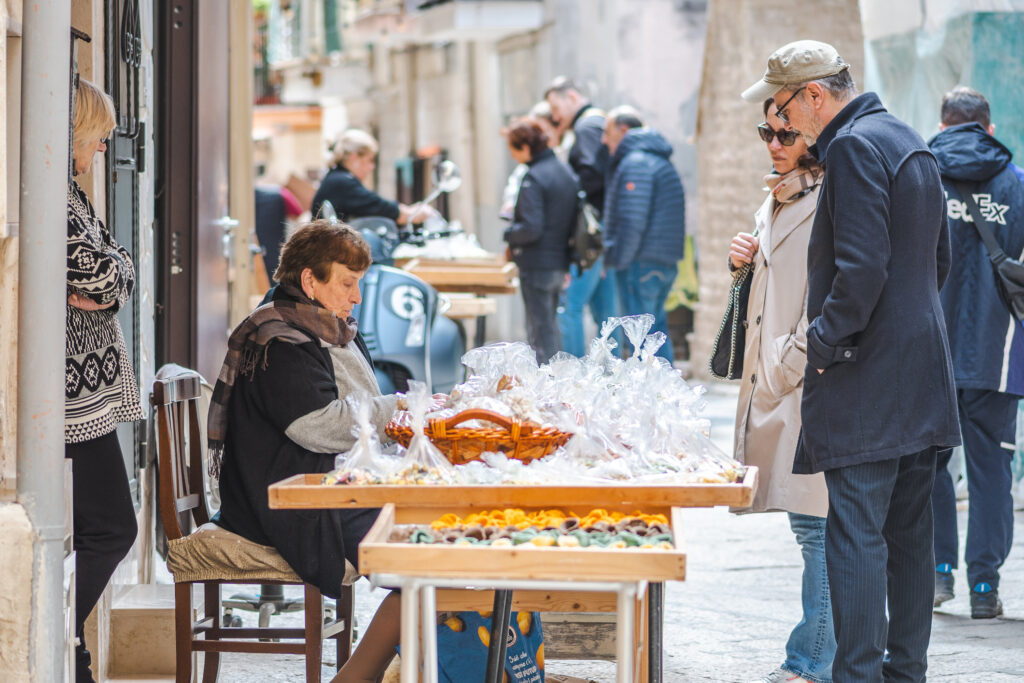 Why are They Called Orecchiette?
What does "orecchiette" mean? The name "orecchiette" derives from the particular shape that resembles small ears, or orecchie in Italian. Rounded and concave like domes on one side, and rough on the other, orecchiette are ideal for holding any type of sauce.
Basically, all you need to make them from scratch at home are water and flour. There are different schools of thought on the use of salt in the dough, but for most, it's only used in the cooking water. The real mastery is in the rapid movement of the fingers that drag the dough obtained on the work surface to recreate the shape of a small ear. It is no coincidence that the original dialectal term with which they were once called in the Bari area was "l strasc'nat" (strascinate), meaning to "drag" the dough, alluding to the technique used to prepare handmade orecchiette. By exerting pressure with the finger in the central part, the pasta thins and hollows out, almost assuming the appearance of a shell. The rough surface that distinguishes them makes them bind to any type of sauce and condiment.
Although the name orecchiette derives from the resemblance of this pasta to small ears, in reality the term with which it is usually indicated varies according to the way in which they are made. Strascinati, for example, are a more homemade and less elaborate version of orecchiette, and are prepared using only a knife with which to drag them. Without turning them over and inverting them, they are thus more rustic. The smaller orecchiette are preferred with red ragù. The larger ones are preferred with vegetables such as broccoli rabe, broccoli and cauliflower.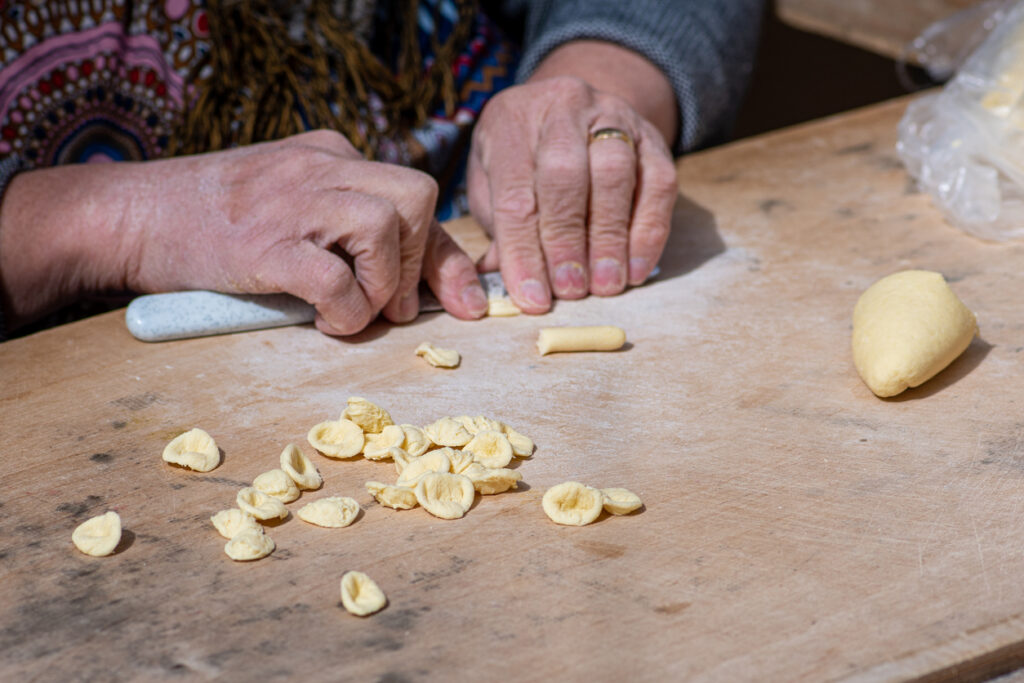 The Origins of Orecchiette
There are conflicting theories about the origins of orecchiette. Some historians place their birth in the Middle Ages in Provence, where it was customary to prepare a dough of durum wheat for pasta shaped like a centrally dug disc. They would have arrived in Italy thanks to the Angevins who ruled Puglia and Basilicata in the year 200.
According to another theory, however, the birth of the orecchiette belongs to Sannicandro di Bari during the Norman-Swabian domination. Between the 12th and 13th centuries there was a fusion between the local cuisine and that of the Jewish community formed in the area. In fact, typical of the Jewish culinary tradition are the Haman ears, whose concave and rounded shape is reminiscent of that of orecchiette.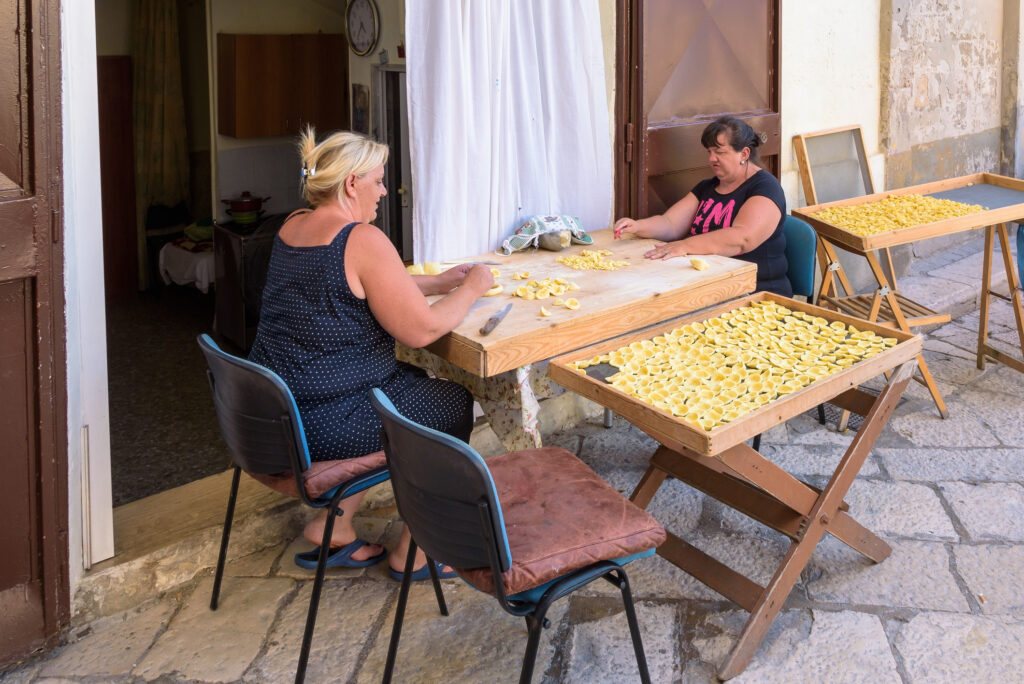 A Little Bit About Broccoli Rabe
If you ask any Pugliese the preferred method of cooking orecchiette, chances are they will say with broccoli rabe. Broccoli rabe are a characteristic vegetable of central-southern Italian agriculture and are grown especially in Puglia and Campania, but also in Calabria, Molise and Lazio. Called this way because they are used before flowering, broccoli rabe are called with different Italian dialects based on the territories they belong to: "broccoletti" in Rome, "friarielli" in Campania and "rapini" in Tuscany. It is not uncommon to find them referred simply as "rapi" which is the term we always called them growing up in Calabria.
Broccoli rabe is a vegetable that grows and produces with low temperatures. This is why the season for them is autumn, winter, until around April.
Broccoli rabe have small inflorescences similar to those of broccoli and long-stemmed leaves. Broccoli and broccoli rabe, in fact, are both part of the cruciferous family. One question I am often asked when broccoli rabe are discussed is: what is discarded from them and what do you eat? Both the inflorescences present inside and the more tender leaves are eaten from this vegetable. I usually discard the bottom leaves, which are rough, less flavorful and more pungent. As a bitter green, they should always be eaten cooked in some fashion. Cooking them removes some of that bitterness.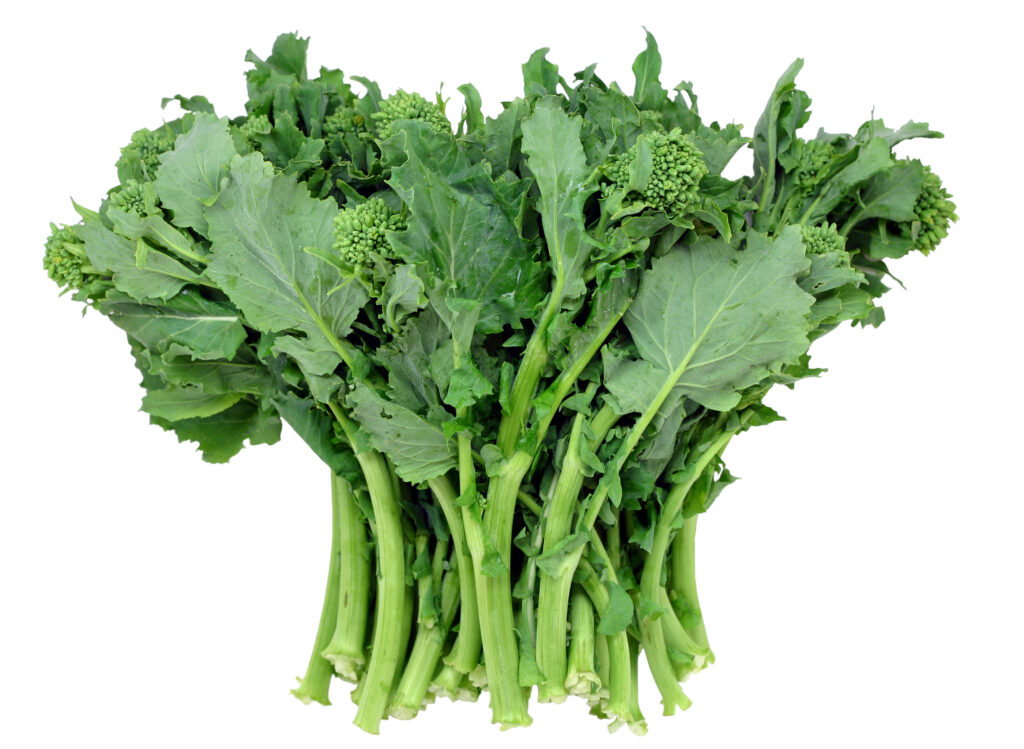 Combining Puglia's Favorites: Orecchiette with Broccoli Rabe
One of my favorite ways of preparing the rabe is in this typical Pugliese dish: Orecchiette with Broccoli Rabe. Certainly a simple, rustic, homey dish, part of southern Italy's Cucina Povera, or poor man's cooking. This simple dish is one that every inhabitant of the region of Puglia knows how to prepare. This recipe cannot be missing from every homemaker's repertoire in Puglia. There are countless ways to prepare them together. Some use the ever popular sausage, some use onions, some add chicken bits. Below is the simplest, and healthiest method in which I enjoy them.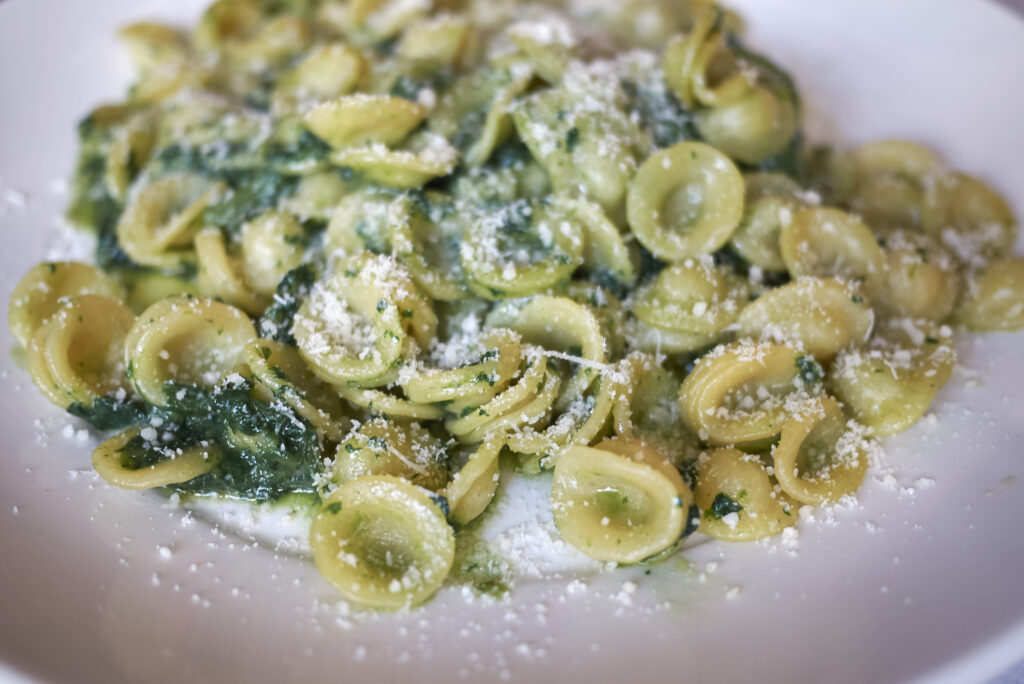 Orecchiette with Broccoli Rabe
Serves 4
Ingredients
2 large bunches broccoli rabe, trimmed of the lower leaves and washed (at least 2 lbs)
2 teaspoons salt, more to taste
4 tablespoons of extra virgin olive oil, more to taste
2 garlic cloves, halved
4 – 6 anchovy fillets
chili flakes, to taste
12 oz dry orecchiette pasta
Grated Parmigiano cheese, optional
Instructions
Bring a medium pan of salted water to boil. Clean your broccoli rabe by discarding the lower leaves and stems. Wash the broccoli rabe and give it a rough chop. Blanch them on the boiling water for about 5 – 6 minutes. Do not overcook.
Remove the broccoli rabe from the boiling water and place them in a dish, set them aside.
Using the same water that the broccoli rabe cooked in, add the pasta, cook for 1 – 2 minutes less than the package instructs. (Using the same water offers added flavor.)
Meanwhile as the pasta is cooking, in a large skillet with the heat on low-medium, add the oil, garlic, anchovies and chili flakes. Bring to a slight simmer, and with a wooden spoon, break down the anchovies. Add the broccoli rabe to the skillet and toss around to coat in the oil.
Drain pasta and add it to the skillet. Lower the heat to low and mix well so the oil coats all ingredients and all the flavors have been absorbed.
Plate in family style platter and top with grated cheese, if desired and some more hot pepper flakes. Add additional oil as needed.

Cosa Mettere in Valigia per l'Italia
Everyone is always asking me what they should pack for Italy,
so I've created a quick reference guide that you can use for your next trip.
Hint: You don't need nearly as much as you think you do!