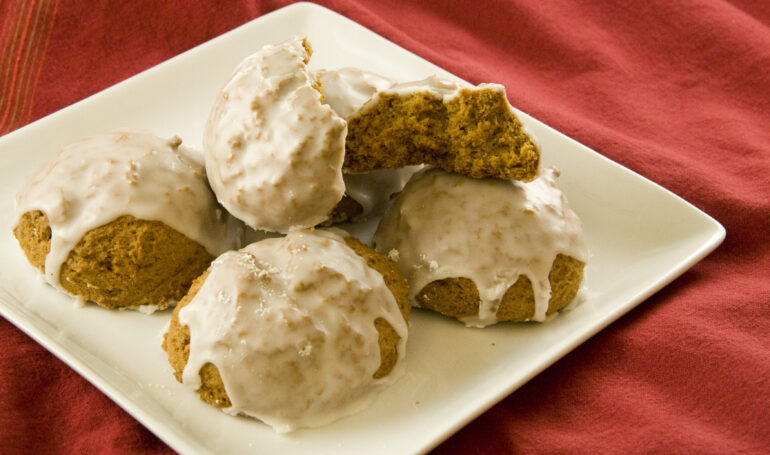 Glazed Pumpkin Ricotta Cookies
Ricotta Pumpkin Cookies
Yields about 35 – 40 cookies
Ingredients
2 1/2 cups all-purpose flour
1 teaspoon baking soda
1 teaspoon baking powder
1 teaspoon ground cinnamon
1/2 teaspoon ground ginger
1/2 teaspoon salt
1 cup granulated sugar
1/2 cup butter (1 stick), softened
½ cup pure pumpkin puree
½ cup whole milk ricotta
1 large egg
2 teaspoons vanilla extract (divided)
2 cups powdered sugar
2 – 3 tablespoons milk
1 teaspoon vanilla extract
Instructions
Preheat oven to 350° F. Line 2 – 3 baking sheets with parchment paper, or butter and flour them, set them aside.
Combine the dry ingredients: flour, baking soda, baking powder, cinnamon, ginger and salt in medium bowl. Set them aside.
Beat sugar and the softened butter in a large mixer bowl until well combined. Beat in pumpkin, ricotta, egg and 1 teaspoon vanilla extract until combined, do not overmix or batter will become too thin. Gradually add in flour mixture and mix well until combined, but do not overmix.
Using a cookie scoop, or two tablespoons, drop rounded tablespoon onto prepared baking sheets.
Bake for 17 to 19 minutes, cookies will be soft, cake-like, and just slightly darkened at the bottom. Remove from the oven and let cool while preparing the glaze.
Combine sifted powdered sugar, milk, and remaining teaspoon vanilla extract in small bowl until smooth. Dunk cookies in icing for full icing coverage or drizzle on top.
Note: If you plan on serving these cookies at a later time, save them unglazed in an airtight container. Glaze cookies the morning before serving to allow glaze to harden by serving time. Cookies will keep fresh for up to one week.

Cosa Mettere in Valigia per l'Italia
Everyone is always asking me what they should pack for Italy,
so I've created a quick reference guide that you can use for your next trip.
Hint: You don't need nearly as much as you think you do!