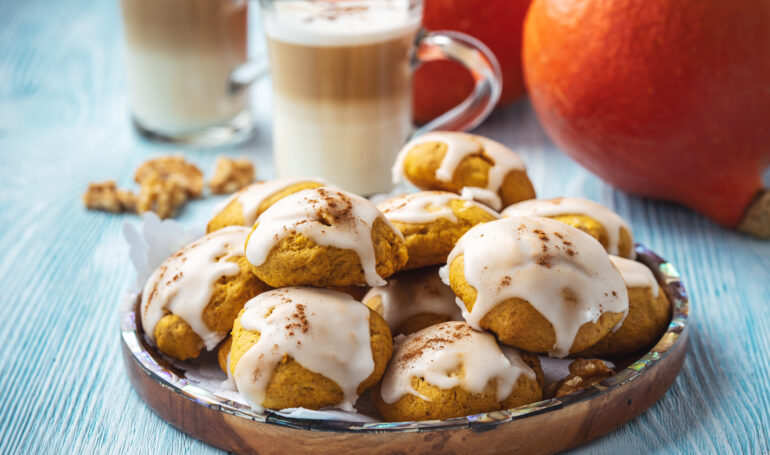 Glazed Pumpkin Ricotta Cookies
I have to admit, summer is not my favorite season. I have never been a fan of the excessive heat, the mosquitos, or the sweating that comes along with July and August. Fall, now, there's my favorite season! I am one happy camper from September to the end of December! Then the winter slump hits!
With fall almost here, and we're officially in September, I am in full autumn mode. I can smell the pumpkin, the gingerbread and the cinnamon already! The air is crisp, there's a chill in the air, but not yet too chilly, and even my dog enjoys her walks more.
Today, I wanted to share with you one of my favorite fall recipes that is always on rotation in my kitchen during this time of year: Glazed Pumpkin Ricotta Cookies. Traditional ricotta cookies are a staple in my household. It seems I have a batch in the oven while still having a few from the previous batch still in the cookie jar. These glazed pumpkin ricotta cookies are a combination of the classic Italian ricotta cookies combined with pumpkin to get them in the autumn spirit. They are incredibly easy to prepare, super soft, with almost a cake-like consistency, and the perfect treat for this time of year. Give me a nice cup of coffee and a few of these, a warm sweater and long jeans, and I am immediately transported into my favorite season.
These glazed pumpkin ricotta cookies will easily last in an air-tight cookie tin or jar for about one week. If you're preparing them to bring to a party, they can be prepped a few days in advance, but I suggest not glazing them until the day you will be enjoying them, allowing at least a few hours for the icing to dry completely before plating.
Grab a pumpkin spiced latte, a cappuccino or a classic mug of tea and be sure to make these this week-end!
Glazed Pumpkin Ricotta Cookies
Yields about 35 – 40 cookies
Ingredients
2½ Cups All-Purpose Flour
1 Teaspoon Baking Soda
1 Teaspoon Baking Powder
1½ Teaspoon Ground Cinnamon
½ Teaspoon Ground Ginger
½ Teaspoon Salt
1 Cup Granulated Sugar
4 oz Unsalted Butter, Softened
½ Cup Pure Pumpkin Puree (Canned)
½ Cup Whole Milk Ricotta
1 Large Egg
1 Teaspoon Pure Vanilla Extract
Glaze
1 Teaspoons Pure Vanilla Extract
2 Cups Confectioners (Powdered) Sugar – Sifted
2 – 3 Tablespoons Milk
Instructions
Preheat oven to 350° F. Line 2 – 3 baking sheets with parchment paper, or butter and flour them, set them aside.
Combine the dry ingredients: flour, baking soda, baking powder, cinnamon, ginger and salt in medium bowl. Set them aside.
Beat sugar and the softened butter in a large mixer bowl until well combined.
Beat in pumpkin, ricotta, egg and 1 teaspoon vanilla extract until combined, do not overmix or batter will become too thin. Gradually add in flour mixture and mix well until combined, but do not overmix.
Using a cookie scoop, or two tablespoons, drop rounded tablespoon onto prepared baking sheets.
Bake for 17 to 19 minutes, cookies will be soft, cake-like, and just slightly darkened at the bottom. Remove from the oven and let cool while preparing the glaze.
Combine sifted powdered sugar, milk, and remaining teaspoon vanilla extract in small bowl until smooth. Dunk cookies in icing for full icing coverage or drizzle on top. Allow icing to dry completely before plating and serving.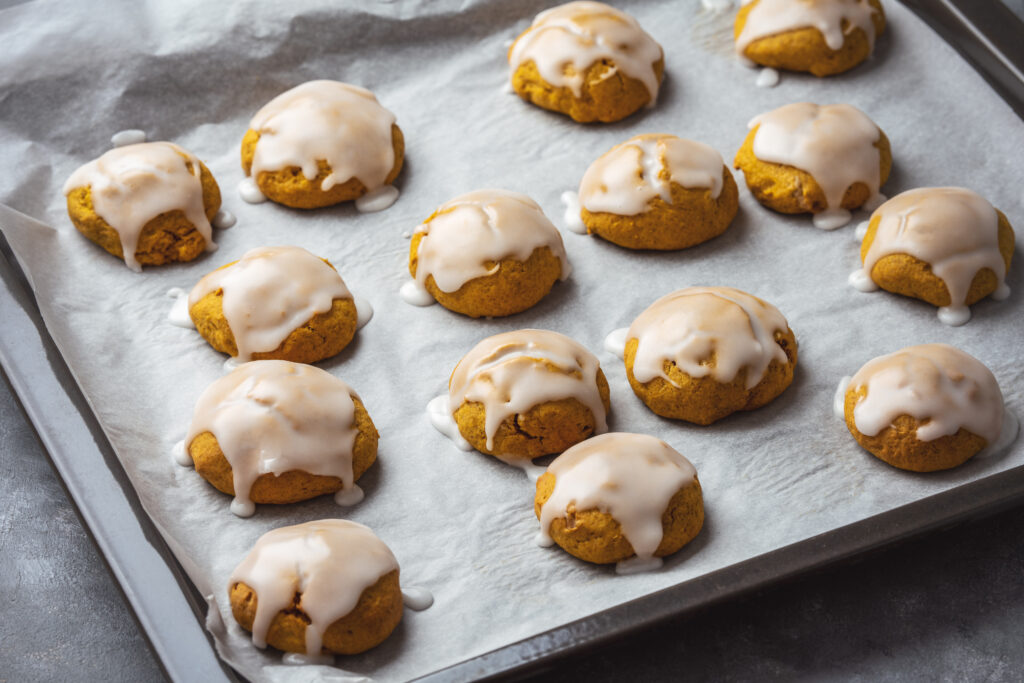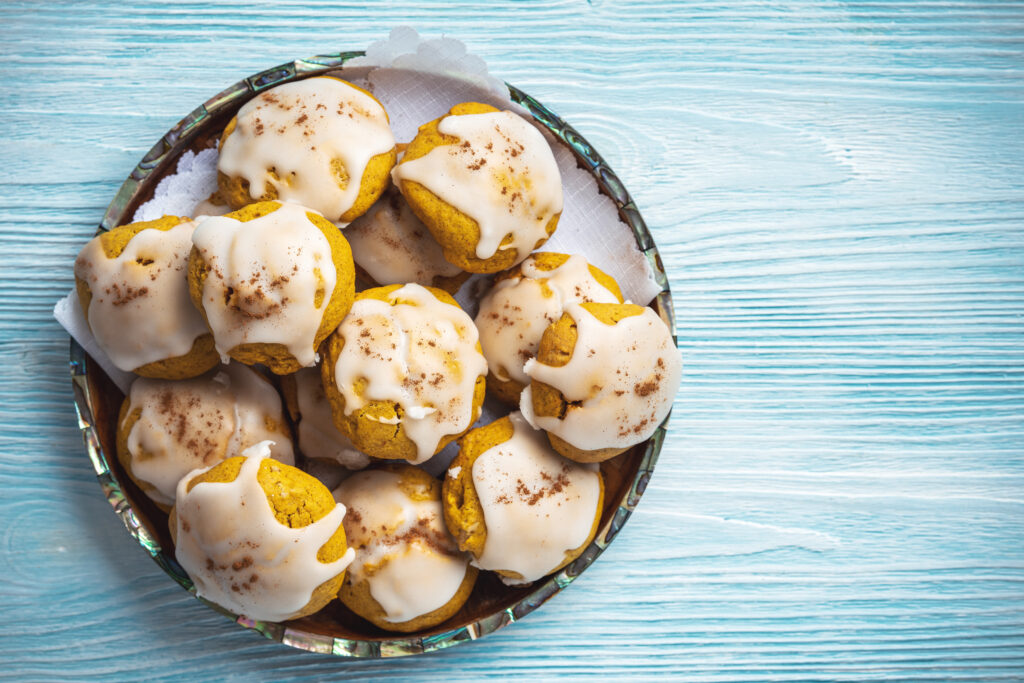 Cosa Mettere in Valigia per l'Italia
Everyone is always asking me what they should pack for Italy,
so I've created a quick reference guide that you can use for your next trip.
Hint: You don't need nearly as much as you think you do!