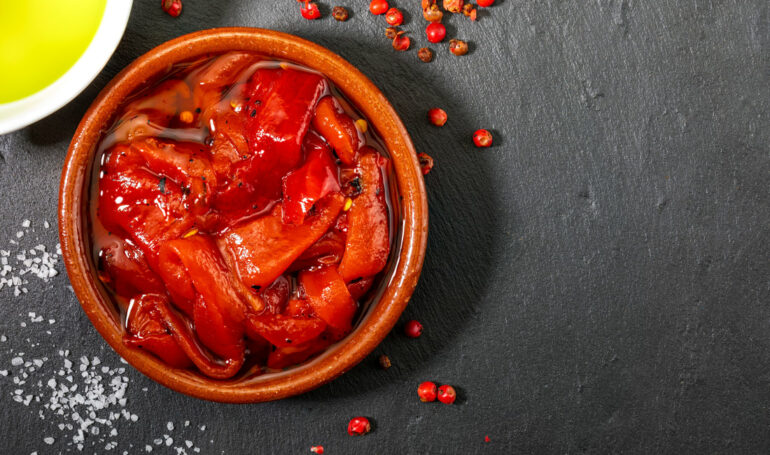 Roasted Red Bell Peppers
Fall is officially here, which means less outdoor barbequing and the oven gets turned back on! I don't do much oven cooking in the summer, for obvious reasons. And as much as I love summer weather, fall and winter cooking for me is so much more fun. Less salads and more soups please!

And if you're looking to have your house smelling delicious and like you've cooked all day, I recommend roasting some peppers immediately! Italians love roasted sweet peppers and we use them as a side dish, added to salads, or in a delicious sandwich or frittata. The method and list of ingredients does not vary much and though you could use green, orange or yellow peppers, the red ones are the easiest to peel and the sweetest ones to serve. Since peppers are mostly water, they will wilt substantially once roasted so you will end up needing more than you think. I usually roast about 10 at a time, because, if you're going to turn the oven on, might as well do so for a bunch of them. Choose peppers that are bright in color, crisp and free of blemishes. And yes, some folks roast them directly on the stovetop over an open flame. I prefer roasting them in the broiler. It's less hands on, you can roast many at a time, and the aroma will engulf your entire home.

Roasted Red Bell Peppers
Ingredients
6 – 10 large red bell peppers
2 – 3 tablespoons olive oil
1 teaspoon sea salt
1 teaspoon dry oregano
Fresh basil, minced
1 garlic clove, minced

Instructions
1. Turn oven on to broil and place the rack on the very top shelf. For easier clean up, line a baking sheet with aluminum foil.
2. Rinse the peppers under cold water, dry them with clean paper towels and place them on the prepared baking sheet.
3. Roast peppers in the oven for about 20 minutes, turning the peppers on all sides every 5 or so minutes. 4. When peppers are charred on all sides, remove the tray from the oven and place the entire baking sheet in a large brown bag for a few minutes, this will steam them and make peeling easier. Peel peppers and remove all visible skin and seeds.
5. Cut peppers in strips and place them in a serving bowl. Season the peppers with oil, salt, oregano, basil and garlic. Serve immediately as a side dish, in a sandwich, added to salads, or as you wish. They can be refrigerated for up to 4 days.

Cosa Mettere in Valigia per l'Italia
Everyone is always asking me what they should pack for Italy,
so I've created a quick reference guide that you can use for your next trip.
Hint: You don't need nearly as much as you think you do!