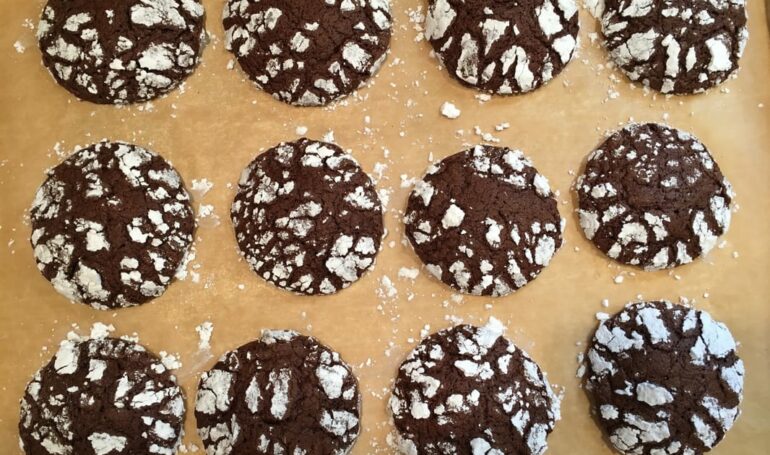 Double Chocolate Espresso Cookies
You take chocolate and you take espresso, and you pretty much have my two favorite food groups. Ok, they are not their own food group, per se, but boy, they should be! I love the flavor of these cookies so much! The funny thing is that they are not super sweet! How can that be? They have more sugar than they have flour! And they are coated in sugar! I think it's the unsweetened chocolate in them. Dark chocolate is healthy for you, right? I'm not proud of it and it's not something I make on a weekly basis, but the holidays wouldn't be the same without these. I know, I said the same thing about the pizzelle and butter balls. The thing is, the holidays just wouldn't be the same without sweets and sugary treats to share.
These cookies are not complicated to make, just a few easy steps. You don't even need to get your stand mixer out for this one! You will need a few separate bowls. The butter and chocolate get melted in the microwave and you then combine the dry ingredients to the wet ones. Easy peasy! I've pictured the steps below. Be sure to make these and do not skip on the espresso powder. I get mine on line, easy enough to find on Amazon these days. I do use it a lot for baking so it's not one of those "I'll never use this again" ingredient, which I hate! You can make creams with this and, actually, if you heat up a cup of milk and add a teaspoon of this, you will have a great latte! Who needs those expensive lattes from outside when you can make it at home? Actually, a latte goes really well with these cookies!
These are great for cookie exchanges, holiday get-togethers and the (dreaded) office parties. You can also wrap them up in some pretty bags and give them away as gifts. I mean, who wouldn't want to get some homemade cookies like these as a gift? Grab a decorative mug and some of these, and you have a great gift for that teacher you never know what to get, the neighbor who helped you withered clean-up or that friend who is always doing you small favors here and there.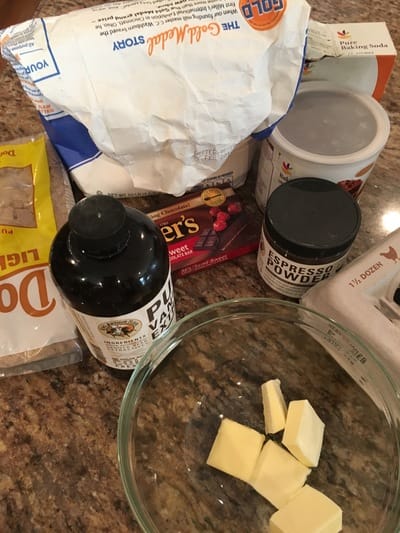 Here are the basic ingredients. Nothing out of the ordinary here. On the right are the dry ingredients: flour, cocoa, baking powder, soda and salt. (It's about to smell really delicious in here!)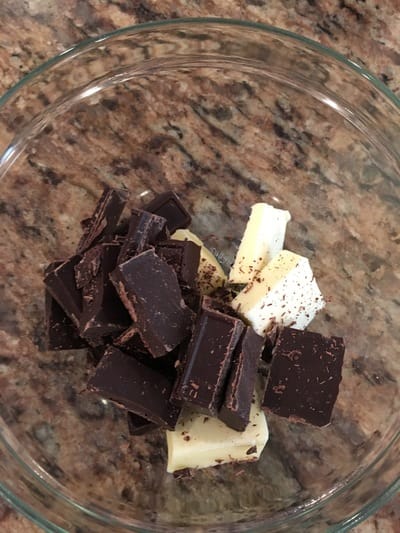 Here are the butter and chocolate before and after. You can see, it's just chopped chocolate with the butter. It takes about one minute total but everyone's micro is different so check it half way. If you feel small pieces of chocolate still in the mixture, blend it with a fork and it should melt. Do not keep it in the microwave more than you have to.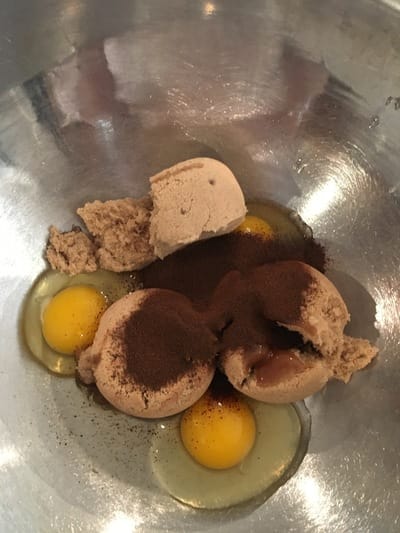 Here are the brown sugar, eggs, espresso powder and vanilla. On the right is after all the goodies have been well-blended. The espresso powder smells so good! If you don't like the espresso, you can, of course, make these without if, but than they would not be chocolate espresso cookies, just double chocolate cookies. 😉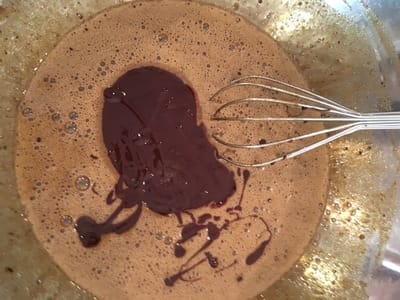 Here, we've added the melted chocolate to the wet ingredients and eventually the dry to the overall mixture. We're almost there!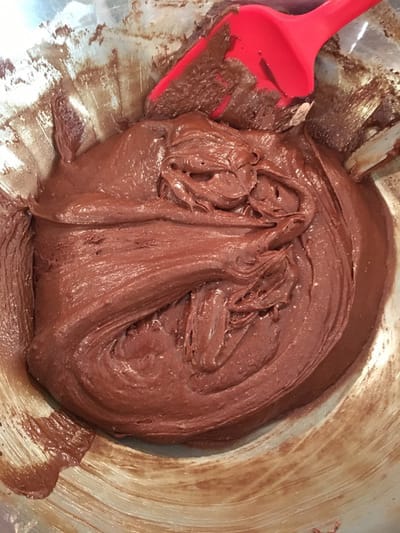 Here's the cookie dough resting for about 15 minutes. This helps in scooping it out as it is a bit sticky. On the right are our sugars, which we will roll our cookies in. First regular granulated sugar then ending it with confectionary.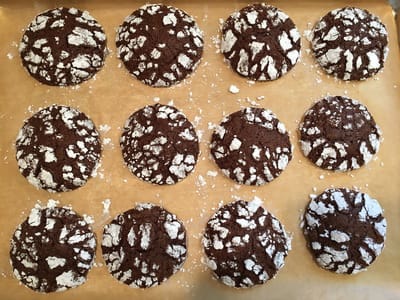 Here they are! Right out of the oven, they look nice and puffy. Within a few minutes, they do deflate a bit. Looking delicious on my Italian plate!
Double-Chocolate Espresso Cookies (24 – 28 cookies, depending on size)
​Ingredients
1 cup all purpose flour
½ cup unsweetened cocoa powder
1 teaspoon baking powder
¼ teaspoon baking soda
½ teaspoon salt
1 ½ cups packed light brown sugar
3 large eggs
4 teaspoons instant espresso powder
1 teaspoon vanilla extract
4 ounces unsweetened chocolate, chopped
½ stick unsalted butter
½ cup granulated sugar
½ cup confectioners' sugar

Directions
1. In a medium bowl, whisk flour, cocoa, baking powder, baking soda, and salt together and set aside.
2. In a large bowl, whisk brown sugar, eggs, espresso powder, and vanilla together until well blended. Set aside.
3. Combine chocolate and butter in bowl and microwave for about one minute, checking ½ way through to make sure it is not burning, both butter and chocolate should be melted. Blend both ingredients until you have a nice, glossy syrup like mixture.
4. Whisk melted chocolate and butter mixture into egg mixture until combined.
5. Fold in flour mixture until no dry streaks remain. Let dough sit at room temperature for 15 minutes. In the meantime, adjust oven rack to middle position and heat oven to 325 degrees. Line 2 baking sheets with parchment paper or a silpad.
6. Place granulated sugar and confectioners' sugar in separate bowls. Using a small ice cream scoop, scoop out dough and roll into balls. Drop dough balls directly into granulated sugar and coat. Transfer dough balls to confectioners' sugar and roll to coat evenly. Evenly space dough balls on prepared sheets, they will spread so about 12 cookies per sheet, max.
7. Bake cookies, 1 sheet at a time, for 12 minutes, rotating the cookie sheet at the half-way mark. Cookies will puff up and crack at the center. Remove cookies after 12 minutes of baking, they will look underdone. Cookies will slowly deflate down a bit, a bit like a soufflé, and will not be as puffy as when you remove them. 
TRAVEL WITH US IN 2023! CLICK LINKS BELOW FOR ALL THE INFO!
THE TUSCAN COUNTRYSIDE: MAY 6 – MAY 13, 2023.
BOLOGNA and EMILIA ROMAGNA: MAY 14 – 21, 2023
THE AMALFI COAST: MAY 22 – 29, 2023
CALABRIA: SEPTEMBER 1 – 8, 2023
PUGLIA: SEPTEMBER 9 – 16, 2023

Cosa Mettere in Valigia per l'Italia
Everyone is always asking me what they should pack for Italy,
so I've created a quick reference guide that you can use for your next trip.
Hint: You don't need nearly as much as you think you do!