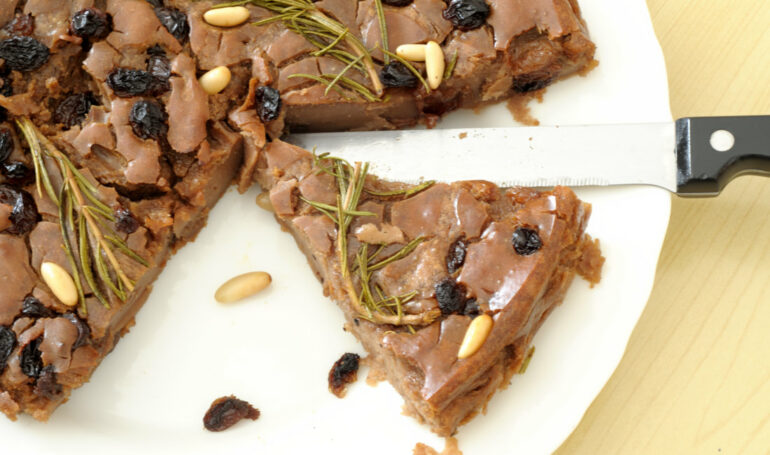 Tuscan Chestnut Cake / Castagnaccio Alla Toscana
What could be better than fall in Italy? I simply don't know and it pains me dearly that I am not there right about now. It's the best time of the year to do just about anything. Sightseeing without the crowds, and the heat, walking around with just a light jacket, and enjoying a hot cappuccino at the local bar. Indeed there isn't much better. But until we're able to travel back to Italy, in the fall or any time of the year for that matter, we must bring Italy to us, and one sure way to do so is by cooking Italian, of course!
 
Castagnaccio is a typical end-of meal dish prepared with chestnut flour and sweetened with raisins. Pine nuts, walnuts and rosemary are also added. It is difficult to establish the exact origin of the castagnaccio. And it's just as difficult to describe the consistency. We use the term "cake" liberally here, as it's not a cake at all, but it's stick to your ribs thick, almost fudgy in consistency, although there's no chocolate here. It's not at all sweet, other than the added raisins, our version here has no sugar. This is a great way to end a meal in place of ending it with fruit or otherwise sweet dessert. One might say that this is almost savory as oppose to sweet. This is the Tuscan version of castagnaccio, but this "cake" is also prepared in Veneto, Piedmont, Lombardy, basically all the regions where chestnuts are a very popular ingredient in the kitchen. What all the variants have in common is the peasant origin of the castagnaccio: water, chestnut flour and rosemary. Each family holds their own recipe for castagnaccio and here's our version.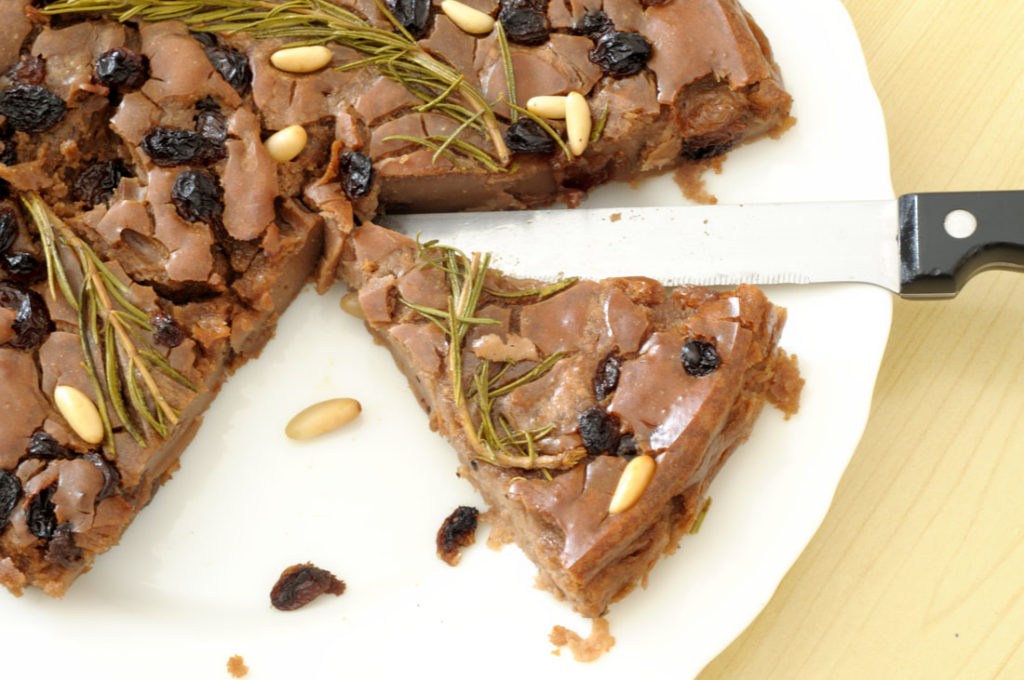 Tuscan Chestnut Cake / Castagnaccio Alla Toscana
Ingredients
½ cup raisins (I prefer golden raisins)
4 cups chestnut flour
2 ¾ cups cold water
¾ cup pine nuts
1 cup walnuts or pecans, chopped
1 sprig of rosemary, stem removed
Dash of salt
3 tablespoons extra virgin olive oil

Directions
Preheat the oven to 375 degrees.
Soak the raisins in about 1 cup of cold water for about 10 minutes, set aside.
In a large bowl, sift the chestnut flour. To the bowl, add the cold water and mix using a whisk, removing all the lumps.
Add the pine nuts and walnuts and mix well until they are incorporated. Reserve a few of each to place on top of the cake before baking.
Drain the raisins and using a clean paper towel, squeeze out all the water. Add them to the batter and mix well, reserving a few to decorate the top of the cake. Add a dash of salt to the batter and mix.
Coat a 12-inch cake pan with a bit of the olive oil. Pour the batter into the pan and spread evenly. Top the cake with the reserved pine nuts, walnuts and raisins. Add the sprigs of rosemary and drizzle on top the remaining olive oil that remained from having oiled the pan.
Bake the castagnaccio for about 35 minutes, or until the edges have browned slightly and an inserted toothpick comes out clean.
* For a sweeter castagnaccio, add 2 – 3 tablespoons of sugar to the flour and continue on with the recipe as is.

Cosa Mettere in Valigia per l'Italia
Everyone is always asking me what they should pack for Italy,
so I've created a quick reference guide that you can use for your next trip.
Hint: You don't need nearly as much as you think you do!