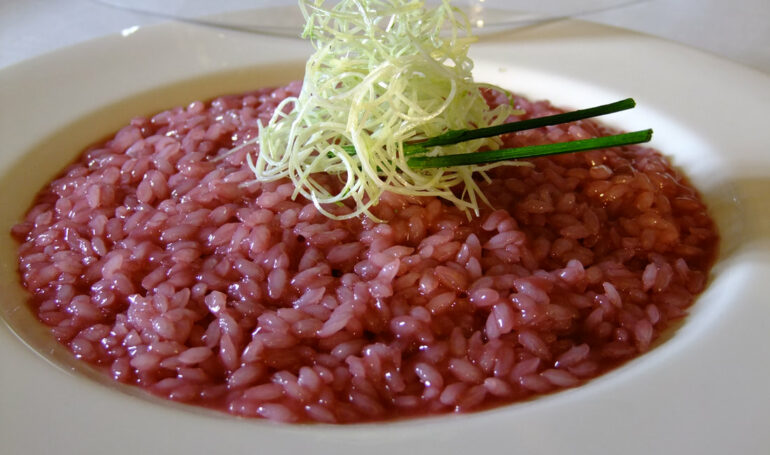 Amarone Risotto
If you read our previous story on winemaking in Italy, you know this period is very sacred for Italians. The sounds, colors and smells during this period are exceptional in Italy, and it's certainly the season I miss the most. Despite being an avid beach-goer and enjoying days baking under the beaches in Calabria, fall is when all the senses come to life. I mean, who wants to spend time in the kitchen in the heat of summer? But better than the sounds and autumn senses are the flavors of fall! Can you say olio nuovo, or new oil, or vino nuovo, the new wine?
 
Fall just begs for long hours behind the stove, cooking and baking, and creating exceptional dishes. Come January, many of us go on the required (albeit always temporary) "new year, new me" diet, which never lasts long, but from September to December, it's in the kitchen that you will fine me!
 
One of my absolute favorite things to cook in the cooler months is risotto. I almost never make risotto in the summer, as it requires constant stirring behind a hot stove. But come fall, there isn't enough Arborio rice to hold me back! Risotto is comforting, warms body and soul and it's almost therapeutic for me to prepare. The attention it requires is constant, but the reward is so satisfying.
 
Several years ago, I led a food and wine tour with celebrity TV chef Joanne Weir. We were leading a wonderful culinary tour of the Veneto region and Valpolicella and we stayed a week at Serego Alighieri, the stunning winery and villa owned Dante Alighieri's descendants. As can be expected, the week was filled with delicious food and wine, particularly Amarone. Because wine makes just about everything better, can you imagine how delicious this risotto is? This was one of the dishes that the students learned to prepare during our cooking classes at the winery.
 
Certainly, many risottos call for a bit of wine, usually less than a cup of dry white wine is used. However, in this recipe, the Amarone is center stage. And I love how it completely changes the color of the risotto. If this doesn't say fall, I don't know what does.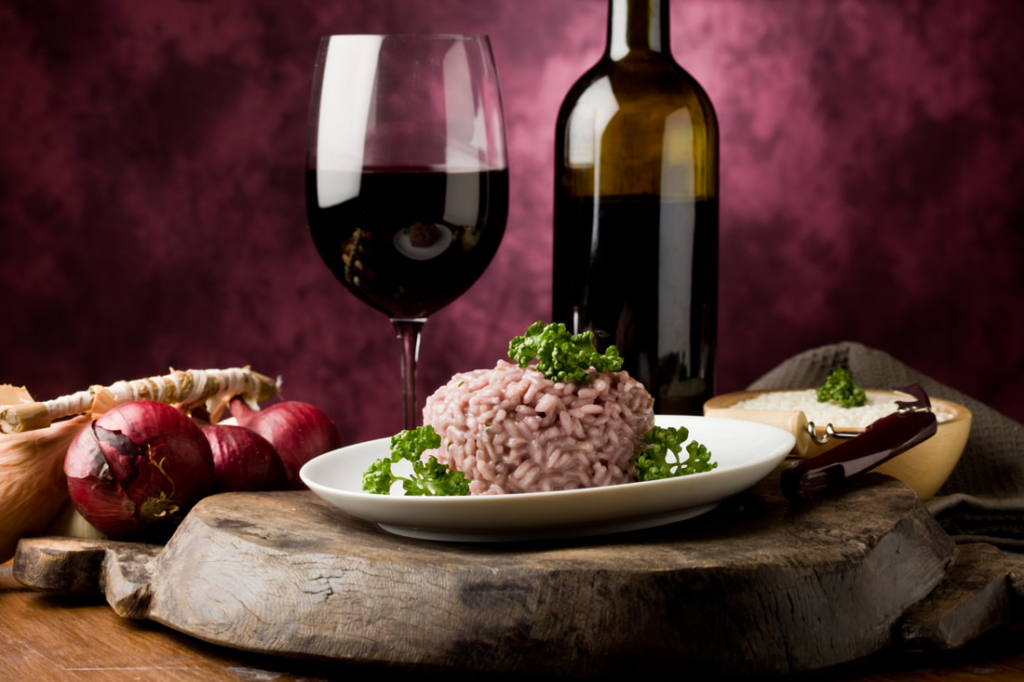 Amarone Risotto
Serves 6 – 8
3 tablespoons olive oil
1 small yellow onion, diced
2 ½ cups chicken or vegetable stock
2 ½ cups Amarone wine
2 cups Arborio rice
2 tablespoons butter
freshly grated nutmeg
1 cup grated Parmigiano Reggiano
salt and freshly ground black pepper

Heat the olive oil in a large heavy pot over medium heat. Add the onions and cook, stirring occasionally, until soft, 10 minutes.
In the meantime over low heat, in a saucepan on the back burner of the stove, bring the chicken stock and 1 ½ cups water to just below a simmer. In another saucepan, warm the red wine just below a simmer.
Increase the heat to medium, add the rice to the onions and stir until the rice is very hot, just begins to stick to the bottom of the pan, and the rice is completely coated with oil, 2 to 3 minutes.
Add two ladlefuls of hot red wine and stir constantly until the stock is almost absorbed. Add a ladleful of chicken or vegetable stock and stir steadily to keep the rice from sticking. Continue to add the stock a little at a time, stirring until the stock is gone. Then continue with the hot red wine. Continue to add the red wine until the rice is cooked, process should take about 18 to 22 minutes. If you run out of red wine, use hot water.
Remove the pan from the heat, add butter, nutmeg to taste, and the Parmigiano Reggiano. Add salt and pepper. Serve immediately.

Cosa Mettere in Valigia per l'Italia
Everyone is always asking me what they should pack for Italy,
so I've created a quick reference guide that you can use for your next trip.
Hint: You don't need nearly as much as you think you do!