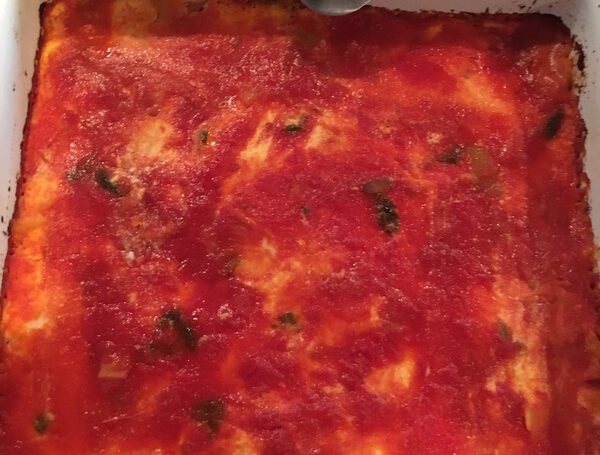 Three Cheese Baked Farfalle 
As a culinary instructor, I always give careful thought to the recipes I select for my students. What is their skill level? Will they think the recipes are too simple? Too difficult? Either way, it makes it for a less than ideal classroom situation. If the recipes are too simple, they might feel patronized or that they have wasted the class fee. Yet if they are too complex, they might never replicate the meals at home. And as a culinary instructor, my number one goal is that I've instilled in them some culinary confidence that they go home and replicate the dishes we've prepared in class for their loved ones.
One of the dishes I try to incorporate whenever possible is a simple tomato sauce. If you're reading this and are Italian you're probably thinking, "Tomato sauce? Who doesn't know how to make that?!" Well, it turns out, that many people don't! Sometimes we take our skills and abilities for granted and assume others can prepare the same things we can. We don't give ourselves enough credit, but the reality is that everyone's upbringing is different and the gifts we all bring to the world vary greatly. Just like I can't be trusted in making Chinese fried rice, (despite my many failed attempts, including one in which I grabbed a large bottle of vanilla extract instead of soy sauce, I've all but given up future attempts!); some folks need guidance in making a tomato sauce.

Because tomato sauce has so few ingredients, it's of utmost importance to make sure you're using the best quality ones you can find. Whenever possible, imported is best. For tonight's recipe, I used Migliaresi's Passata Di Pomodoro. I was very excited to see that this bottle of precious tomatoes was bottled in Soverato, Italy, just a half hour away from my home in Italy! How delighted was I?! For me, there's something about using bottled sauce that makes it feel extravagant. It brings me back to my days in Italy, particularly knowing it was bottled so close to my home! And while many people in Southern Italy make their own sauce using fresh tomatoes, bottling and conserving it for winter, my family was not one of them. For various reasons, we just never made it from scratch so my mom would always buy bottled growing up. So this was nostalgic tonight!

For tonight's dish, I decided to fancy it up just a bit since I was using imported ingredients and I made three-cheese farfalle. Don't let the number of steps below scare you, this is really easy to do and while I made it on a weeknight, this is fancy enough for Sunday lunch! I ended up having about a cup of cooked sauce left over, all the better to cook up some eggs in purgatory for tomorrow's lunch! (More on that in the near future!) 😉
Ingredients for the sauce:
3 Tablespoons olive oil (I used Migliaresi EVOO)
½ small onion, diced
2 cloves of garlic, thinly diced
2 Tablespoon chopped parsley
3 – 5 basil leaves, chopped or left whole to remove
Salt to taste – about 1 teaspoon

1 bottle tomato sauce, I used Migliaresi Passata di Pomodoro
1 cup of water

Ingredients for the ricotta mixture
2 cups whole milk ricotta
¾ cups freshly grated parmiggiano cheese
3 – 4 slices provolone cheese, cut into small squares
1 teaspoon salt
1 tablespoon finely chopped parsley
2 eggs, slightly beaten

½ pound of dry pasta, I used farfalle (increase this to one pound for 4 – 6 servings)

Directions
In a medium saucepan, take the first six ingredients of the sauce and bring them to a simmer over low – medium heat, about 2 minutes, mixing them around with a wooden spoon so they don't burn.
Add the bottled tomatoes. This will splatter a bit as it hits the hot oil.
Add the water and reduce the heat to low, cover with lid and let that simmer for 20 minutes.
In the meantime, cook the pasta until slightly under cooked, about 2 – 3 minutes less than the box instructs. (It will continue to cook in the oven.)
Prepare your ricotta mixture by gently mixing all of the ingredients until well blended. Do not over mix, just gently fold.
Line your baking pan with enough sauce to cover the pan, this will vary according to the size of your pan. Set aside.
After you drain the pasta, bring it back to the pan you boiled it in and add about a half cup of the sauce and several tablespoons of the ricotta mixture and mix well.
Add half of the pasta to the prepared pan and drop several spoonfuls of ricotta mixture to the pasta and spread gently using the back of the spoon. You do not need to cover every inch of the pasta.
Using a clean spoon, not the same one as the ricotta, add a few spoonfuls of the tomato sauce and spread evenly.
Add the remaining pasta and repeat by adding the rest of the ricotta, spreading it and a few more spoonfuls of sauce. Spread the sauce evenly.
Bake for 30 minutes at 375 and enjoy!
*Refrigerate leftover sauce for up to 4 days. (This is why we used a clean spoon when spooning the sauce, we've kept it clean from any ricotta mixture!)


You can buy the tomatoes and oil I used at: https://www.pastaandvino.com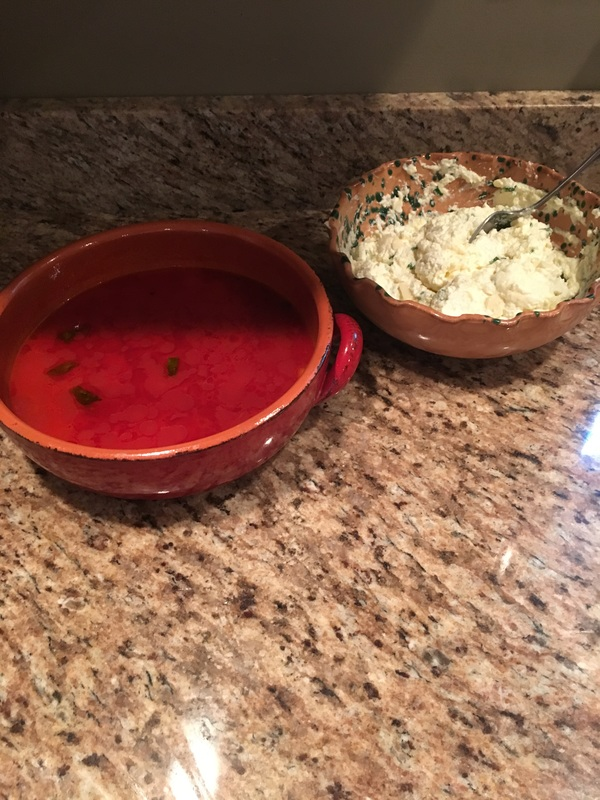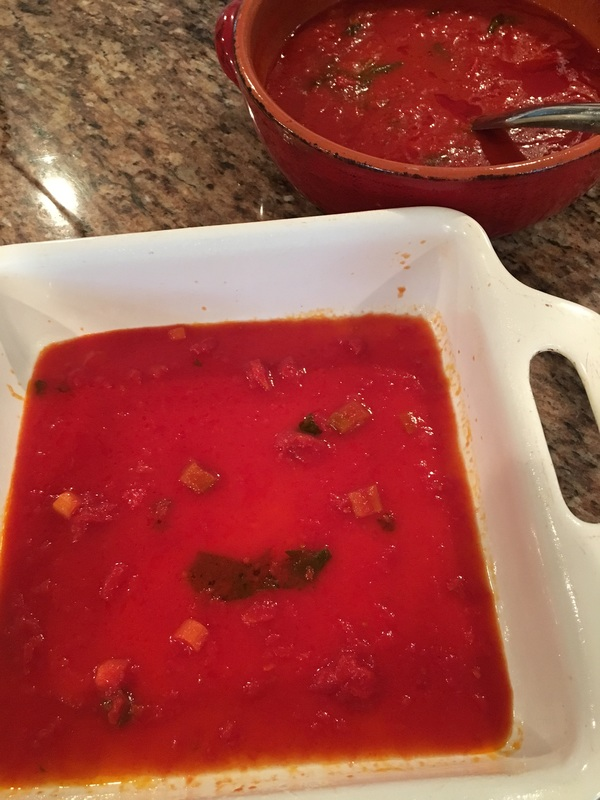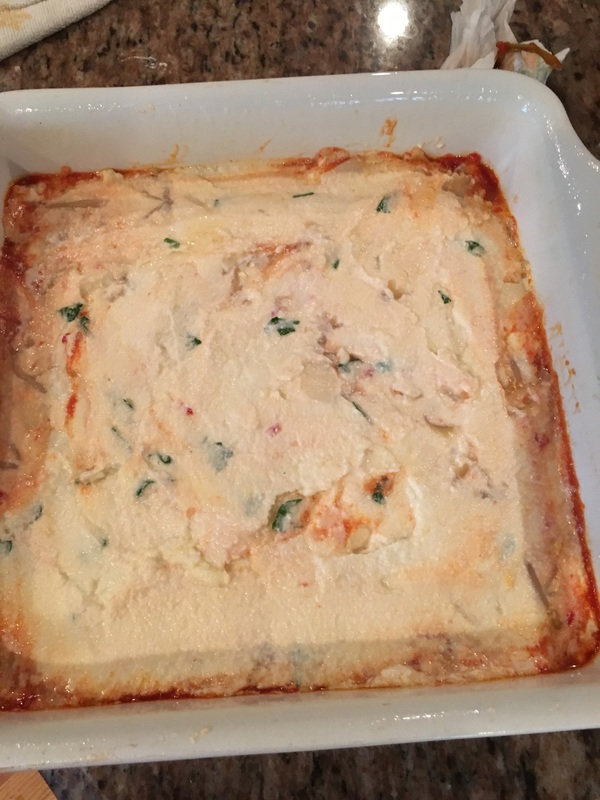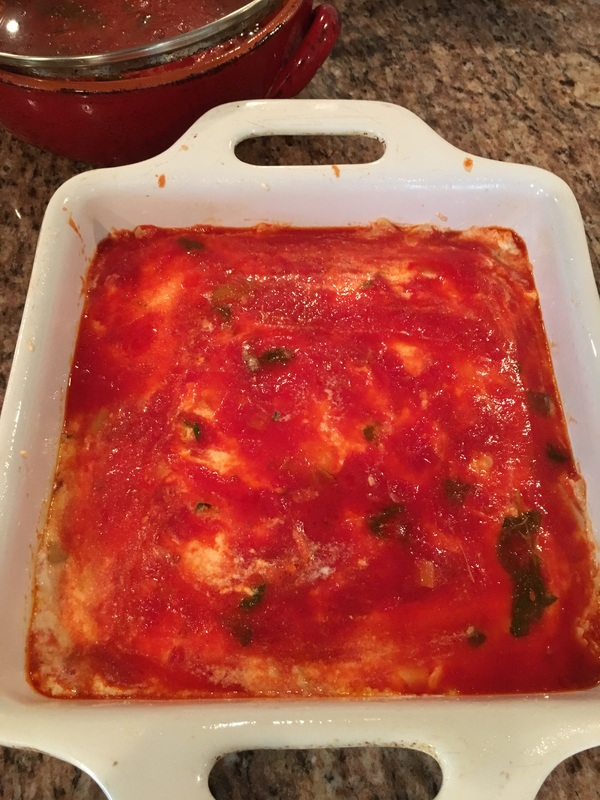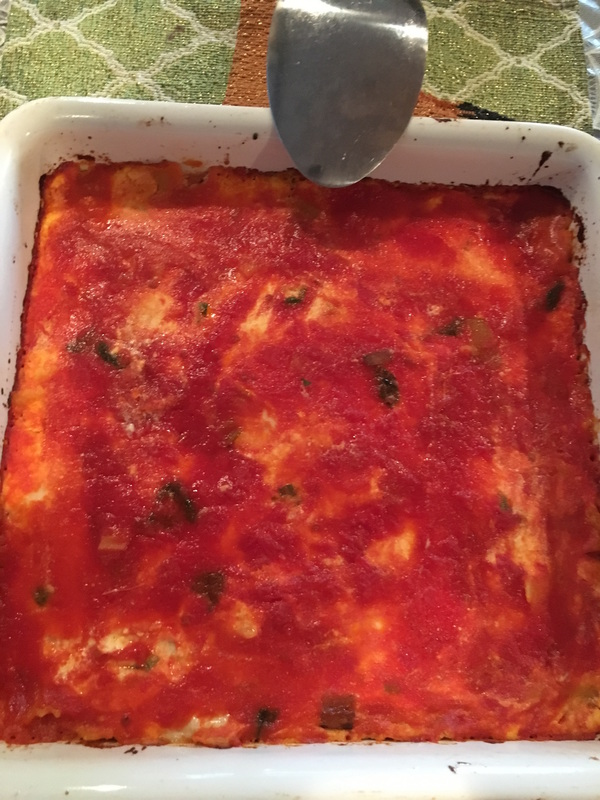 Cosa Mettere in Valigia per l'Italia
Everyone is always asking me what they should pack for Italy,
so I've created a quick reference guide that you can use for your next trip.
Hint: You don't need nearly as much as you think you do!