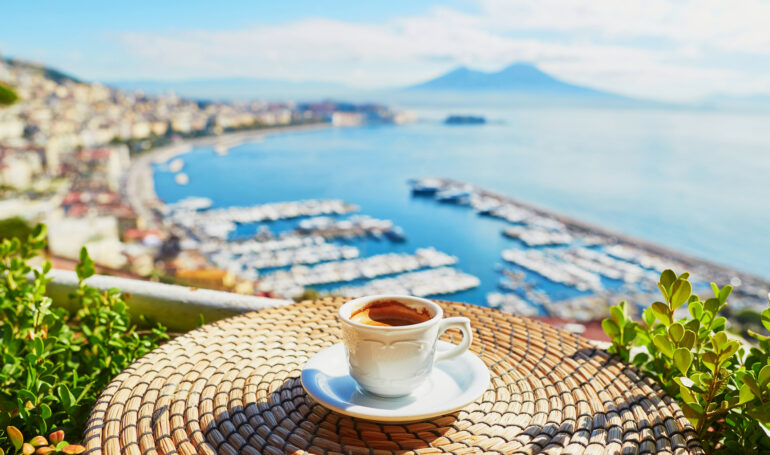 How to Order and Where to Enjoy the Best Espresso in Italy
Is a trip to Italy in the cards for you soon? I know it is for a lot of people, especially after a few years on non-travel. And if you're ready to return to travel, what better place to start than Italy? As a leader of culinary trips, I can attest that one main aspect of traveling is for the cuisine. And while wine gets all the attention in Italy, let's not forget its other beloved drink: espresso coffee.
A Quick History on Coffee in Italy
The first Italian city to serve coffee was Venice in 1570. The merit for introducing coffee to Italy goes to a doctor and botanist from the nearby city of Padova, Prospero Alpini. During a trip to Egypt, the doctor noticed the custom of preparing a dark colored concoction from roasted seeds, ground and boiled. He brought some of these seeds (coffee beans) back to Italy and the rest, as they say, is history.
Years later, the drink's popularity spread, and so did the business of coffee. The first coffee shop, Cafe Florian, opened in Piazza San Marco in 1683. Soon the city was invaded by visitors that the Venetian authorities tried to close the shop down. Even the Church opposed the introduction of coffee. Unsuccessfully, they invited Pope Clement VII to the city to ban what was defined as the "devil's drink." It is said that the pope, after trying it himself, exclaimed "This drink is so delicious that it would be a crime to let the sinners drink it alone! Let's defeat Satan by giving it the blessing to make it a truly Christian drink!"
The bars eventually gained greater prestige because they were usually frequented by people of status and high society, including writers, philosophers and politicians. They gathered around a table, with a cup of espresso in hand, to discuss, write and exchange opinions. Thus began the culture of coffee, which has became a pleasant daily ritual for Italians. Eighty-five percent of Italians drink coffee daily. Four is the average number of coffees enjoyed daily.
Andiamo al Bar?
So you're on the hunt for the best espresso in Italy? Don't be intimidated walking into a cafe in Italy. First recognize that they don't actually call them cafes, but they are called bars. Bars however, does not exclusively mean that they only serve coffee and pastries, but in many you can also get alcoholic drinks and aperitifs. If you are in Italy and someone says to you at 8:00AM "andiamo al bar?" (shall we go to the bar?) rest assured they mean for coffee not an alcoholic drink.
When you enter the bar, you'll have some decisions to make, not only on what to order but how you will consume your drink of choice. It's very typical in Italy to enjoy an espresso and morning cornetto (croissant) right at the counter. After all, espresso means quick or fast, so by definition, espresso is enjoyed quickly, on the fly. Enjoying it at the bar will cost you just a few Euros in most cities. The price will double if you opt for table service.
If you decide to stand at the bar to enjoy your espresso, you must first place your order at the cashier's counter. An attendant will take your order and hand you a receipt. Take that receipt to the other attendant behind the barrista counter and show them the proof of purchase. Make your request for the items you just paid for. He or she will prepare your order, and you are free to enjoy your drink at the counter, the way Italians do every morning. Depending on the time of morning, it might be elbow-room only. If you opt for table service, which I highly recommend, simply sit down at your table of choice, and someone will come and take your order. You do not need to wait to be seated.
What to Order
Caffe / Espresso: This is the standard coffee in Italy. When you walk into a bar, simply ask for "un caffe" – no need to specify and ask for "an espresso." And note, there is no X, it's not eXpresso, it's espresso.
Ristretto: This is a 'restricted' coffee. This is a much denser and stronger coffee that barely fills 1/4 of an already small espresso cup. Not for the faint of heart, or the insomniacs.
Lungo: This is the opposite of caffe ristretto. This is a less concentrated shot of espresso that fills the espresso cup almost up to the top by using more water for the same amount of coffee grounds.
Decaffeinato: A decaf espresso.
Macchianto: An espresso that is "stained" (macchiato) with a hint of milk.
Doppio: A double espresso.
Caffe Corretto: A "corrected" coffee is an espresso with a splash of liquor in it such as grappa, Sambuca, or my personal favorite, a hint of anisette liquor. Mostly enjoyed after a meal as a digestive, but can also be ordered in the morning.
Morning Drinks
Cappuccino: The world's most famous Italian coffee drink. A steamed and foamy cup of milk with an added shot of espresso. This is mostly enjoyed at breakfast. If you're wondering if you can order one after a meal when visiting Italy, you most certainly can, but it's not the usual MO for Italians.
Caffe Latte: Similar to a cappuccino, without the foam.
Latte Macchiato: A mug of hot or cold milk, stained with a hint of espresso.
Latte: Latte in Italian simply means milk, so if you order a latte, you will just get a glass of milk, either hot or cold. Italian adults aren't into drinking plain milk, so this is mostly ordered by parents for their kids.
Where to Order the Best Espresso in Italy
So where should you go to grab the best espresso in Italy? I thought I would highlight some of Italy's most famous coffee bars, in some of Italy's most visited cities. Grab an espresso, cappuccino and pastry at any of the below bars and you're sure to have a memorable coffee experience.
ROME
Antico Caffe Greco
86 Via dei Condotti
Located near Piazza di Spagna, on elegant Via dei Condotti, Antico Caffe Greco, or simply Caffe Greco to the locals, is the oldest bar in Rome and the second oldest in all of Italy, second to Caffe Florian in Venice. A historical café established in 1760 and named after its Greek owner, Nicola della Maddalena, this spot was a favorite of the likes of Hans Christian Anderson, Buffolo Bill, Casanova and Mark Twain. The bar also doubles as a museum and art gallery, with the walls adorned with paintings of its famous clientele. To this day, it remains a favorite spot for writers, politicians and the 'who's who' of Rome.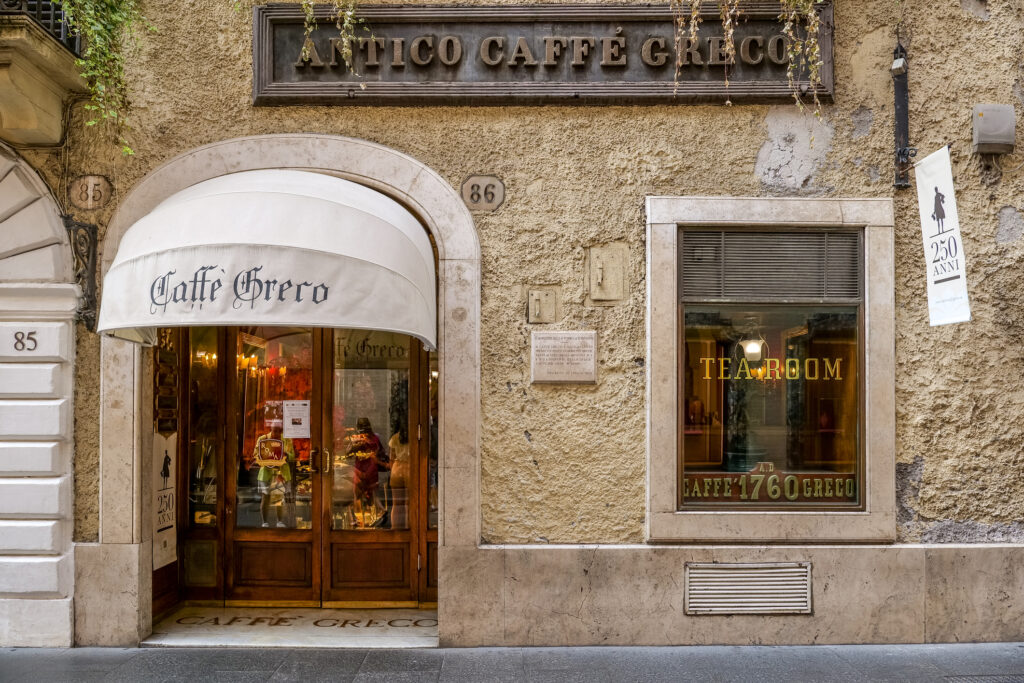 Roscioli Caffe
16 Piazza Benedetto Cairoli
You'll have to squeeze your way in, and if you're a speed walker, you might just miss the small entrance, but Roscioli Caffe & Pasticceria is worth the effort it takes to make your way in, and the wait at the bar. Located just a few doors down from its famous restaurant, which you should also try, this relatively new bar, just a few years old, offers one of the best cups in town, and the morning cornetti, or maritozzi, (cream filled Roman pastries) are equally as good as the coffee, and some of the best in all of Rome. Sit at the community table to mingle with the locals.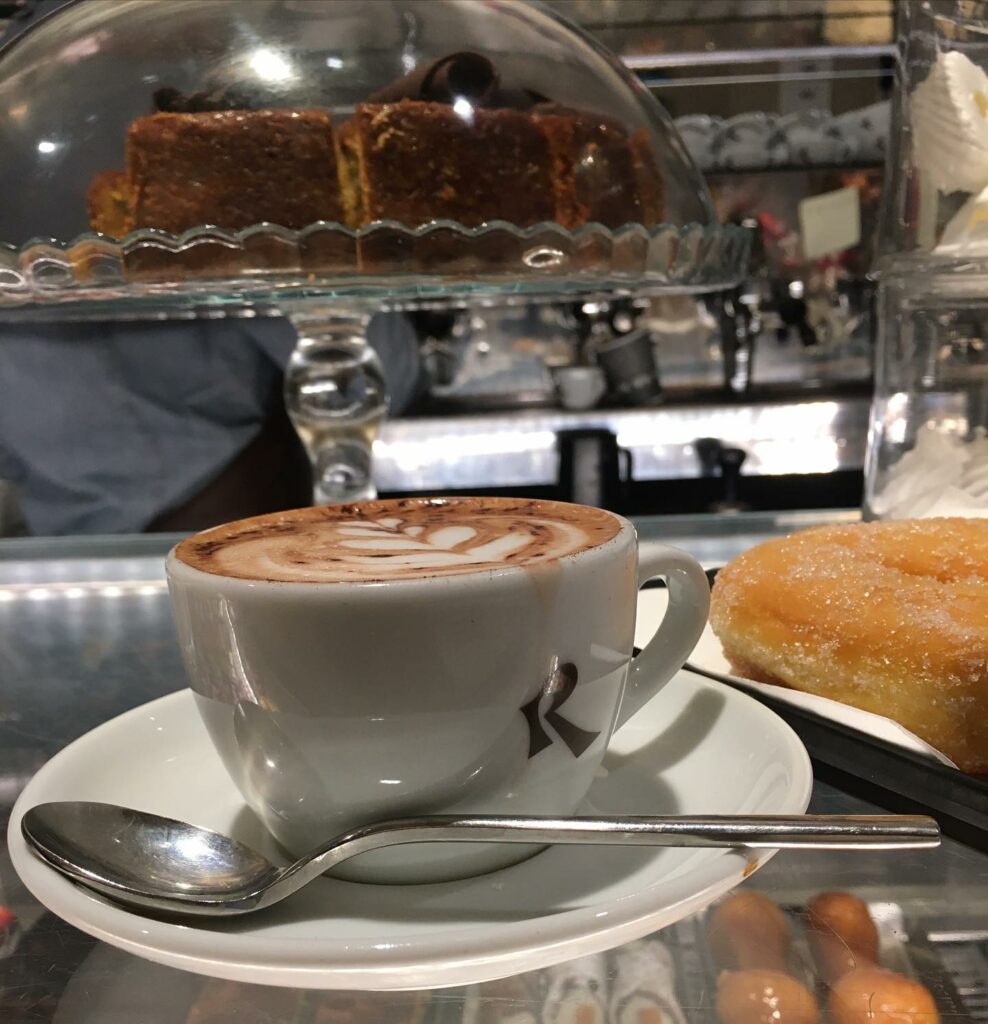 Giolitti
40 Via Degli Uffici del Vicario
Close to the Pantheon, Giolitti offers not just a delicious cup of espresso, but equally great gelato. In fact, it's perhaps more popular for its gelato, but the espresso is also worth trip. So is the hot chocolate and morning pastries. Opened in 1890 by dairy farmers Giuseppe and Bernadina Giolitti, the shop also offers marble floors, chandeliers and fancy café décor.

La Casa del Caffe Tazza d'Oro
84 Via degli Orfani
Known to the locals simply as Tazza d'Oro, this shop offers in-house roasting and blending. While the morning espresso is delicious, and has made the list of many "best coffee in Rome," lists, their specialty, granita al caffe topped with whipped cream, is definitely worth trying, especially after a hot day of sightseeing. Located around the corner from the Pantheon, the bar is often filled with tourists stopping in before or after their Pantheon tour.

FLORENCE
Caffe Gilli
Via Roma 1/R
One of Florence's most recognized names, Caffe Gilli is a staple for locals and visitors alike. As the oldest café in the city, what was once just a pastry shop opened by a Swiss family, it has since evolved into a café, gelateria and restaurant. With a large selection of cocktails, it's as busy during after-work hours as it is during the morning rush. Centrally located in Piazza della Repubblica, you do pay for the convenient location, but the view of locals and tourists alike is worth it. Sit outside, enjoy a Negroni, another specialty of Gilli, and take in all that the city of Renaissance has to offer.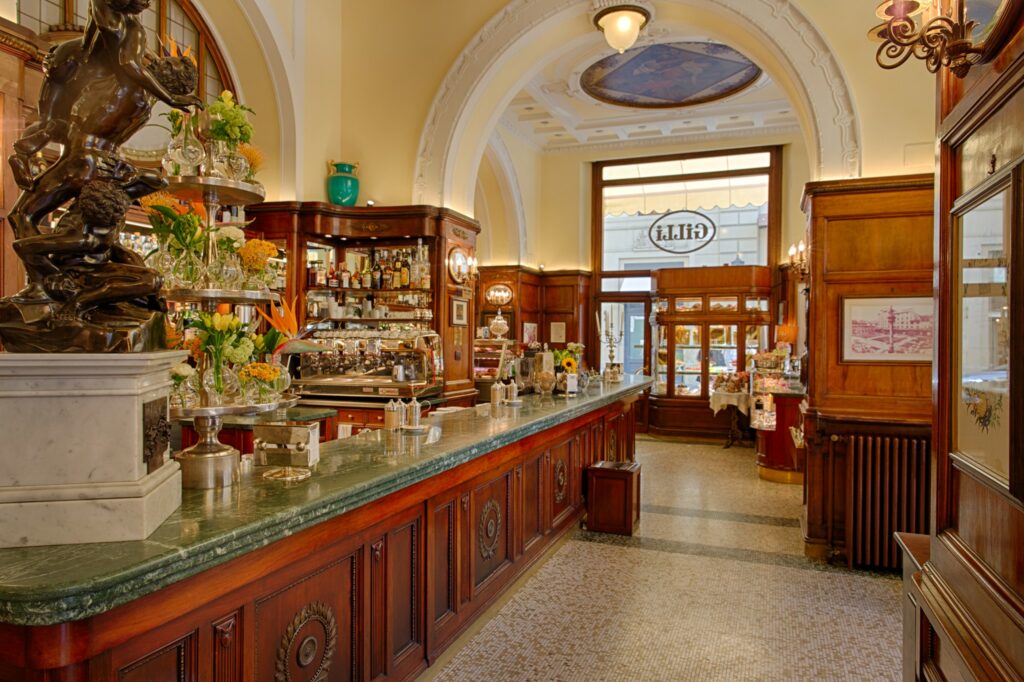 Ditta Artigianale
30 R Via dei Neri
A relatively new café, considering some others that have been around for hundreds of years, Ditta Artiginale has been calling Florence home since 2014. A great place to linger over a strong brew, not only is the espresso excellent, but so it the cappuccino. The shop is cozy, welcoming and a favorite of the locals, especially the young crowd willing to give newcomers a chance. Be sure to grab some of their beans to take home on your return trip!

Caffe Concerto Paszkowski
35 Piazza della Repubblica
Declared a national monument in 1991, Caffe Concerto Paszkowski is a staple in Florence. The bar, recently reopened after substantial renovation to bring it up to code, was once a brewery. It now offers some of the best coffee in town, the great pastries, chocolates and cocktails are also worth mentioning. And don't miss the live piano music. The elegant atmosphere and aura allows for ultimate enjoyment of that coveted breakfast pastry, the cornetto. As it once did in the 1900s, it still remains a popular places for writers to get creative.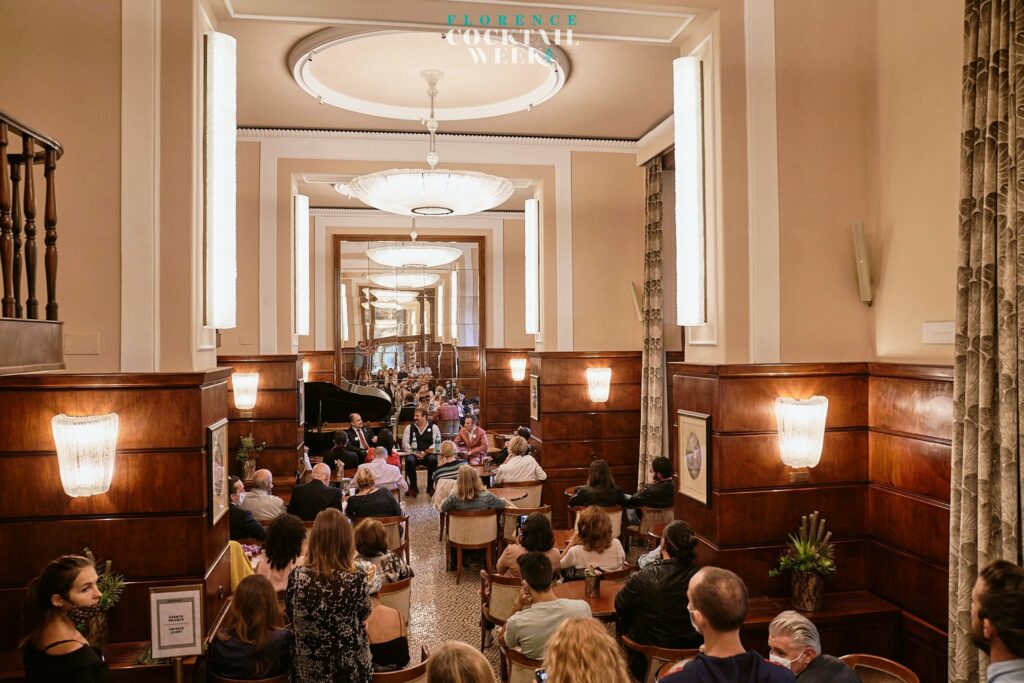 Rivoire
Piazza della Signoria
A beloved of locals and visitors alike, Café Rivoire celebrated 150 years in 2022. The creation of Enrico Rivoire, a chocolatier from Piedmont, it's not surprising that in addition to a delectable espresso, you will also find all sorts of chocolate concoctions, including a hot chocolate that will undoubtably be the best you have ever had. With some of the best views in the city, including a replica of Michelangelo's David, Café Rivoire is a favorite of not only tourists, but also the locals. Be sure to grab a box of chocolates to take back home.

VENICE
Caffe Florian
Piazza San Marco
This café needs little introduction, but to visit Venice, and not visit Café Florian would be a real shame. The oldest café in Italy, it almost closed its doors due to COVID. A favorite of Charles Dickens and Lord Byron, or the likes of current stars like Brad Pitt, the marble tables and impeccably dressed waiters make the cost of visiting such a historical location worth it. Seating outside in the summer is plentiful, but indoor seating is hard to come by. While the food may not be the best in town, the coffee and drinks are very good.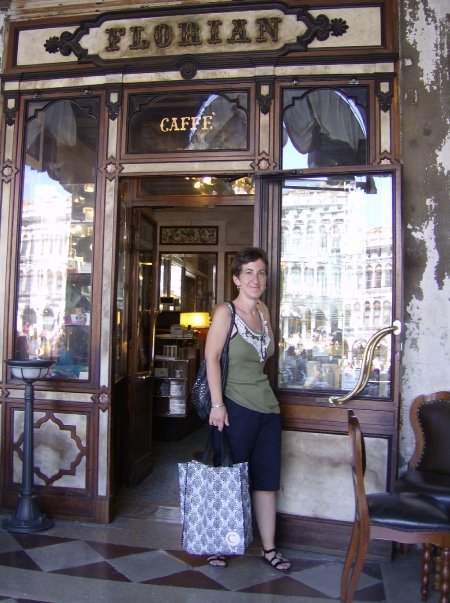 Torrefazione Cannaregio
2804 Fondamenta dei Ormesini
Sit outside on warm days to enjoy the breeze, or enjoy the comfy table in the inside of this hip café located in the northern section of Venice. Torrefazione Cannaregio is the last coffee shop in Venice to have a roasting license. The result is the most perfect cup of espresso or cappuccino. If you're staying in Venice for a few days, invest in a membership card for 10 cups of espresso. This will come in at a fraction of the price if you were to buy them individually. The artisanal pastries are also worth the calories. Buy a few pounds of beans to bring back home.

Caffe del Doge
Calle dei Cinque, Rialto
Located a few minutes from the Rialto Bridge, Caffe del Doge was one of the first few roasters in Venice. The location makes it the perfect spot for locals to rest after a few hours spent at the Rialto market. While the roasting component of the business has moved to Padova, the bar is located in what was once the roastery. There are tables both inside and out, just remember that if you want to enjoy the full experience of a sit-down coffee, you will pay a bit extra than if you were to enjoy it at the bar. This is true for all cafes on our list.

Marchini Time
4589 Campo San Luca
Every Venetian favorite spot for coffee and pastry, Marchini Time is located in Campo San Luca, between the Rialto and St. Mark's Square. The location makes it a hot spot for local workers, as well as visiting tourists. With no sit-down option, enjoy your coffee at the bar, or grab and go. So gingerly and politely make your way in, order what you want at the cashier, pay, and bring that receipt to the counter to claim your purchase.
So say you? Shall we enjoy the best espresso in Italy together? We don't lack for options!

Cosa Mettere in Valigia per l'Italia
Everyone is always asking me what they should pack for Italy,
so I've created a quick reference guide that you can use for your next trip.
Hint: You don't need nearly as much as you think you do!