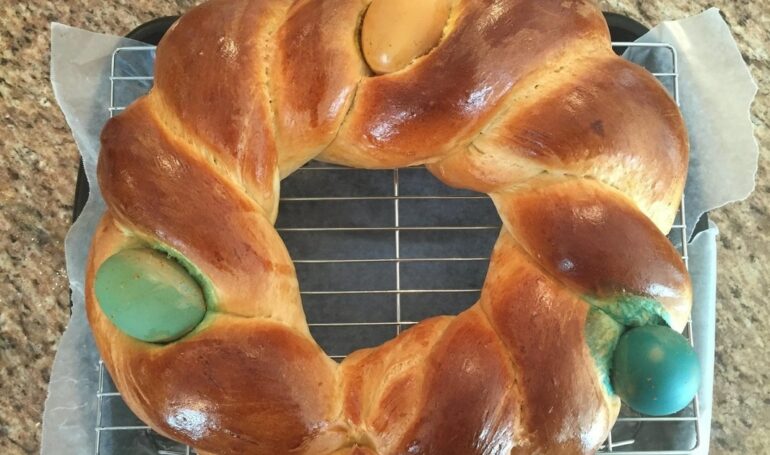 Italian Easter Bread
Is it really April already, and we have yet to celebrate Easter? It's incredibly late this year, and, I love Easter, perhaps more so than Christmas, so I am eager to celebrate this beautiful Holiday. Easter to me represents all that is good in the world, doesn't it? Spring weather, renewal, rebirth, and new hope. The birds are chirping, the tulips are blooming and we're all filled with a new sense of optimism and assurance.

One of my favorite Easter desserts is really no dessert at all, but a sweet breakfast bread. I grew up eating this bread (or "cuzzupa" in Calabrian dialect) every Easter. It would actually start a week or two before the holiday, and my mother would either make it, or buy it at the local bake shop. Sometimes she would make it glazed, sometimes just with a sprinkle of powdered sugar on top. Either way, my sister and I would devour it for breakfast and afternoon merenda, or for our after-school snack. As if this delicious bread wasn't enough by itself, my sister and I would spread Nutella on top, or perhaps some homemade jam. I also make it for Palm Sunday, and enjoy it for the full week between Palm Sunday and Easter, then I will make a fresh bread for Easter breakfast.

This bread is not overly sweet, especially if you don't add the icing, as pictured in the header image above. It tastes a bit like a combination of brioche and challah bread. It goes great by itself, or simply toasted with some butter and jam. A thin layer of butter, then topped with cinnamon sugar is also a great combination. You will see a few different versions on the pictures below. You can tell, it never comes identical as the previous time. I am torn about whether I like the colors on the eggs, or leaving them plain. What do you think? I'm leaning towards the white eggs. Traditionally, the bread should always have 3 eggs, to represent the Father, Son and Holy Ghost.

You do not need to boil the eggs first, they will bake in the oven, just be careful not to crack them as you place them on top of the bread before baking. Also, the eggs are mostly for representation only. You can eat them the same day you bake the bread, but once you leave the eggs out a few hours, they will spoil. So either eat the eggs the same day the bread is baked, or leave the eggs on the bread and trash them as you eat the bread, or remove them and put them in the fridge.
Another recipe that is wonderful for Easter are the Italian breaded cookies. Have you tried them? Now's the time to do so, they are perfect for Easter morning!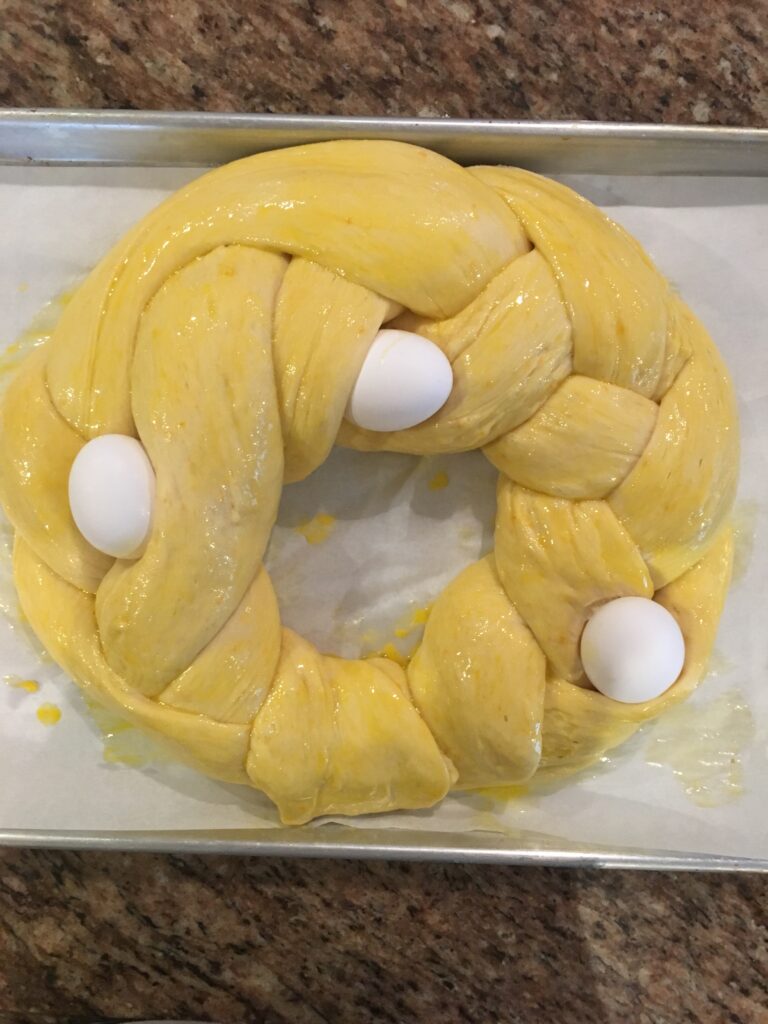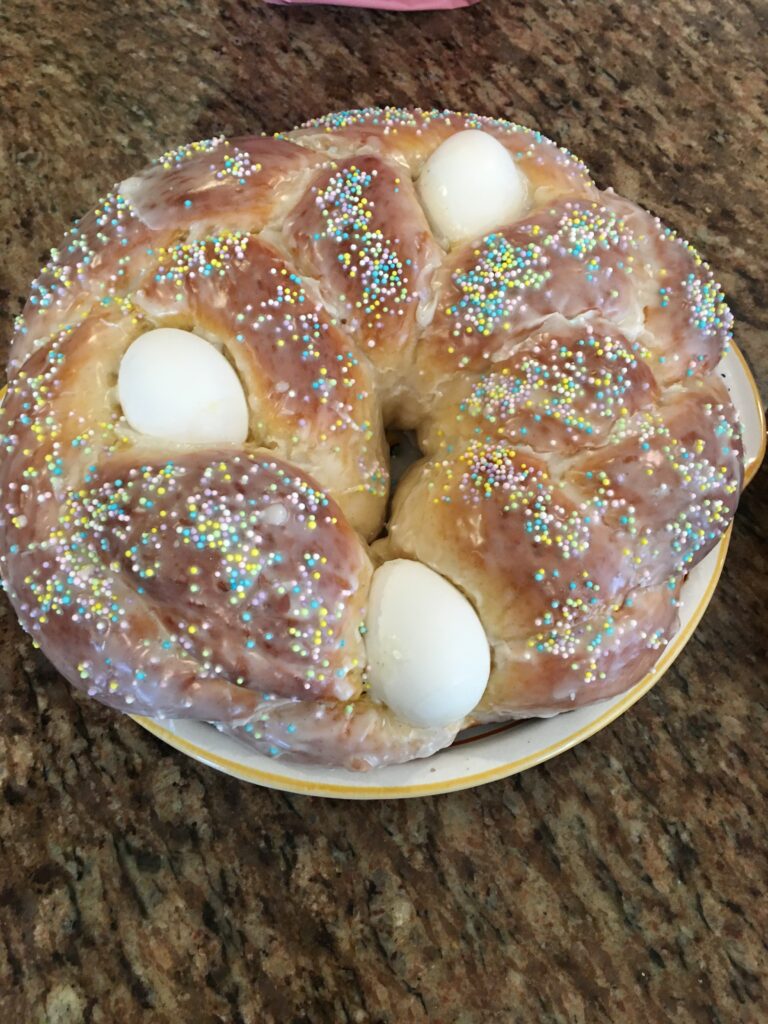 Italian Easter Bread
Yields 1 large round bread
Ingredients
2 ¼ teaspoons rapid rise yeast (make sure your yeast is fresh)
1 ¼ cups scalded milk, cooled
Pinch of salt
5 ½ tablespoons unsalted butter, softened
2 large eggs, beaten
½ cup granulated sugar
3 ½ – 4 cups flour (the flour is approximate, you may need to go up to 4 ½ + cups)

1 large egg, slightly beaten
3 uncooked eggs

Icing – Optional
1 to 1 ½ cups of confectionary sugar
1 teaspoon pure vanilla extract
2 – 3 tablespoons milk
Decorative sprinkles – optional
Instructions
In the bowl of your stand mixer, combine the yeast, cooled milk, salt, softened butter, eggs and sugar. Mix until just combined.
Add half the flour and beat until smooth using the dough hook of your mixer. (Do not use the paddle attachment or whip.)
Slowly add the rest of flour to form a stiff dough. Do not worry about the exact amount, just keep adding until it is no longer sticky.
Knead until smooth with either the dough hook (about 3- 4 minutes) or turn out on board and knead by hand (5+ minutes).
Place in a bowl that has been greased with 1 tablespoon of any unflavored oil. Cover and let rise in a warm place until doubled, about an hour to an hour and a half, depending on the temperature in your kitchen. (I place mine by the fireplace!)
Punch dough down and divide into 3 pieces. Roll each piece to form a thick rope about 12 inches long. Form a braid, make a circle and pinching the ends, tie the now formed ring.
Place on a greased baking sheet, or sheet that has been lined with parchment paper.
Cover and let rise a second time, until double in size, about 45 minutes to one hour longer.
Brush the bread with beaten egg wash. In the middle of the bread ring, gently place an egg, making an indentation with the egg. Continue with the other two eggs. (See image above.)
Bake at 350 degrees until golden – about 40 minutes. Cool on rack.
Optional: While the bread is cooling prepare the icing by mixing the confectionary sugar, vanilla and the milk. Add milk one tablespoon at a time as you may end up not needed more than a few tablespoons.
Brush the bread with the icing using a pastry brush and top with sprinkles, if desired.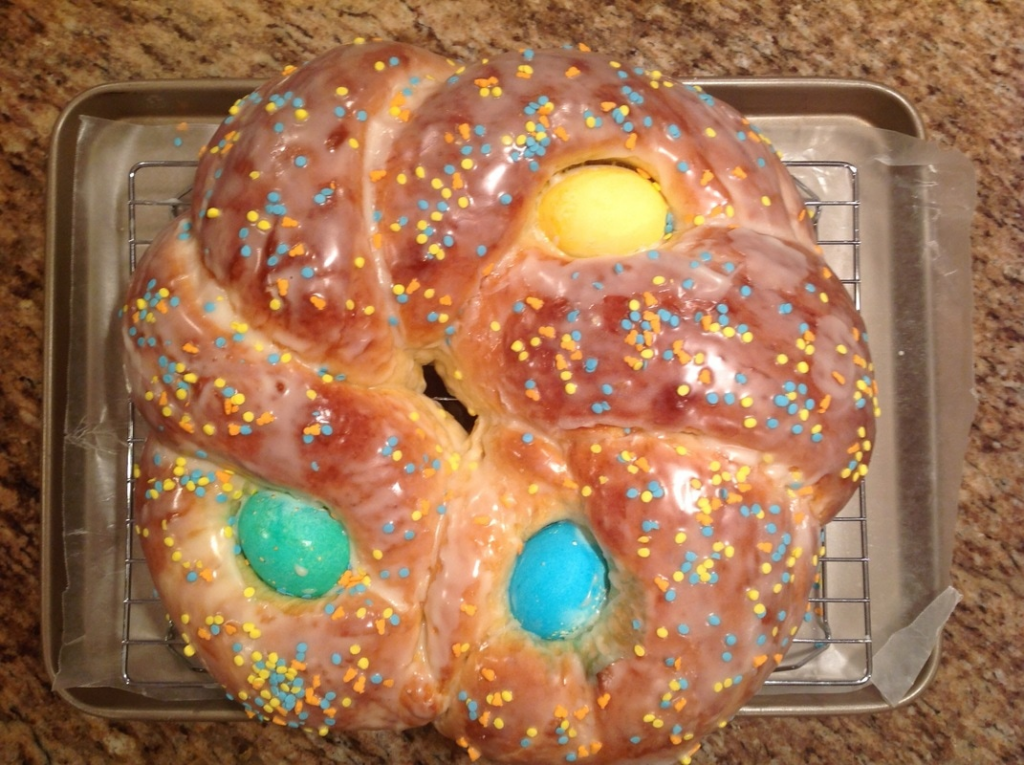 Cosa Mettere in Valigia per l'Italia
Everyone is always asking me what they should pack for Italy,
so I've created a quick reference guide that you can use for your next trip.
Hint: You don't need nearly as much as you think you do!