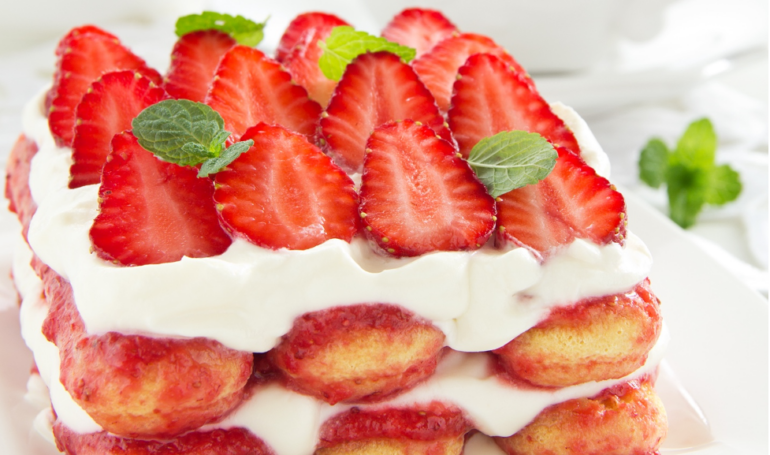 Strawberry Tiramisu
Summer is almost here and with that comes lazy days by the pool, hanging out in the yard, and surely lots of BBQs with family and friends. Summer gatherings are fun, especially when it involves delicious food and drinks! But before summer, we get to celebrate moms! I have the perfect Mother's Day dessert for you to prepare this Mother's Day, or any day really!

If you have an upcoming gathering and are wondering what to bring the host, I have just the perfect dessert that will be loved by everyone: Strawberry Tiramisu! Tiramisu is the perfect summer dessert because there is no oven or any cooking required! It's all just a matter of assembling the right ingredients. The traditional coffee tiramisu is great, but there are some people who actually don't like coffee! I know, shocking, so here comes the strawberry version to offer those folks averse to coffee an alternative. This is perfect for summer, when berries are at their peak, and the sweetest. 

I use liquor in my version, but you could also pulse some berries real smooth, add a few tablespoons of water and use that as the soak, but that will give you a different result completely. It's a good alternative if you will be serving this to children, but if you're headed to an adult-only get-together, I highly recommend using strawberry liquor, or Chambord. 

This makes one 12×9 tray, but you could use a smaller tray, and have a thicker layer of cream, or even individual bowls will work. 
Summery Strawberry Tiramisu
Yields one 12×9 Tray

Ingredients

1 lb ripe strawberries, preferably organic, finely diced
2 – 3 tablespoons granulated sugar

For the Filling
1 pound mascarpone cheese
1/3 cup powdered sugar
¼ cup strawberry liquor (or juice from the macerated strawberries)
¼ cup high quality strawberry jam (not jelly), or ¼ cup of macerated strawberries, finely diced

2 cups heavy whipping cream
⅓ cup powdered sugar

For the Soak
¾ cup sugar
¾ cup water
1 cup strawberry liquor

30 – 35 ladyfinger cookies

Prepare the strawberries
Finely dice the strawberries and add the sugar. Amount of sugar will be dependent on the ripeness of the berries. Mix well and let stand while everything else is prepared. (If the strawberries are not very ripe, add 1 – 2 tablespoons water or strawberry liquor.)
Make the filling
In a large bowl, cream together the mascarpone, powdered sugar and the strawberry liquor. Beat for 1 minute until well blended. With the mixer on low, add the strawberry jam (or chopped strawberries) and mix well. Set the cream mixture aside.
In another bowl, with the mixer speed on high and using the whisk attachment of the mixer, cream together the whipping cream and powdered sugar until stiff peaks form, about 2 to 3 minutes.
Using a rubber spatula, fold in the whipped cream into the mascarpone mixture, doing so gently so as not to deflate the whipped cream. The cream is now ready.
Make the soak
In a small saucepan add the sugar and water and bring mixture to a boil. Mix gently with a fork or whisk and cook for about 2 minutes, until the sugar is fully dissolved.
Add the liquor and mix well. (Liquor can be added on or off the heat.)
Assemble the strawberry tiramisu
Using one ladyfinger cookie at a time, gently soak the cookie in the soak for 5 to 10 seconds per side. Arrange ladyfinger in a serving dish or tray. Continue until you have a full layer of soaked ladyfingers. You can break them in half to fit corners.
Spread about half the cream evenly on top. Add about ¾ of the macerated strawberries evenly on top of the cream.
Repeat by adding another layer of soaked lady fingers on top of the strawberries. Repeat with the cream mixture and spread evenly. Top the cream with the remaining strawberries. You do not need to cover the entire top with a full layer of strawberries. Refrigerate for 2 hours before serving.

Cosa Mettere in Valigia per l'Italia
Everyone is always asking me what they should pack for Italy,
so I've created a quick reference guide that you can use for your next trip.
Hint: You don't need nearly as much as you think you do!