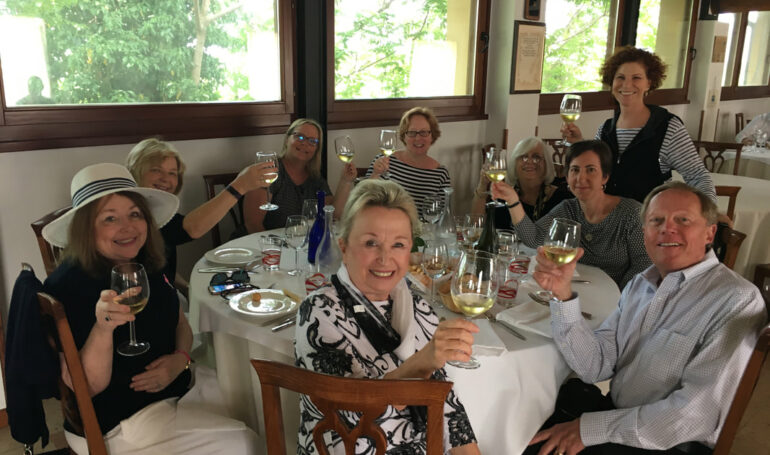 So What's a Culinary Adventure Anyway?
It recently occurred to me that all this time in my business, I may have taken for granted that everyone knew what a "culinary adventure" is. In hindsight, I realize that it's not a term used in everyday vocabulary, so how can I expect everyone to know? Culinary means many things to many people, and the term "adventure" alone may conjure up images of swinging on a rope or riding an elephant! Neither of which we do while in Italy! So here I wanted to detail what I mean by the term "culinary adventure" so that if you are considering joining us in2020, you know what to expect!
First, let's identify what it's not:
A culinary adventure is not a cooking vacation
There are some agencies that offer cooking vacations. Those are wonderful and certainly have their own value, but we are not a company in which you are expected to cook every meal. You are on vacation after all, so I don't think you would want to spend all your time in the kitchen from the minute you get there to the minute you leave. We don't have you do the dishes and you're not chopping ingredients for a full week. Fun though it may be, we wouldn't do that to you. You will not be spending an entire week behind the stove. Nope, not going to happen.
A culinary adventure is not a professional course
There are a number of schools in Italy that offer certificate courses in culinary arts. We are not one of them. After spending a week with us, you will have a much greater knowledge of Italian cuisine, Italian wines and the philosophy that Italians hold on food and wine. But this is not a professional course. You are not going to have the culinary skills to open a restaurant or a business after spending a week with us. You will however, have the knowledge to cook some new delicious meals for your friends and family.
A culinary adventure is not a history or art tour
For art and history lovers, Italy is a playground. There is so much to see and learn that one could easily spend an entire week just navigating the art in the Uffizi Gallery! If art and history are your main reason for your visit to Italy, we're likely not the agency for you. Depending on the region we visit, we do at times include a culture activity, such as a museum visit, a guided city tour, or other educational component. That said, the main component of our adventure is the food & wine. As such, we offer educational opportunities as they relate to Italian cuisine, which are as interesting as the art and history, in our opinion.
A culinary adventure is not an "active" tour
Yes, you will be doing a good amount of walking, perhaps more so than you are used to on a daily basis when you are at home. However, we are not out to get you fit and reshape your body! We don't bike from one destination to another, and you're not logging in miles and miles of steps every day. There are a lot of tour companies that focus on activity (especially biking) and sightseeing along the way as participants bike from one city or region to another, but that is not the focus of what we do. We leisurely see Italy, we immerse ourselves with the locals, we don't rush from one destination to the other and we're not running around all day, every day.
A culinary adventure is not a retreat
The new (or somewhat new) fad in travel are women's only retreats. As with the other types of vacations listed above, they have their own value and are wonderful opportunities for ladies to gather and grow in a supporting environment, but we're not that type of vacation. And we don't promise that you are going to have a breakthrough on our trips, other than perhaps recognizing the importance of real Parmigiano cheese! You're not going to be transformed to a new person at the end, and we will not be journaling, or sitting under the full moon and share our thoughts and opinions, other than perhaps discussing the importance of good olive oil. And we happily welcome both genders, as you can see from the pictures below.
Well, what is it than?
A culinary adventure is a food & wine focused vacation
The main theme of our week is Italy's food and wine. Is it worth traveling overseas "just" for the food and wine, you ask? This is Italy, the most admired cuisine in the word, so you bet it is! Italy's cuisine is vast and varied and every single region has its own specialties, its own preferred ingredients and its own cooking philosophy. All of which you will learn during our week together. During the week, you can expect some cooking classes, winery visits, food tours, visits to factories and artisans, delicious restaurant meals, lots and lots of samples, delectable wine, gelato galore, and lots more culinary surprises along the way. (See slide show below of past adventures.) 

A culinary adventure is a gathering of like-minded individuals
One thing all of my past travelers have had in common is the appreciation of good food, good wine and good company. You don't join a culinary adventure because you're always watching your every calorie, you are not a "big eater" and you don't care about the types of food you eat. You join because you want to learn more about your favorite ingredients. Perhaps, like me, you have an honest appreciation (genuine love, really) for Prosciutto di Parma so you want to go to Parma and see how it's made. Perhaps you want to enjoy a glass of Chianti, in well, Chianti, and you think a trip there is worth it. The shared love over quality ingredients is definitely a key component of our trips together.

A culinary adventure is a chance to improve your knowledge on quality ingredients
During the week with us, you will have the opportunity to be educated on your favorite ingredients. We visit Parma and learn all about the prosciutto curing process, we learn how buffalo mozzarella is made in Campania, and we visit olive oil mills and learn the process of making and tasting extra virgin olive oil. A culinary vacation is not just about visiting great restaurants, although that is part of it, but also about learning the process that it took to get these ingredients to your table.

A culinary adventure is a social week
Our public tours are limited to 12 participants. We do this because we believe small is better and we enjoy traveling like family rather than a large tour group requiring matching bandanas and a flag-waiving leader. I join all the tours personally, and I wouldn't have it any other way. We get to know each other well, we share meals, laughter and stories, we learn together, we became lifelong friends. Now, don't get me wrong, some alone time is built in so that you can spend it as you choose, visit what we don't see as group and shop as you please, but if you prefer to do things independently, if you think you don't get along well with people, if you have strong opinions that you just have to share with everyone and believe everyone should believe what you believe, we are definitely not the company for you.

A culinary adventure is an opportunity for bonding
If there was ever an opportunity to bond with someone you are already close to, it would be via travel, and a week together on a culinary adventure is the perfect venue to do. We have had couples join, sisters, sisters-in-law, neighbors, army buddies, we even had a doctor join with one of her patients! Breaking bread together creates memories, ignites friendships, creates stronger bonds, all while sharing authentic food and wine. When you think of it, the one thing we all have in common, every single one of us, is that we all eat! Right? I mean, if we share nothing else, it's the need to eat to live, so that alone can be a source of connection. But if you are single and thinking that you must join with someone in order to maximize the experience, think again, we welcome all singles, and you will undoubtedly leave with many new friends.

So now that you know what a culinary adventure is, are you ready to join?

Cosa Mettere in Valigia per l'Italia
Everyone is always asking me what they should pack for Italy,
so I've created a quick reference guide that you can use for your next trip.
Hint: You don't need nearly as much as you think you do!