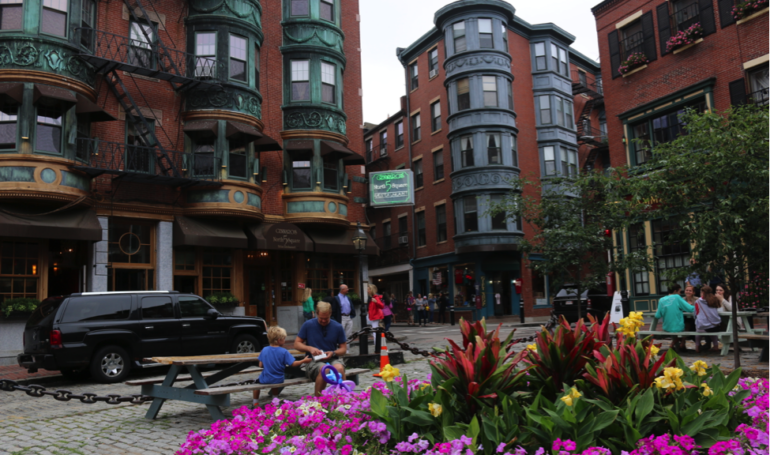 Boston's North End
Summer is around the corner and for many of us, that usually means travel and vacation. For me, it usually means travel to Italy, but this year, with things still a bit in the air, pun intended, a trip to Italy may not be in the cards. If traveling outside the US is in question, but you still need an Italy fix, I'd like to recommend a visit to the many "Little Italy" spots that can be found in the US. New York's Little Italy is perhaps one of the most popular, but my personal preference is for Boston's North End, perhaps because it's only a few miles from my home, and a neighborhood I am very familiar with.

The North End is Boston's oldest residential neighborhood, and one of the oldest neighborhoods in the US. While once home to Italian immigrants who couldn't wait to move to the suburbs, it is now one of the most sought-after neighborhoods in Massachusetts.

It was throughout the 20th century that Italians arrived and started making it their own by opening many businesses such as restaurants, bakeries and other food establishments. The Prince Macaroni Company was born on Prince Street in the North End. Italians also brought with them their religious customs and festivals, still celebrated today.

Summer weekends in the North End are like one giant street party. The religious celebrations are accompanied by musical bands proudly playing old Italian tunes, street vendors, food stalls, face painting for the youngsters and religious processions.

With its narrow and dense streets, the one-square mile neighborhood is home to approximately 10,000 residents. With over 100 restaurants and bakeries to choose from, visitors mostly flock to the North End to eat! Hanover Street is the "Main Street" of the North End and one can easily spend several hours strolling and stopping at the numerous shops or historical sites along the way.

What to See:
Old North Church
193 Salem Street
One of the oldest and most visited sites in Boston, the Old North Church dates back to 1723 and is one of the major stops on the Freedom Trail. Visited by over a half million sightseers annually, you can opt for a self-guided tour or one led by a guide.

The Paul Revere House
19 North Square
Built in 1860, the home of famous Patriot Paul Revere is still standing with 90% of the current structure being original, although as one might expect, it has been restored several times. Visitors of all ages are welcomed and can take part in self-guided tours.

St. Leonard's Church
320 Hanover Street
Celebrating Mass in Italian every Sunday at 10:30AM, St. Leonard's is where many North End Italians residents reunite for Sunday Mass. Having just completed a multi-million-dollar remodel, the church is frequently visited by visitors from near and far.

Where to go for a quick lunch or food souvenirs
Galleria Umberto
289 Hanover Street
Their menu is limited, they accept cash only, the décor is rustic at best, they open only from 10:45AM to 2:30PM, or whenever they sell out, and you'll be served wine in a plastic cup, but a visit to the North End would be incomplete without a stop at what locals simply call Umberto's. If you are visiting right around noon, you'll see a line wrap around the outside, don't let it scare you, it moves quickly and their pan pizza, calzones, arancini and panzerotti are worth the wait.

Bricco Panetteria
11 Board Alley (Behind 241 Hanover Street)
Hidden behind Hanover Street, you'd likely walk right past Bricco Panetteria without even knowing it's there. Owned by native Italian restaurateur Frank DePasquale, who owns and runs numerous North End eateries, Bricco Panetteria is a combination bread shop, pasta shop, salumeria, and importer of Italian meats, oils and canned tomatoes. With a few tables hidden in the alley, they serve delicious panini and a few select hot items.

Salumeria Italiana
151 Richmond Street
Located on the Freedom Trail, Salumeria Italiana is a staple for North End residents and visitors alike. An all-around small Italian grocer, they offer limited panini during the lunch hours. Carrying imported products such as salumi, cheeses, canned tomatoes, tuna packed in oil and Italian packaged cookies, you're sure to find hundreds of Italian products to select from as souvenirs.

Where to go for a sit-down dinner:
Prezza
24 Fleet Street
As if the handmade pasta, homemade meatballs, creamy polenta and braised meats weren't enough to prompt a visit to Prezza, wine aficionados will certainly appreciate the 6000 bottles from more than 600 labels offered. Named after the Abbruzzese village from which the owner, Anthony Caturano's grandmother hails from, Prezza is sure to please the most discerning eater.

Lucca Restaurant and Bar
226 Hanover Street
Serving Northern Italian delights, Lucca is a favorite among locals, tourists and local companies hosting corporate parties. Hailed as one of Boston's best fine dining experiences, Lucca boasts a large dinner menu with handmade pastas, seafood, grilled meats and ample sized appetizers.

Carmelina's
307 Hanover Street
If you're taste buds are craving something a bit spicier, head over to Carmelina's. Serving typical Sicilian cuisine, Carmelina is one of the newest North End restaurant at just around seven years old. While the menu offers various selections, some of the seafood favorites include the spaghetti puttanesca, exploding little neck clams and tuna arrabbiata.

Where to go for dessert:
Modern Pastry
257 Hanover Street
A staple in the North End for over 70 years, Modern Pastry is where all Italian and Italian Americans go to for their wedding cakes, rum cakes or any other specialty cake that requires a taste of true, authentic Italy. Be sure not to miss indulging in their filled-to-order cannoli, ricotta pasticciotto, which is a miniature of their best-selling ricotta pie, and the ever-popular lobster tail, large enough to be shared by at least two.

Mike's Pastry
300 Hanover Street
With their unmistakable blue and white box, Mike's Pastry is the go-to shop for all tourists and visitors coming from out of town. Founded by native Italian Michael Mercogliano in 1946, the bakery has Americanized its menu substantially over the years, but you'll still find Italian classics such as Tiramisu, Parigini and Sfogliatelle. Although it offers ample seating space, those seats fill quick, so do like everyone else does and grab some goodies to go, and make your way down Hanover Street eating right out of the box, you'll be in good company.

Cosa Mettere in Valigia per l'Italia
Everyone is always asking me what they should pack for Italy,
so I've created a quick reference guide that you can use for your next trip.
Hint: You don't need nearly as much as you think you do!