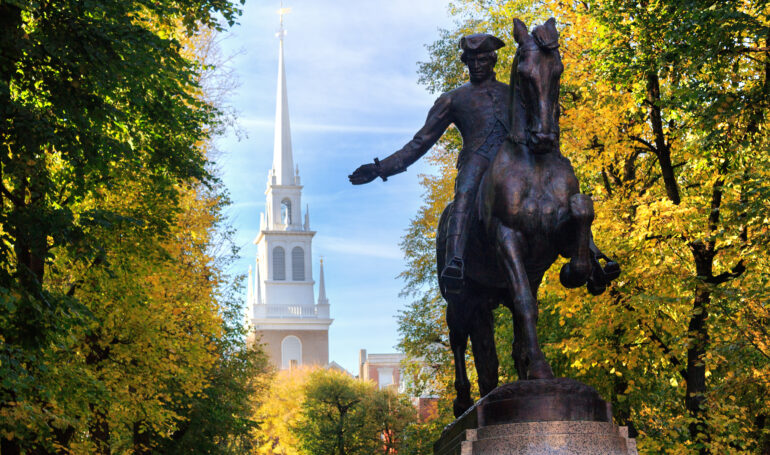 The North End – The Little Italy of Massachusetts
My first exposure to the North End came in the spring of 1988. Having just moved here from Italy, my mother found it fitting to take the family for a visit to the Italian section of Boston. I wasn't yet feeling nostalgic enough for Italy that I needed such a trip. Still, I don't think it was such Italian nostalgia that prompted my mom's visit, but nostalgia for her own upbringing. Born in Italy, my mom moved to Boston's North End at the age of eight. She spent the next 15 years living in what was once the go-to destination for all Italian immigrants.
The North End is Boston's oldest residential neighborhood and one of the oldest neighborhoods in the US. While once home to Italian immigrants who couldn't wait to move to the suburbs, it is now one of the most sought-after neighborhoods in Massachusetts. While once home to the Puritans and later the Irish, Portuguese, and Jewish immigrants, Italians arrived throughout the 20th century and started making it their own by opening many businesses such as restaurants, bakeries, and other food establishments. For example, the Prince Macaroni Company was born on Prince Street in the North End. Italians also brought their religious customs and festivals; locals still celebrate many today.
The North End Today
Summer weekends in the North End are like one giant street party. The religious celebrations are accompanied by musical bands proudly playing old Italian tunes, street vendors, food stalls, face painting for the youngsters, and religious processions. This year, the feast of Santa Maria di Anzano kicks off the festivities on June 4th, while the feast of Santa Rosalia di Palermo ends the season on September 10th. In between, celebrations are dedicated to St. Pio, St. Joseph, Madonna Della Cava, and the Fisherman's Feast. Celebrated the last weekend in August, the largest feast is devoted to St. Anthony of Padua.
With its narrow and dense streets, the one-square-mile neighborhood is home to approximately 10,000 residents. With over 100 restaurants and bakeries to choose from, visitors mainly flock to the North End to eat! Hanover Street is the "Main Street" of the North End, and one can easily spend several hours strolling and stopping at numerous shops or historical sites along the way.
Today, Boston's North End is a vibrant neighborhood capturing the heart of the historic Freedom Trail. A major tourist destination, it is estimated that some 3.2 million visitors walk the trail annually.
What to See
193 Salem Street
One of the oldest and most visited sites in Boston, the Old North Church dates back to 1723 and is one of the major stops on the Freedom Trail. Seen by over a half million sightseers annually, you can opt for a self-guided tour or one led by a guide.
19 North Square
Built in 1860, the home of famous patriot Paul Revere is still standing, with 90% of the current structure being original, although, as one might expect, it has gone through renovations several times. Visitors of all ages are welcome and can take part in self-guided tours.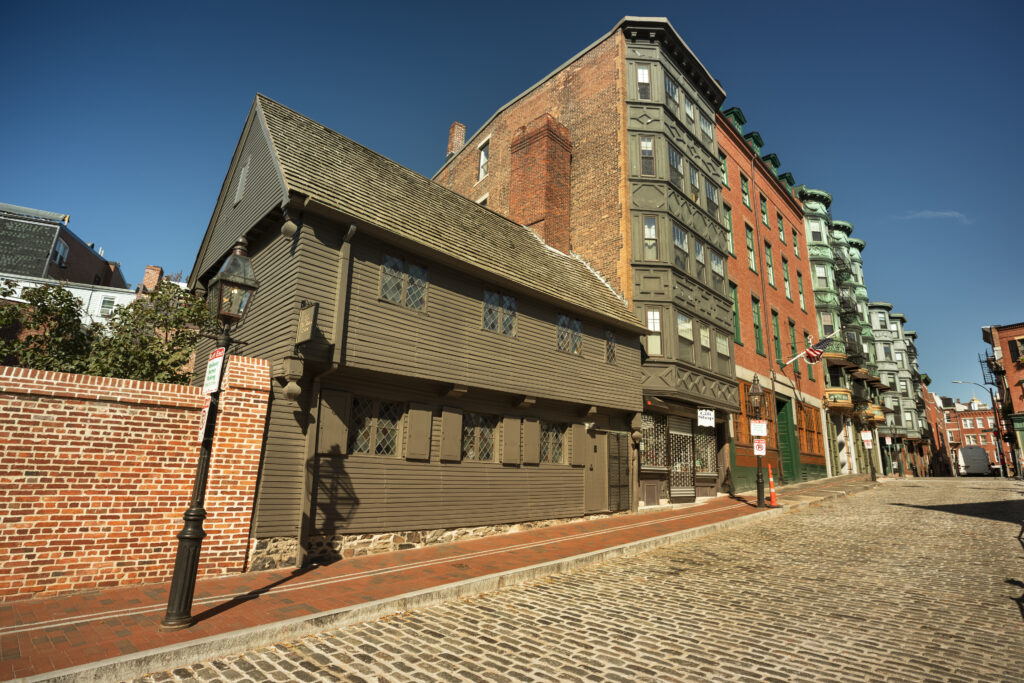 98 Union Street
Located just a few steps from the main strip of the North End and the Freedom Trail, the Holocaust Memorial Park was erected in 1995 and paid tribute to the millions of Jews killed during the Holocaust. Inspired by Holocaust survivors living in Boston, the structure has steam rising from metal plates on the ground and makes an impression on visitors walking by.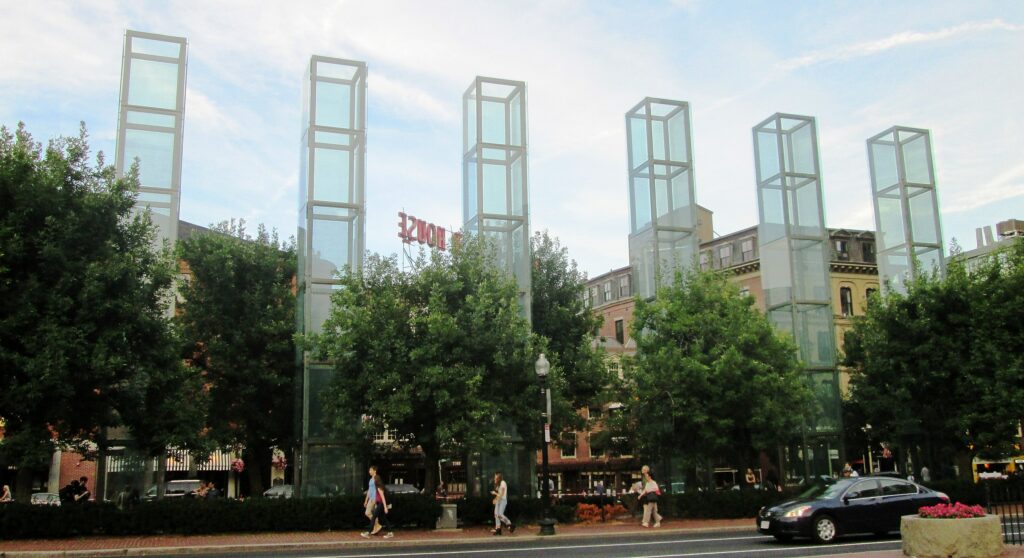 The second oldest cemetery in Boston, Copp's Hill, is the final resting place for over 10,000 people. A stop on the Freedom Trail and visited by thousands yearly, Copp's Hill is named after William Copp. He was an early settler who made his home on Prince Street. The cemetery has some 1200 marked graves whose names one can still read.
320 Hanover Street
Celebrating Mass in Italian every Sunday at 10:30 AM, St. Leonard's Church is where many North End Italian residents reunite for Sunday Mass. The church recently underwent a multi-million dollar remodel and is frequently visited by visitors from near and far.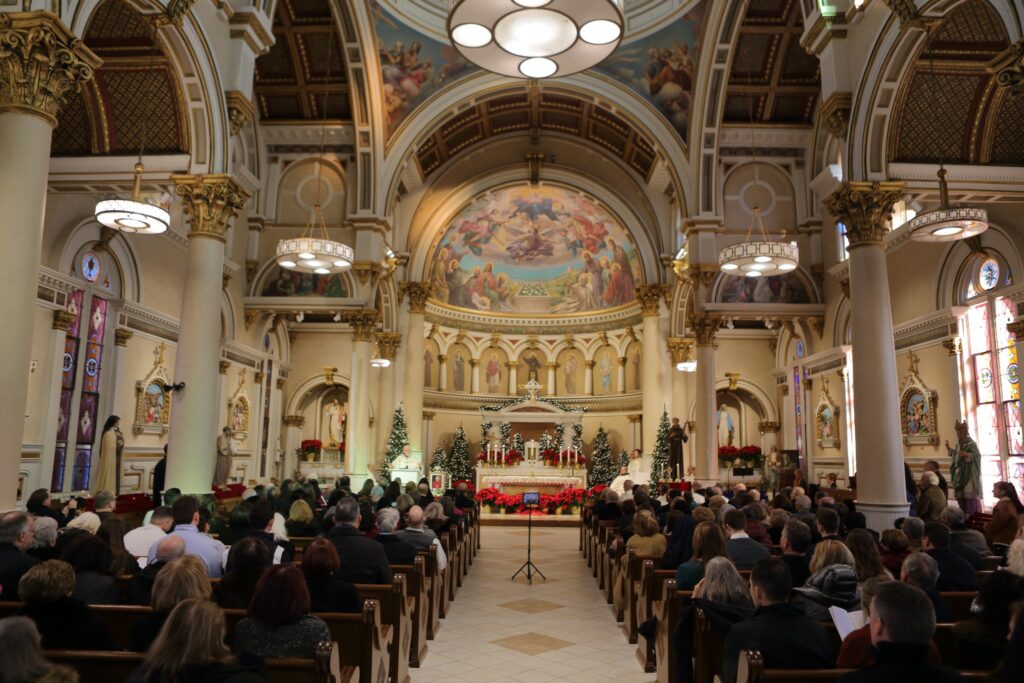 Where to go for a Quick Lunch or Food Souvenirs
289 Hanover Street
Their menu is limited, they accept cash only, the décor is rustic at best, they open only from 10:45 AM to 2:30 PM, or whenever they sell out, and your wine will come in a plastic cup. Still, a visit to the North End would be incomplete without a stop at what locals simply call Umberto's. If you are visiting right around noon, you'll see a line wrap around the outside, don't let it scare you, it moves quickly, and their pan pizza, calzones, arancini, and panzerotti are worth the wait.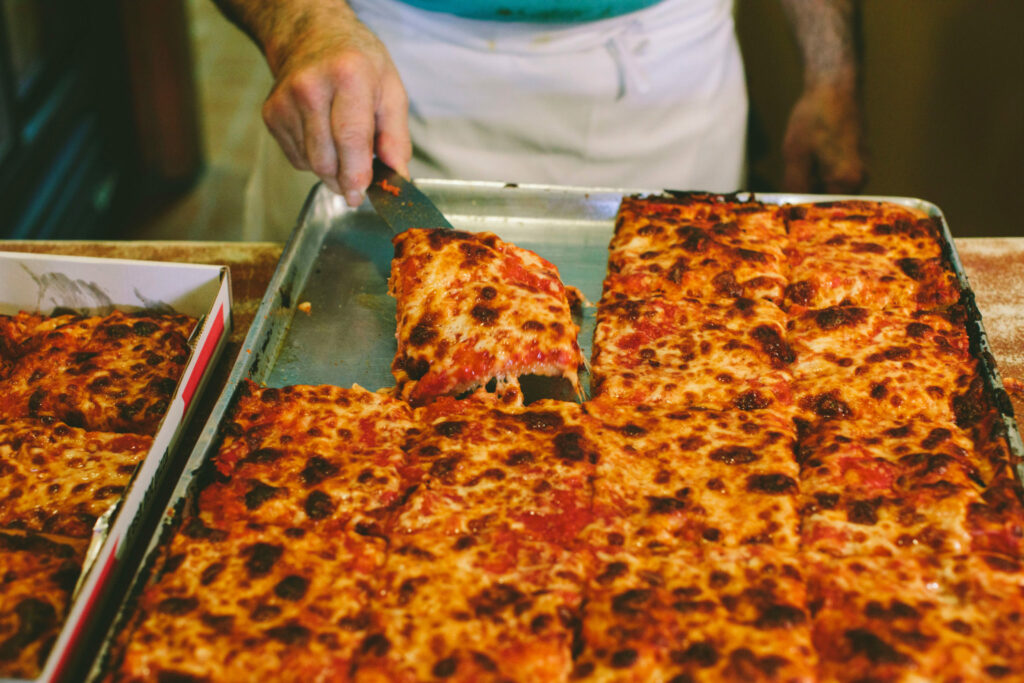 11 Board Alley (Behind 241 Hanover Street)
Hidden behind Hanover Street, you'd likely walk past Bricco Panetteria without knowing it's there. Owned by native Italian Frank DePasquale, who owns and runs numerous North End eateries, Bricco Panetteria is a combination bread shop, pasta shop, salumeria. It is also an importer of Italian meats, oils, and canned tomatoes. With a few tables hidden in the alley, they serve delicious panini and a few select hot items.
151 Richmond Street
Located on the Freedom Trail, Salumeria Italiana is a staple for North End residents and visitors alike. An all-around small Italian grocer, they offer limited panini during lunch hours. Carrying imported products such as salumi, cheeses, canned tomatoes, tuna packed in oil, and Italian packaged cookies, you're sure to find hundreds of Italian products to select from as souvenirs.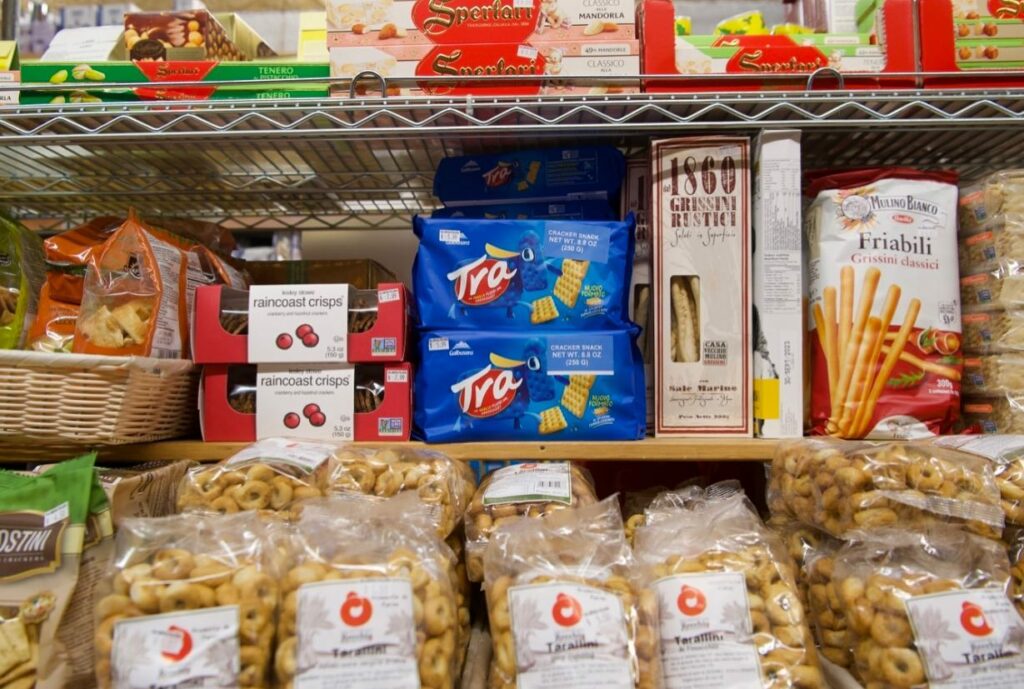 Where to go for a Sit-Down Dinner
24 Fleet Street
As if the handmade pasta, homemade meatballs, creamy polenta, and braised meats weren't enough to prompt a visit to Prezza, wine enthusiasts will undoubtedly appreciate the 6000 bottles from more than 600 labels offered. Named after the Abbruzzese village from which the owner, Anthony Caturano's grandmother, hails from, Prezza is sure to please the most discerning eater.
226 Hanover Street
Serving Northern Italian delights, Lucca is a favorite among locals, tourists, and local companies hosting corporate parties. Hailed as one of Boston's best dining experiences, Lucca boasts an extensive dinner menu with handmade pasta, seafood and grilled meats. Ample-sized appetizers are also enjoyed.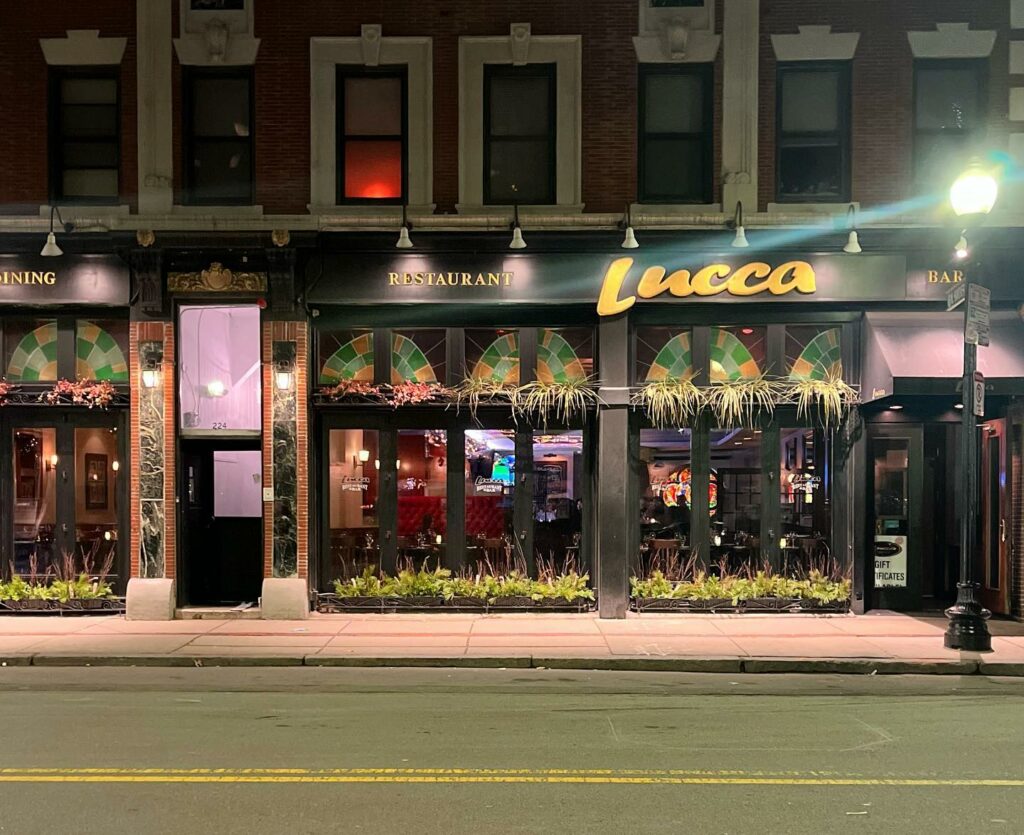 307 Hanover Street
If your taste buds are craving something a bit spicier, head over to Carmelina's. Serving typical Sicilian cuisine, Carmelina is one of the newest North End restaurants at around ten years old. While the menu offers various selections, some of the seafood favorites include spaghetti puttanesca, exploding little neck clams, and tuna arrabbiata.
Where to go for Dessert
257 Hanover Street
Modern Pastry has been a staple in the North End for over 70 years. This is where all Italian and Italian Americans go for their wedding cakes, rum cakes, or any other specialty cake that requires a taste of true, authentic Italy. Also, be sure to indulge in their filled-to-order cannoli, ricotta pasticciotto, which is a miniature of their best-selling ricotta pie, and the ever-popular lobster tail, large enough to be shared by at least two.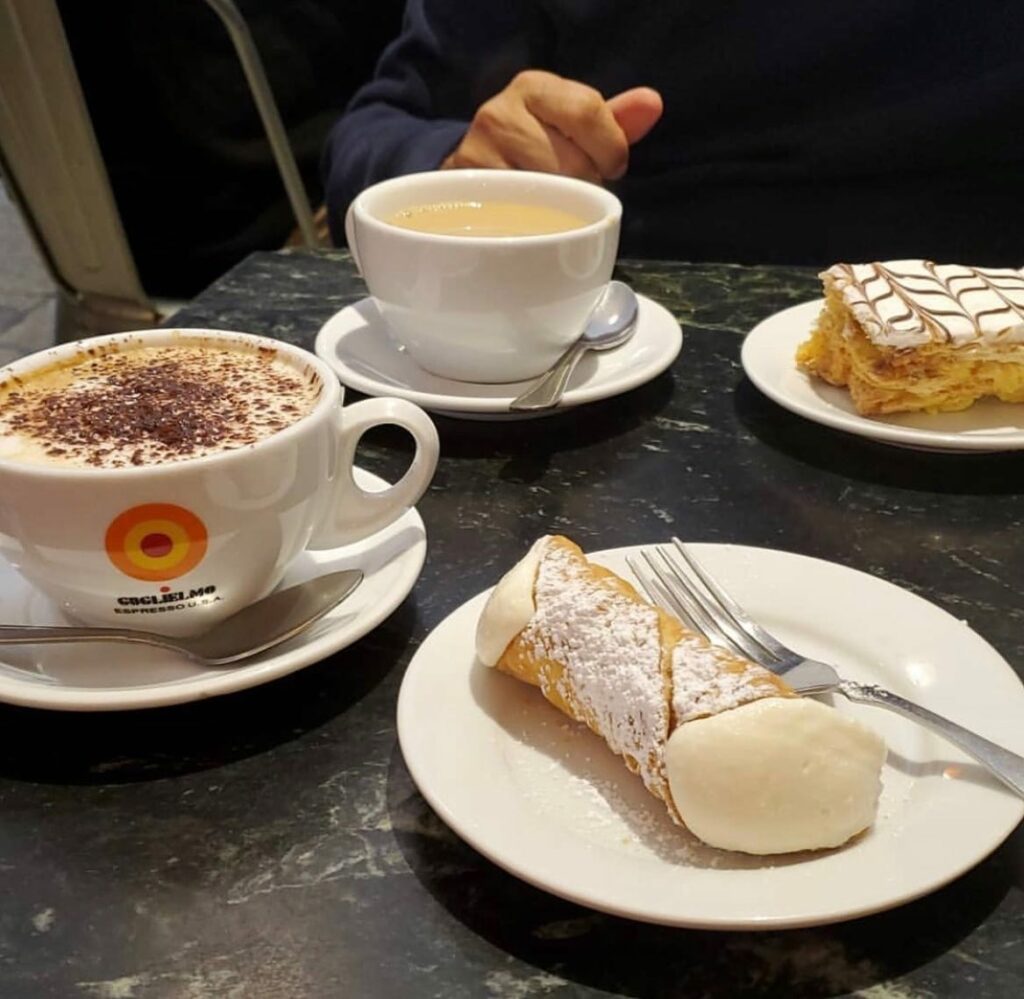 134 Salem Street
What this shop lacks in luxury, it makes up for in taste. A North End institution, Bova's is open 24 hours a day, every day of the year. A favorite of North End residents who appreciate the round-the-clock hours, Bova's has been in this location since 1926. Equally famous for their bread and pastries, their old-fashioned Italian dry cookies and biscotti perfectly match your espresso or cappuccino.
300 Hanover Street
With its unmistakable blue and white box, Mike's Pastry is the go-to shop for all tourists. Founded by native Italian Michael Mercogliano in 1946, the bakery has Americanized its menu substantially over the years. However, you'll still find Italian classics such as Tiramisu, Parigini, and Sfogliatelle. Although it offers ample seating space, those seats fill quickly. So do as everyone else does, grab some goodies, and make your way down Hanover Street, eating right out of the box. You'll be in good company.
How to get Here
The North End is only several miles away from Logan International Airport. Metered parking is next to non-existent, so consider arriving by other means. The North End is easy to reach by public transportation. Known to the locals simply as "the T," several of the color-coded train lines are all just within a few short minutes of Hanover Street. The "Haymarket" stop on the Orange and Green Lines or the "Aquarium" stop on the Blue Line will be your closest stops.

Cosa Mettere in Valigia per l'Italia
Everyone is always asking me what they should pack for Italy,
so I've created a quick reference guide that you can use for your next trip.
Hint: You don't need nearly as much as you think you do!