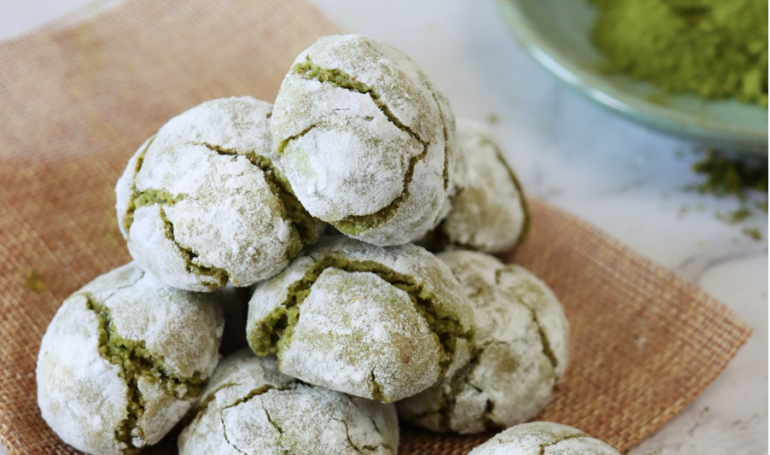 Pistachio Amaretti Cookies
It's that time of year again, time to start thinking about the holiday, or the holiday menu, that is. Once October first rolls around, it seems time is on fast forward and before we know it, one of the most beloved US holiday is here, Thanksgiving, with Christmas immediately following.

If, like me, you're looking to add something new to the table every year, to keep it interesting, than you will love these pistachio amaretti cookies. Amaretti are one of Italy's most beloved cookie, and for good reasons, naturally gluten free, these nutty, chewy and very sweet cookies are the perfect ending to any meal. Traditional amaretti are made with almond flour or almond meal. This version uses a combination of almond and pistachio meal for a unique flavor, different from the original, but in no way less tasty! Light green, making them that much more festive, these treats are beautiful on their own, or decorated with a half maraschino cherry, to really make them festive.

You will find the recipe below to be exceptionally easy. Perfect for the novice baker, or the experienced baker who likes to mix things up, add these to your Thanksgiving or Christmas dessert table this year! As a bonus, these ship really well, and last up to several weeks in airtight cookie tins, making them the perfect cookie for gift giving to friends who live outside your area.

If you want to add to their green color, you can of course, add just a tiny drop of green food coloring. But don't go overboard with this as it's easy to go from pale green, to psychedelic green!

Pistachio Amaretti Cookies
Yields 40 + Cookies

3 cups almonds, ground to flour consistency
3 cups shelled pistachios, ground to flour consistency
1 cup granulated sugar
4 large egg whites
1 tablespoon pure almond extract
Approximately 1 cup powdered sugar

Instructions
In a large mixing bowl add the ground nuts and sugar and mix well using a fork or clean fingers. Mix so that the sugar blends well with the flour and is almost unnoticeable in the mix.
In another large bowl, beat the egg whites with a hand-held whisk. Whisk until bubbles form and whites are very airy.
Add the almond extract and continue mixing until whites are fully infused with the extract.
Add the egg white mixture into the bowl with the dry ingredients and mix through using a large spoon.
Once it's starting to bind, use your hands to combine everything even further until everything mixes really well together. Let dough rest for 1 hour in the fridge or the counter. Preheat the oven to 350 degrees.
Using a cookie scoop or two spoons, make small round balls, roll between your hands to assure they are all perfectly round. Drop the cookies in the powdered sugar and coat in sugar. Place cookies on a cookie sheet that has been lined with parchment paper.
Slightly flatten the balls with your hands. Bake for about 17 minutes, but check at around the 15-minute mark as oven vary.
Optional: Decorate the cookies with 1 whole almond or half maraschino cherry on top prior to baking.

Cosa Mettere in Valigia per l'Italia
Everyone is always asking me what they should pack for Italy,
so I've created a quick reference guide that you can use for your next trip.
Hint: You don't need nearly as much as you think you do!