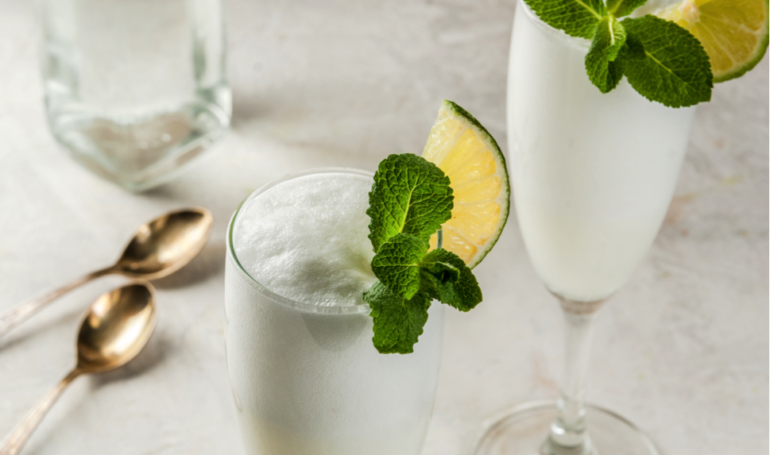 Lemon Sgroppino
Summer is around the corner, which means BBQs, lighter foods and cool desserts. In my opinion, you can't go wrong with anything lemon! And summer is the perfect time for lemon desserts and frosty drinks. Que in the lemon sgroppino!

This is another specialty from the Veneto region, (think tiramisu). In 2018, I conducted a food and wine tour of the Veneto region. We stayed in a beautiful villa and cooked and prepared many of our meals and drinks and this drink soon became a gropu favorite. What's not to love about this? It's perfect any time! Believe it or not, this lemony drink is the perfect cocktail to start a meal, to end it, or even serve in between courses to cleanse the palate during heavy meals! It also makes a great dessert drink, almost like an adult shake! Pair this drink with some crunchy biscotti or Amaretti cookies and you have yourself the perfect treat to end those summer BBQs!

Lemon Sgroppino
Serves 2

Ingredients
1 cup chilled Prosecco
2 tablespoons chilled vodka
½ cup lemon sherbet
2 teaspoons sugar (optional)
Mint leaves (optional)

Combine all the ingredients in a small bowl and gently whisk with a fork to combine and slightly breakdown the sherbet.
Divide between 2 champagne flutes. Garnish with mint leaves, if desired.

Cosa Mettere in Valigia per l'Italia
Everyone is always asking me what they should pack for Italy,
so I've created a quick reference guide that you can use for your next trip.
Hint: You don't need nearly as much as you think you do!