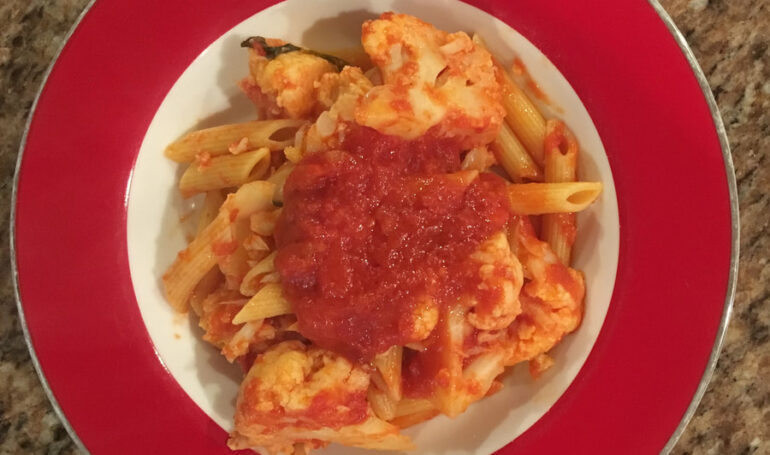 Pasta with Cauliflower
Meatless Monday anyone?
Or perhaps it's Friday and whether it's Lent or not, perhaps you grew up eating meatless on Fridays.
Whatever the case may be, we all know that eating meatless a few times a week is better for your health. Lucky for me, I love most vegetables. My father was a greengrocer in Italy, so we never lacked for fresh produce. In fact, our dinner menu was frequently based on what he didn't sell during the day! This was also a treat during the spring and summer, as my sister and I were able to stuff our faces with fresh peaches, juicy strawberries, countless cherries and cantaloupes sweeter than candy.
Growing up, our meals were frequently a combination of pasta with vegetables, or vegetables with a side of meat, such as chicken cutlets or other protein. My mother frequently felt that a meal was incomplete without meat, but over the years, as the health benefits of following a more plant-based diet were learned, we changed our ways a bit and opted for a few meatless meals a week.
While frequently considered "peasant food," meatless meals are hardly that, since the cost of high quality vegetables rivals that of meat these days!
Low in calories and high in a multitude of nutrients and antioxidants, cauliflower is a great option for those following a low-cal diet. While simply blanched is a bit dull for me,  I enjoy it topped off with some delicious tomato sauce and some added pasta. As you see from my pics, this is about 50/50 cauliflower to pasta. This ratio is, of course, up to you, but I enjoy an equal amount, and this is healthier for you as well. Many home cooks add more pasta, and it's up to you and how far you want to stretch your head of cauliflower!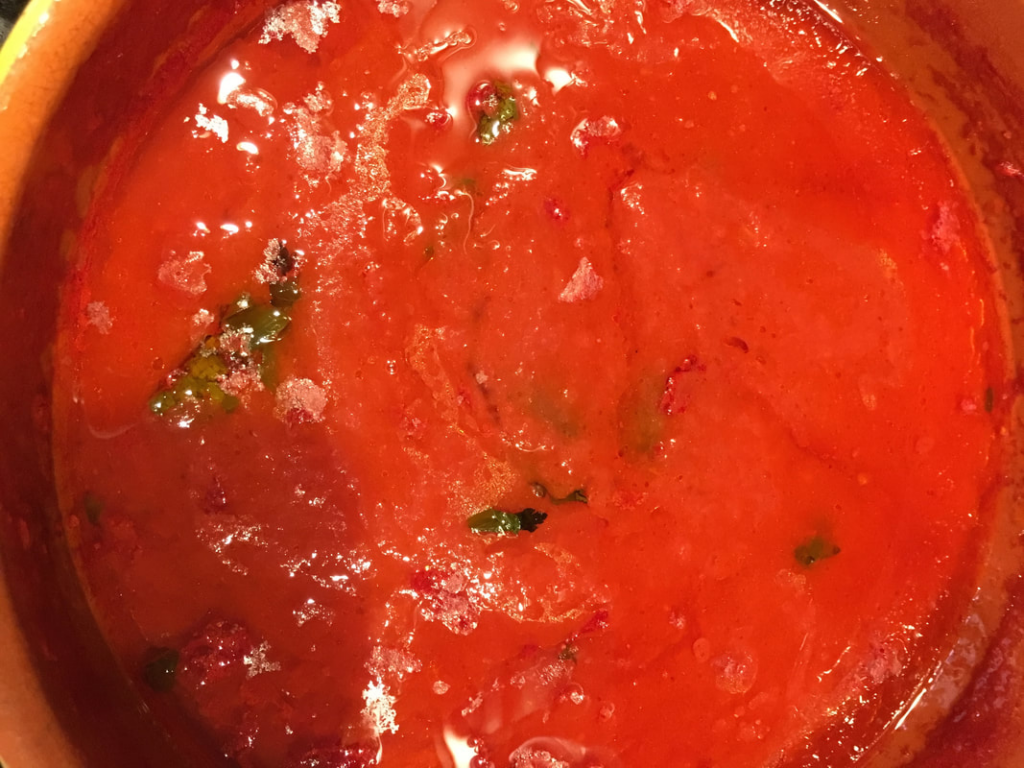 Prepare a basic tomato sauce by following the recipe you can find on this link. You will have leftover sauce, which you can freeze, add to soups or make some delicious eggs in purgatory.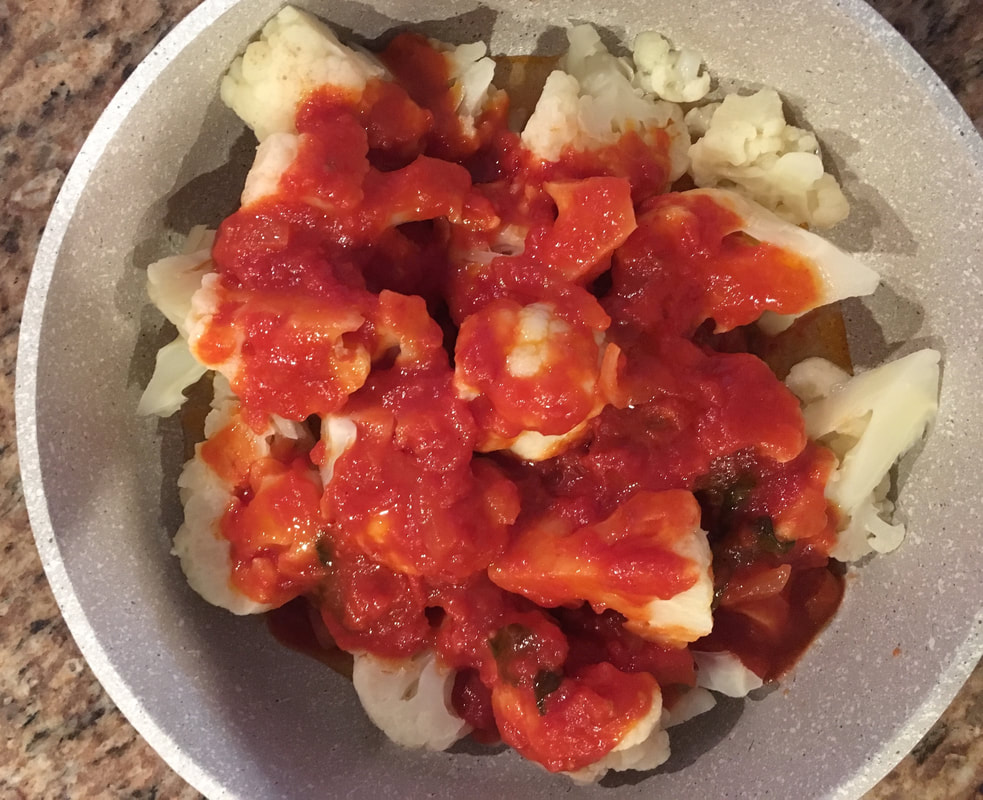 Separate the cauliflower florets and parboil them for about 5 minutes in lightly salted water. Cauliflower tends to break down very quickly, so you don't want to cut the florets too small or they will breakdown in the hot water! I like larger chunks for the florets, as you can see from the picture above. After it's been parboiled, add the florets to a sauté pan, adding about 1 1/2 – 2 cups of the sauce.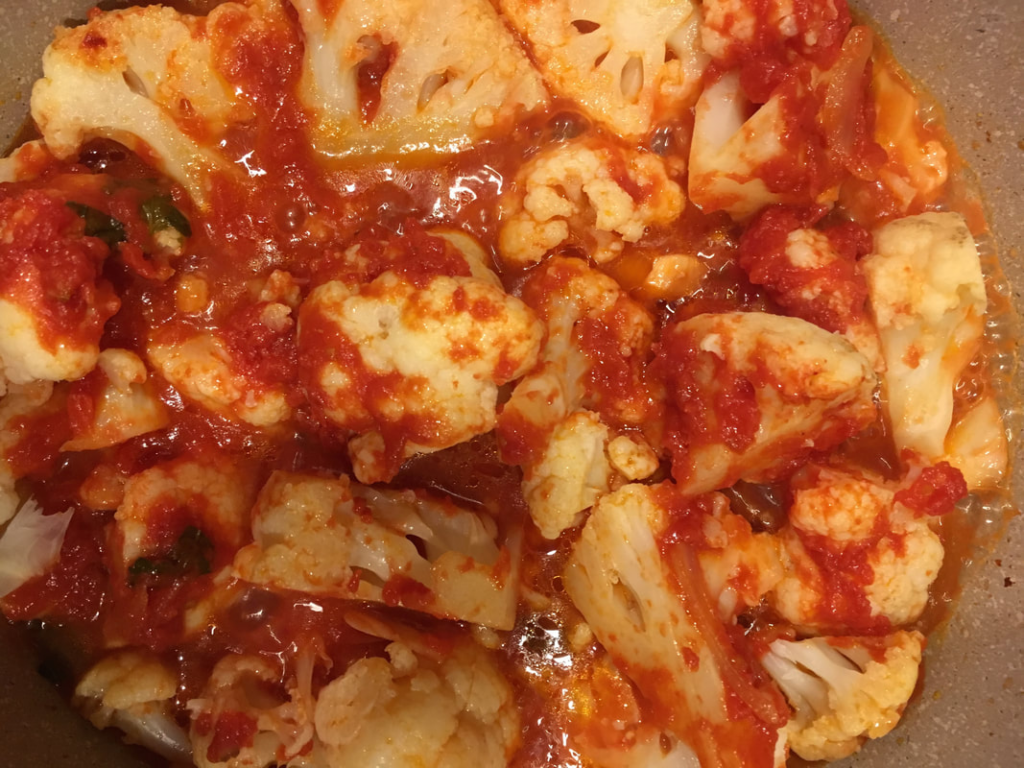 Cook the cauliflower and sauce together for 5 minutes on low-medium heat. In the meantime, you should be cooking the pasta in salted water.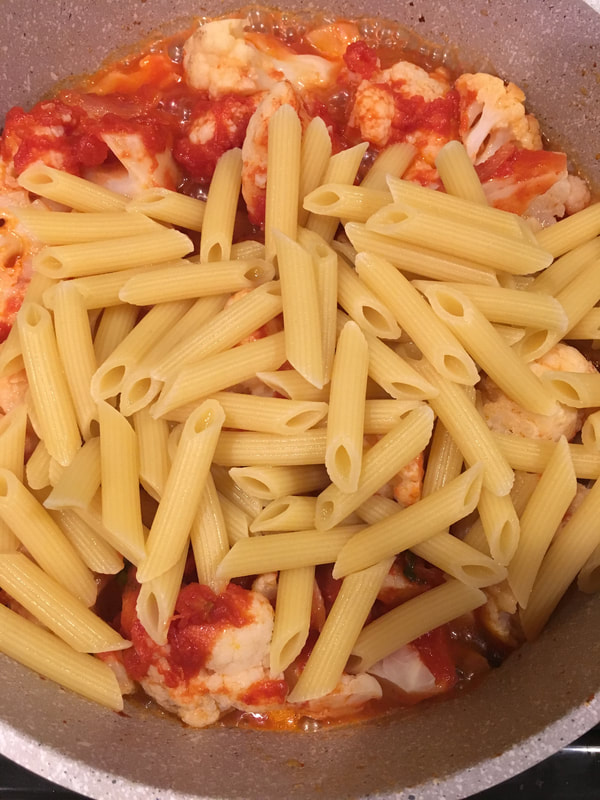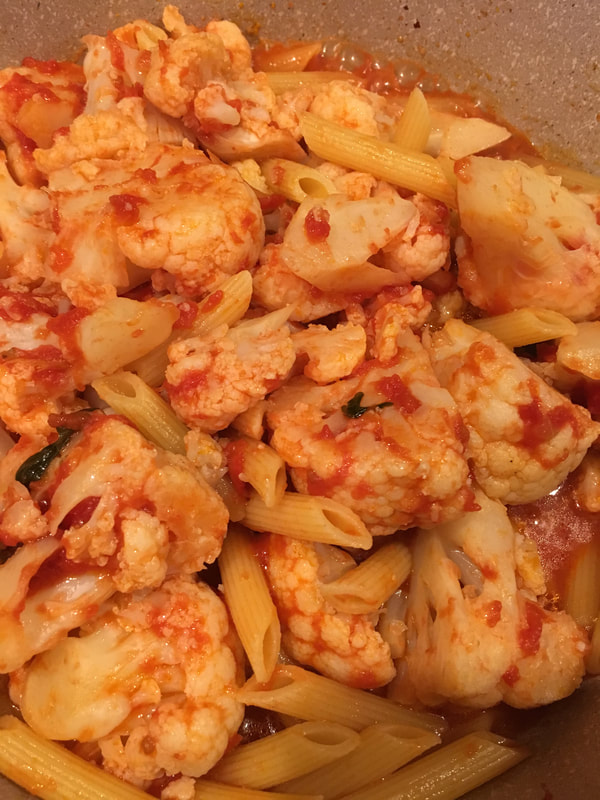 Drain the pasta 3 minutes before the end of its cooking time. Add it to the cauliflower pan and finish cooking the pasta. Mix all ingredients well, and allow the pasta to obtain flavor from the sauce. Be gently here, you don't want to break down the beautiful large florets. One thing I see too often is that the pasta is added to sauces during the last few seconds. You want the pasta to gain flavors from the sauces, so let them cook together for several minutes.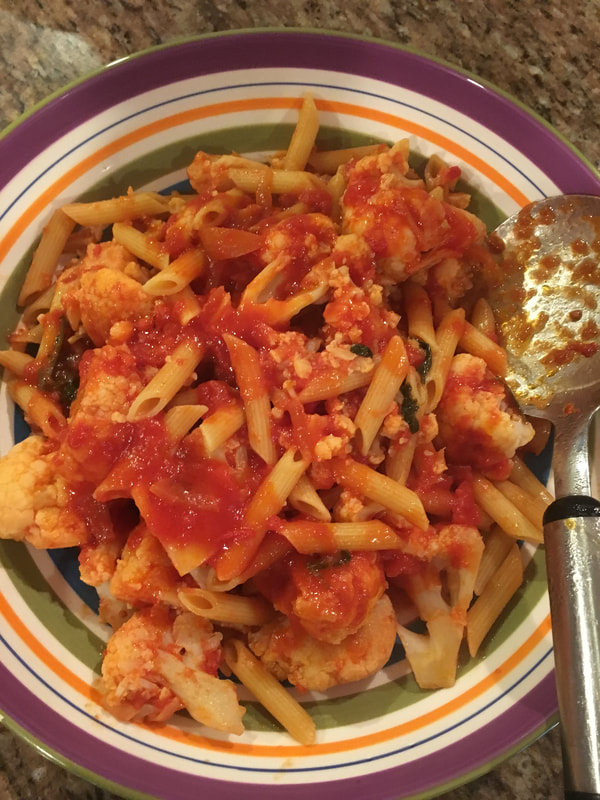 Plate, add some more sauce on top and serve with some grated Parmigiano cheese or topped off with peperoncino, both optional, of course.
Pasta with Cauliflower
Serves 4
Ingredients
2 cups homemade tomato sauce + more for topping (recipe for my version is here.)
1 fresh cauliflower, divided into florets
1/4 lb dry pasta such as ziti or penne
Salt
Optional: Grated Parmigiano cheese, peperoncino
Directions
1) Prepare the tomato sauce by following the recipe you can find here. 
2) Bring a large pot of salted water to a boil for the pasta. 
3) Parboil the florets for 5 minutes in salted water. Drain and add them to a larger sauté pan. 
4) Add 2 cups of sauce to the cauliflower and cook the florets and sauce together for 5 minutes, mixing well but gently so that the florets don't break down too much.
5) Drain the pasta that has been boiling for 3 minutes less than the box instructs for al dente. Add the pasta to the cauliflower pan and again, mixing gently, toss all the ingredients together.
6) Plate, add a few more tablespoons of sauce on top, top with freshly grated Parmigiano cheese and peperoncino, if desired.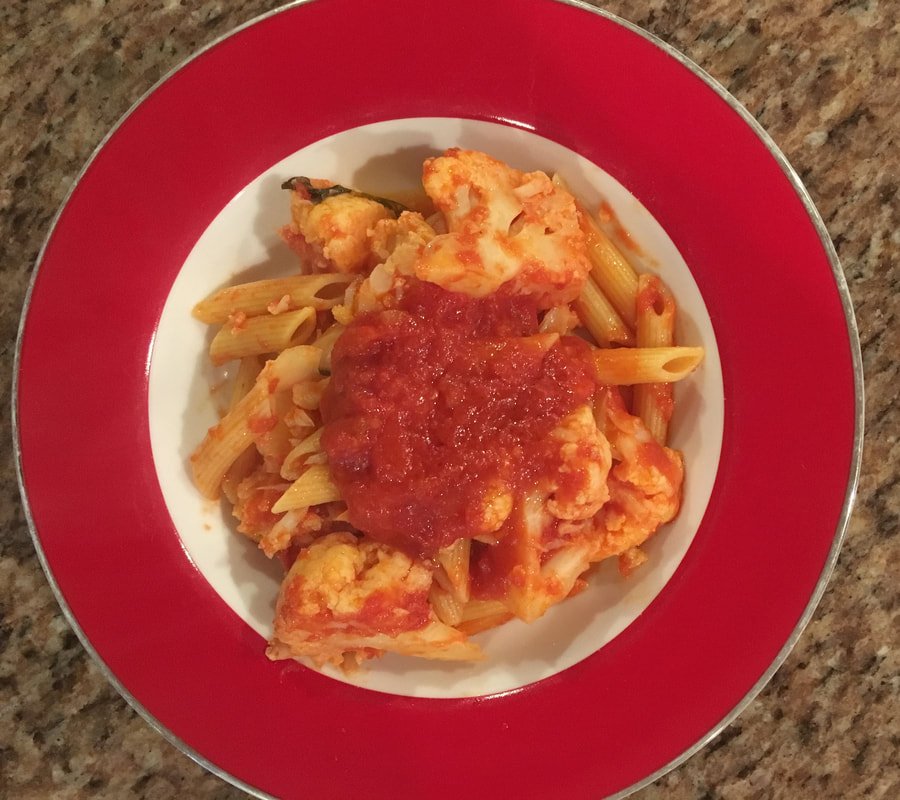 Cosa Mettere in Valigia per l'Italia
Everyone is always asking me what they should pack for Italy,
so I've created a quick reference guide that you can use for your next trip.
Hint: You don't need nearly as much as you think you do!