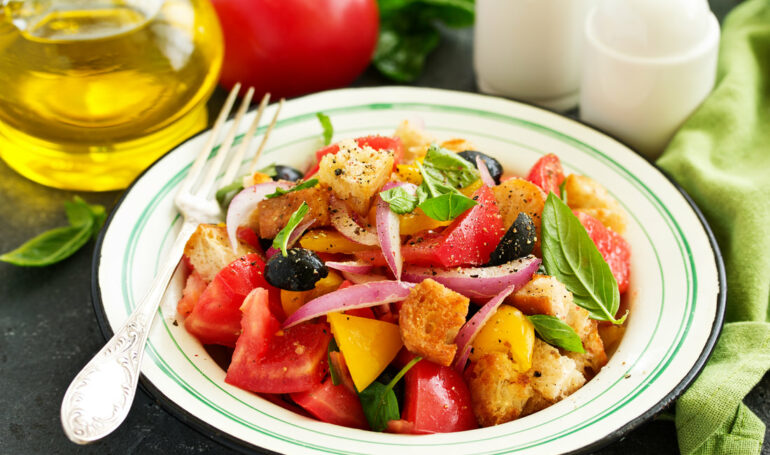 Panzanella Salad
A classic Tuscan recipe, this salad is the perfect summer lunch or dinner, when tomatoes are at their peak. Light, refreshing, and genuine, it was once considered poor man's cooking as it utilizes older bread.

Ingredients
4 medium slices day-old Italian bread, cubed
6 tablespoons extra-virgin olive oil, divided
4 tablespoons red wine vinegar
4 medium vine-ripe tomatoes
1 small red onion, chopped
3 tablespoons chopped basil
½ cup black olives, pitted and halved
Sea salt to taste
Ground black pepper to taste

Instructions
Preheat oven to 400°F. Toss the bread and 3 tablespoons of the olive oil on a standard baking sheet. Mix to combine and toast for 10 minutes.
Meanwhile, prepare the rest of the salad. In a small bowl, whisk together the remaining 3 tablespoons of olive oil and the red wine vinegar, set aside.
Dice the tomatoes into ½ -inch pieces and place them in a large salad bowl. Add the onions, basil, and olives, and season with salt and black pepper. Toss to fully combine. Add the prepared oil and vinegar dressing and mix.
Remove the bread from the oven and mix it into the salad. Serve immediately or let stand for up to 30 minutes.

Cosa Mettere in Valigia per l'Italia
Everyone is always asking me what they should pack for Italy,
so I've created a quick reference guide that you can use for your next trip.
Hint: You don't need nearly as much as you think you do!