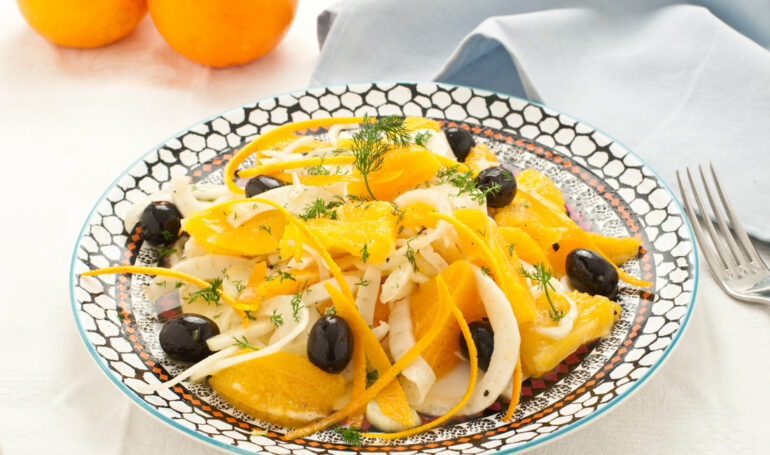 Orange and Fennel Salad
Kissed by the sun year-round, Sicily is famous for its oranges and other citrus fruits; in fact, it's the region where most Italian citrus fruits are grown. As such, it's not too surprising to learn that this salad originates from this region. While at first, these ingredients might not seem to go very well together, put your doubts aside and see that together, they actually offer a refreshing alternative to everyday salads.
to edit.
Ingredients
3 or 4 tablespoons extra-virgin olive oil
Juice of 1 lemon
Salt
Freshly ground black pepper
4 large oranges
1 large fennel bud, thinly sliced
¼ cup black olives, pitted

Instructions
1. Prepare the vinaigrette by adding the oil, lemon juice, salt, and pepper to a small bowl, and mix well with a fork. Set aside.
2. Thoroughly peel the orange and remove all the white pith. Slice the oranges to about ⅛-inch-thick slices and decoratively arrange the fruit on a platter.
3. Top the oranges with thin slices of fennel and top with the olives.
4. Dress the salad with the prepared vinaigrette. Season with additional salt and pepper, if desired.

Cosa Mettere in Valigia per l'Italia
Everyone is always asking me what they should pack for Italy,
so I've created a quick reference guide that you can use for your next trip.
Hint: You don't need nearly as much as you think you do!