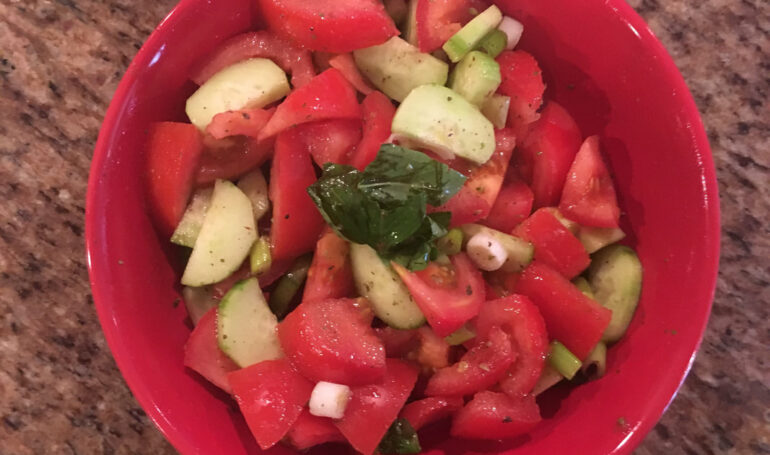 Italian Tomato & Cucumber Salad
"What do you think of this picture?" I ask my mother as I lean over and show her the picture above.
"What about it?" She asks looking at it, not impressed in the least bit. So I ask her again. "What do you think? You think it's ok for the website?"
She's surprised. Shocked really. "Why would you put this up? It's so easy! People don't need a recipe for this!"
Oh the things we take for granted. This simple, delicious, refreshing salad is a staple in our house during the summer. We have it almost every night next to grilled meats or fish, or even just next to some salumi and mozzarella. My mother sometimes doesn't understand that others don't all eat like we do. There are some people, I tell her, who have never had this and will find it useful. (At least, I hope so!)
During the summer months, especially when we're in Italy, tomatoes are always plentiful. So much so, that we often make fresh tomato sauce out of them so they don't go to waste. Everyone grows tomatoes in Italy and so, when friends and family visit, it seems that the appropriate thing to bring us is tomatoes, which we really appreciate since we don't have our own garden to grow produce in Italy!
For this classic tomato and cucumber salad, you only need these two ingredients and a few seasonings. It's perfect next to some BBQ'ed meats or fish. Add some diced mozzarella and you have a full meal!
The below doses are strictly guidelines. As with any salad or even soups, you can adjust accordingly to family size and serving amounts.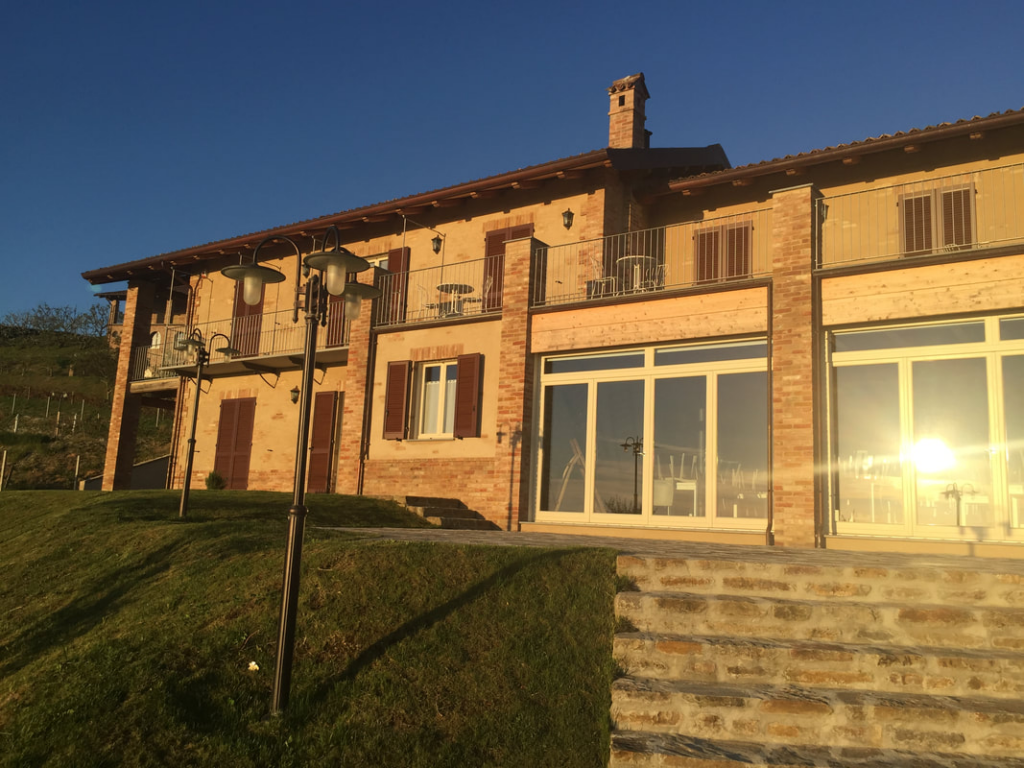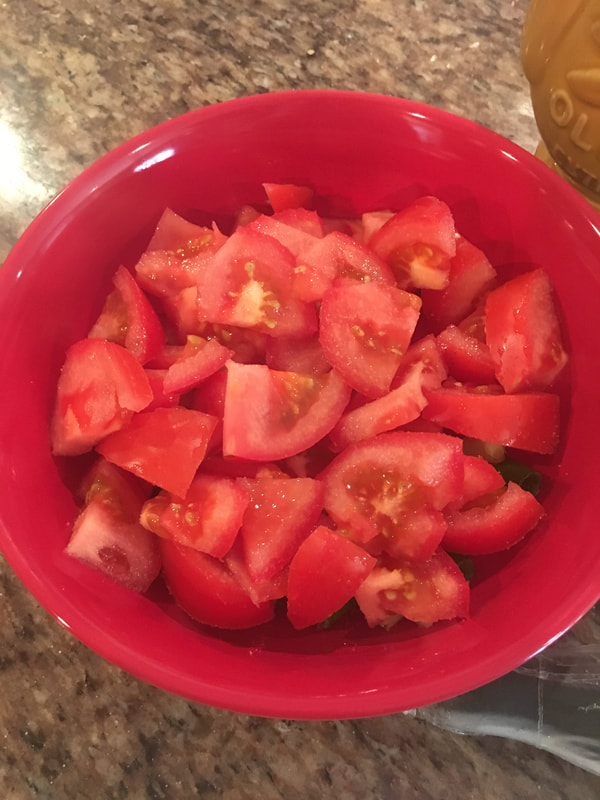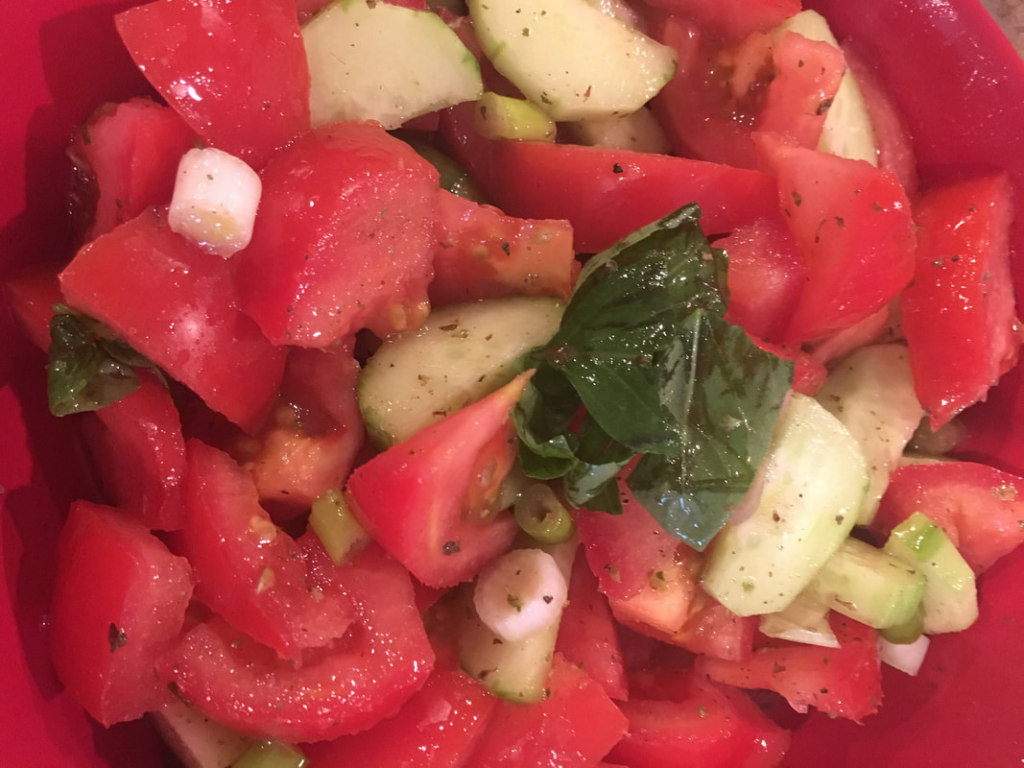 Italian Cucumber & Tomato Salad
Ingredients
2 – 3 vine ripen or farm fresh tomatoes (it's important that the tomatoes are fresh and juice), diced
1 teaspoon salt (or to taste)
1 large English cucumber, peeled and diced or sliced
2 – 3 scallions or 1/2 red onion, diced
3 – 4 fresh basil leaves, torn to pieces
3 tablespoons extra virgin olive oil
1 teaspoon high-quality (ideally imported) dry oregano
Directions
1. Dice the tomatoes and add them to a bowl with the salt. Allow to stand for several minutes so the tomatoes release their juices. (You can skip this step if you are in a hurry.)
2. Add the diced cucumber, scallions, basil, oil and oregano and mix well. Allow to stand just a few minutes longer so flavors develop. Then serve!
*Variations:
To this salad you can add 1 – 2 cans of tuna packed in oil (reduce the amount of oil if adding the tuna with its oil), small mozzarella balls or crusty bread cubes.

Cosa Mettere in Valigia per l'Italia
Everyone is always asking me what they should pack for Italy,
so I've created a quick reference guide that you can use for your next trip.
Hint: You don't need nearly as much as you think you do!