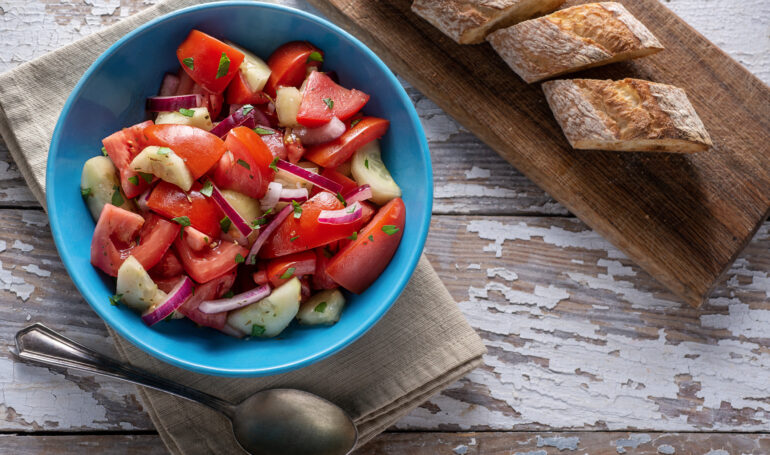 Italian Tomato and Cucumber Salad
I am a bit of a tomato snob. It comes from having grown up in Calabria, where the bounty of tomatoes is unimaginable. I always tell people that they haven't tasted a real tomato until they've tasted the ones from Calabria! They really are that good. And when you make something as simple as a tomato and cucumber salad, well, you want the stars of the show to be perfect. But if you're not in Calabria, I still urge you to make this salad, just be sure to use home-grown tomatoes, if at all possible, or the ones purchased at the farm stands, which are plentiful this time of year. This recipe (I am hesitant to call it that, it's that simple), goes perfectly with grilled meats or seafood. Or just add a can of Italian tune and it's a meal in itself!
Italian Tomato and Cucumber Salad Ingredients 
2 – 3 vine ripen or farm fresh tomatoes diced into large 1-inch pieces, or to preference
1 teaspoon salt (or to taste)
1 large English cucumber, peeled and diced or sliced
1/2 small red onion, thinly sliced
3 – 4 fresh basil leaves, torn to pieces
3 tablespoons extra virgin olive oil
1 teaspoon high-quality (ideally imported) dry oregano
Assembly Instructions
1. Dice the tomatoes and add them to a bowl with the salt. Allow to stand for several minutes so the tomatoes release their juices.
2. Add the diced cucumber, scallions, basil, oil and oregano and mix well. Allow to stand just a few minutes longer so flavors develop. Then serve!
Variations
To this salad you can add 1 – 2 cans of tuna packed in oil (reduce the amount of oil if adding the tuna with its oil), small mozzarella balls or crusty bread cubes.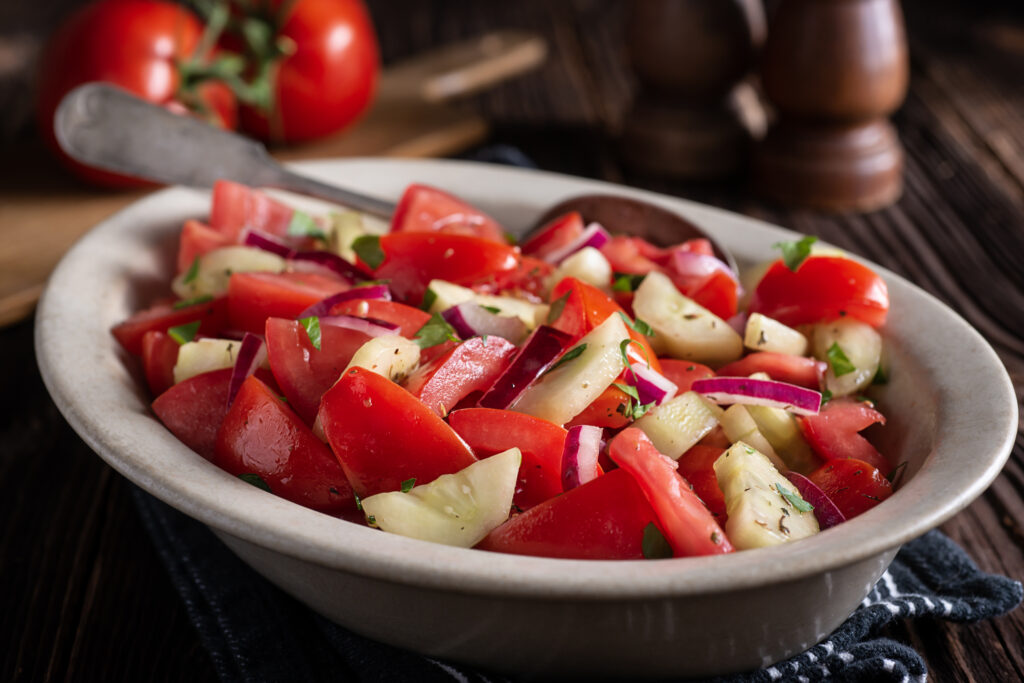 Cosa Mettere in Valigia per l'Italia
Everyone is always asking me what they should pack for Italy,
so I've created a quick reference guide that you can use for your next trip.
Hint: You don't need nearly as much as you think you do!