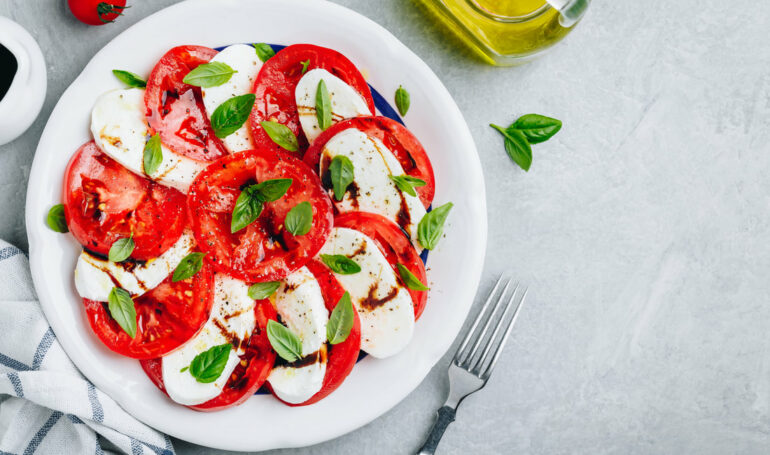 Caprese Salad
Originating from the island of Capri, this salad is a wonderful example of how just a few high-quality ingredients can create something magical. Believed to be a fairly new creation by Italian standards, the story goes that in the mid-1950s, a patriotic resident of Capri wanted to create a dish that symbolized Italy and the Italian flag. Thus, this dish was born. 
 
Ingredients 
1 large beefsteak or vine-ripened tomato
1 (6- to 8-ounce) ball fresh mozzarella cheese (see tip)
Approximately 10 basil leaves
1 to 2 tablespoons extra-virgin olive oil
1 to 2 tablespoons balsamic vinegar 
Salt

Instructions 
1. Slice the tomato in ¼-inch-thick slices, and arrange on a platter in a wide circle.
2. Slice the mozzarella to about the same size as the tomato, and arrange on top of the tomato, alternating in layers so the tomato and mozzarella overlap.
3. Arrange the basil in between the tomato and mozzarella so they overlap. 
4. Drizzle with olive oil and balsamic vinegar, and salt to taste. 
 
Ingredient Tip: Fresh mozzarella should be stored in the water it came in, used within a few days of purchase, be free of any odor, and appear purely white, with no sign of discoloration.

Cosa Mettere in Valigia per l'Italia
Everyone is always asking me what they should pack for Italy,
so I've created a quick reference guide that you can use for your next trip.
Hint: You don't need nearly as much as you think you do!