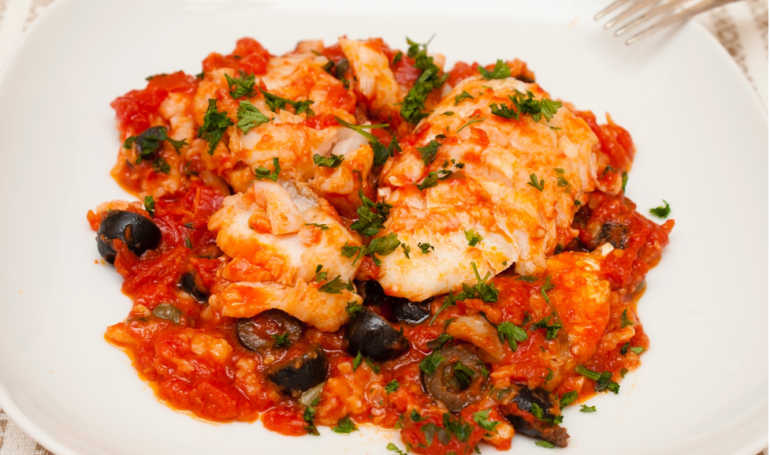 Neapolitan-style cod
We're in the middle of Lent so I know many Italians and other Catholics celebrating the Easter season are enjoying lots of seafood on Fridays.

I have two favorite seafood types: swordfish, which I really enjoy but limit eating due to the mercury content, and cod. Cod, known as baccala' in Italian, is a white fish that is tender, meaty and very versatile. The flavor by itself is very subtle, and, for lack of a better word, isn't very fishy at all. It absorbs flavors wonderfully, is delicate and not at all heavy.

I prefer using the loin portion whenever possible. It's thicker, meatier and doesn't flake as easily as the tail end piece. Like most seafood, cod cooks very quickly, making it a great option for week-night dinners. One way I really enjoy it is eating it simply fried, because we know everything tastes better fried! Just dredge in some semolina flour, fry it up and enjoy it with a squirt of fresh lemon. It's a great appetizer, or light first course next to a green salad.

But one more substantial way of eating it is by preparing it the Neapolitan way. Saucy, and little salty, and all too delicious, preparing it this way will serve as a full meal in itself. A few words of advice on cooking this dish: Be judicious with the added salt, both the capers and olives add lots of sodium so you may end up not needing extra salt. And be gentle when cooking this fish, keep the heat on medium and when stirring, use a light hand with the wooden spoon. Cod is delicate and falls apart easily.

Baccala' alla Napolitana
Neopolitan-style cod
Serves 4 – 6

Ingredients
2 tablespoons olive oil
2 garlic cloves, minced
2 tablespoons chopped parsley
1 28-oz can crushed tomatoes
Hot pepper flakes, amount to taste
1 teaspoon dry oregano
1 cup plain water
2 tablespoons capers, rinsed
½ cup black olives, rinsed, pitted and halved
1 ½ lbs cod loins, cut into 4 – 5 inch servings
Salt to taste – see note above

Instructions
First prepare the sauce by cook the tomatoes. In a large sauté pan, heat the oil. Add the oil, garlic and parsley and cook for several minutes. Add the crushed tomatoes, crushed pepper and oregano, and also add a cup of plain water. Cook the sauce for 15 minutes or so.
To the sauce, add the capers and olives and mix well into the sauce.
Gentle add the fish into the sauce, making sure you have enough space and that the fish is not overcrowded. If the sauce has thickened too much, add a little bit more of water.
With a wooden spoon, cover the fish with some of the sauce, assure the heat is on medium – low and simmer for 20 or so minutes. Check on fish a few times while cooking, adjusting heat as needed.
Taste for seasonings and add salt, if needed. Serve hot with crusty bread.

Cosa Mettere in Valigia per l'Italia
Everyone is always asking me what they should pack for Italy,
so I've created a quick reference guide that you can use for your next trip.
Hint: You don't need nearly as much as you think you do!