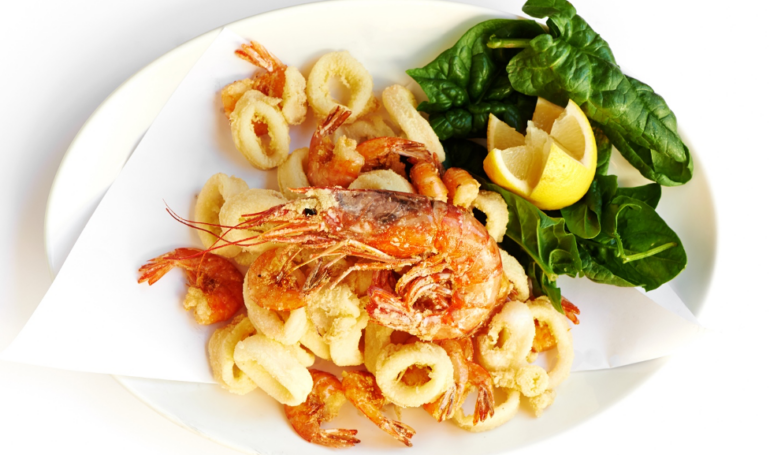 Italian Fish Fry
You can smell it well before you can see it. That oh so scrumptious smell of fish frying. Fritto misto di mare, or mixed fried fish, is a timeless classic of Italian cuisine. It knows no season, nor holiday, it's always appreciated and adored by all, and it's perhaps my biggest guilty pleasure. My "just one more" can't refuse food. Shrimps, mullets, squids, cod and anchovies, a medley of flavors that despite frying can be a delicate dish to enjoy. With Lent upon us, we thought we'd share how to make the perfect fritto misto di mare at home.

To start: Which fish should be used?
The classics include the use of cod, shrimp, anchovies, scallops, squid and baby octopus. But the limit is only placed by your imagination. Isn't everything better fried? It goes without saying, but I will anyways, that for a perfect fish fry it is very important that the fish is fresh and well cleaned. And pay particular attention to squid (calamari). It's best to buy them whole, and then cut the classic rings yourself at home. Though convenient, buying them already cut may mean that they are not at their freshest.

The breading
The goal of the perfect fry is a golden and crunchy coating. There are different options on how to achieve this. Some use flour, and I surely have at times, but if available, my advice is to bread the fish with durum wheat semolina flour. Coat the fish in the semolina immediately before frying, in doing this, the semolina will not have time to moisten, resulting in a crunchier topping. For anchovies, you can also prepare a batter with semolina, salt, pepper, an egg and a tablespoon of beer.

Oil and temperature
Back away from the olive oil for this one. For a full-bodied fry, it is advised to use the less fragrant sunflower oil. This will allow for the fish fry to remain crunchy, but the more delicate flavor of this oil will leave the flavor of the fish intact. Vegetable oil is also an option. To check that the oil temperature is right, try frying a piece of potato, as soon as it starts to fry, the oil will have reached the right temperature which is between 350 – 375 degrees. The fish must not remain in the oil for more than a few minutes.

How to serve the fry
As soon as it is removed from the oil, place the fish on paper towels. Add a pinch of salt, cut a lemon into 4 wedges and enjoy while still hot, perhaps with a glass of fresh white wine!

We've offered a basic recipe below, adjust amounts to your liking, as long as you follow the steps outlined above, you'll be (almost) guaranteed the perfect fritto misto di mare.

Fritto Misto di Mare
Mixed Fish Fry
Serves 4 – 8

Ingredients
6 cups sunflower oil (approx.) or vegetable oil
Salt and pepper to taste
2 cups durum wheat semolina flour (approx.) (or all-purpose flour)
12 large shrimp, peeled and deveined (alternatively, you can peel after frying)
12 fresh anchovies, cleaned
1 lb fresh squid, cleaned and sliced into rings, (tentacles are great, do not discard!)
½ lb sea scallops
1 lb cod, diced into 2 – 3 inch pieces
Lemon wedges

Instructions
In a large frying pan (or deep fryer), heat several inches of oil until you reach the temperature of about 350 degrees. (See step above if you do not have a thermometer.)
Season the fish with salt and pepper. Transfer flour to a large bowl (or I use a disposable plastic Ziploc bag) and  dredge the fish in the flour, shaking off excess.
Immediately fry fish in hot oil, paying attention that is does not splatter. Scallops and shrimp will cook in under one minute. Calamari in just about one and half minute. Anchovies in about two minutes, cod in two to three minutes, depending on thickness.
Remove fish using a slotted spoon and drain on a dish that has been lined with clean paper towels. Serve with additional salt and lemon wedges.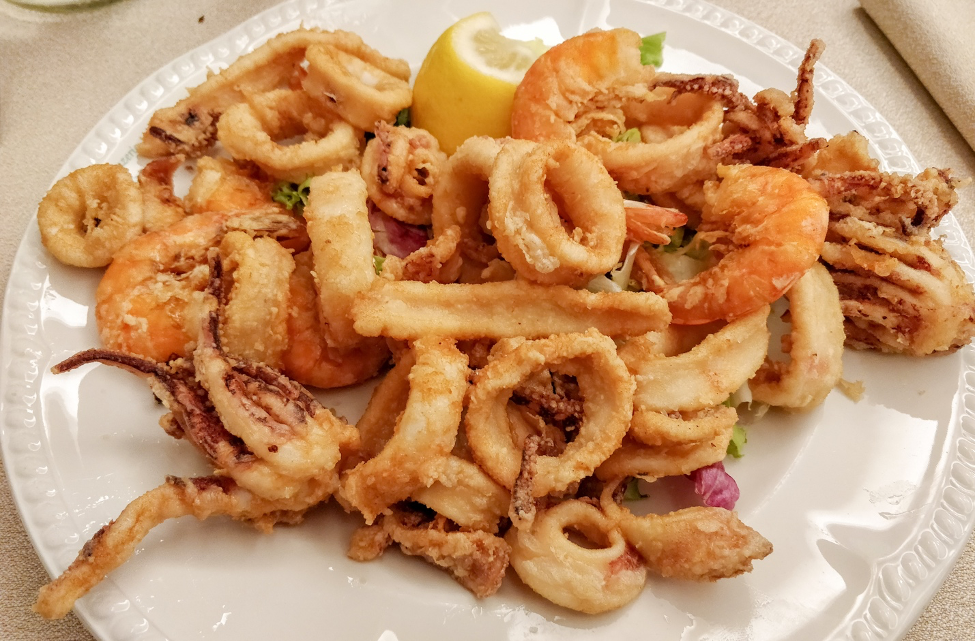 Cosa Mettere in Valigia per l'Italia
Everyone is always asking me what they should pack for Italy,
so I've created a quick reference guide that you can use for your next trip.
Hint: You don't need nearly as much as you think you do!