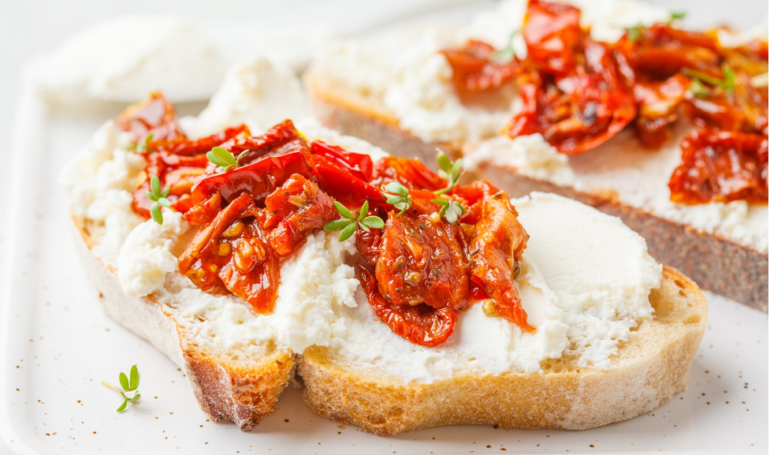 Ricotta & Sundried Tomato Crostini
Growing up in southern Italy, I ate my share of ricotta. I have now traveled to much of Italy leading food and wine tours, and have eating some amazing food all over the peninsula, but I must confess, the flavor of the ricotta in Calabria is second to none. When I'm in Calabria, I eat it just about daily. The beauty of ricotta is that it's so versatile. You can literally enjoy it from breakfast, to lunch, to dinner, to afternoon snack! In the morning, it's wonderful for breakfast. Yes, you can enjoy it for breakfast on some toasted bread, a drizzle of honey, or as my dad enjoyed it, with a teaspoon of cherry preserve on top. At lunch it's great in panini or added to a frittata, and for dinner, well, stuff some shells, bake some pasta or make some cannelloni! And let's not forget how wonderful it is in desserts. It's just the perfect ingredient for both sweet and savory dishes. 
 
These crostini are perfect for appetizers, but also make a great lunch on their own. Serve before dinner to whet the appetite, or prepare a plateful for when guests come over, and enjoy with some white wine They also make the perfect light lunch! Of course, this is just one idea, you can also top them with anchovies, olives, capers, honey, or any other flavor that you love! It's the simple things that are the most enjoyed. 
 
Ricotta & Sundried Tomatoes Crostini 
Serves 4 as appetizers 
 
Ingredients 
4 – 6 thick slices of Italian bread
1⁄4 cup extra virgin olive oil
1 cup whole milk ricotta
Ground black pepper (optional) 
Coarse sea salt
2 – 3 oz sundried tomatoes marinated in olive oil  
 
Instructions 
1. Preheat the oven to broil. Place a rack on the very top shelf. 
2. Lightly brush one side of the bread slices with the olive oil. Place bread on a baking sheet and place in the oven for 1 – 2 minutes. Bread should be slightly 
charred but not burned. (It can quickly burn so do not walk away from the oven.) 
3. In a small bowl, using a fork, gently mix the ricotta to break it up. Add ground black pepper, is using.
4. Top each of the bread slices with a large tablespoon of the ricotta. Add a light sprinkle of salt and top with top with the tomatoes. Feel free to add a bit of the oil that the tomatoes came in.  Serve immediately while hot and crisp. 

Cosa Mettere in Valigia per l'Italia
Everyone is always asking me what they should pack for Italy,
so I've created a quick reference guide that you can use for your next trip.
Hint: You don't need nearly as much as you think you do!