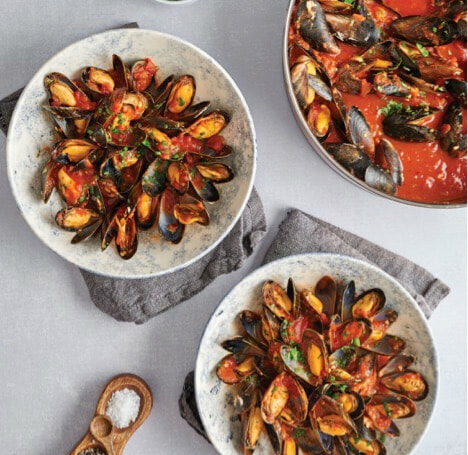 Mussels in Wine and Red Sauce
It's Lenten season and for all those observing the upcoming Easter holiday, it means that Fridays will be devoted to abstaining from eating meat and most likely enjoying seafood dinners. Growing up in Italy, seafood was often served on Fridays as a general rule throughout the year, but during Lent, however, it was a must to eat seafood. We would go to the local outdoor market and purchase local freshly caught seafood. Having been raised in Calabria, our cuisine was often influenced by our neighboring regions, such as Puglia and Sicily. Mussels in read wine, or Cozze alla Tarantina, is a traditional dish from the region of Puglia, specifically from the city of Taranto. Famous for sun, sand, and sea, the region of Puglia is abundant in seafood, thanks to its location surrounded by oceans. Recipes from Puglia, like this one, are spicy, rustic, and adored for their simplicity. This recipe was once considered part of the cucina povera, or "poor man's cooking" concept. Not so today, as a result of increased costs of the ingredients used. This recipe is part soup, part sauce, and complete deliciousness.

This dish is great because it comes together quickly, in less than 30 minutes, it's gluten free for those following a GF diet, and it's also dairy free. The prep time is 10 minutes at most, and as with a lot of seafood dishes, it cooks super fast, in 15 – 20 minutes max. This recipe yields 4 servings, but you can easily adjust up or down. Turn this recipe into a two-course meal by cooking some pasta and dressing it with the sauce from the mussels.

Mussels in Wine and Red Sauce
Ingredients
4 tablespoons olive oil, divided
4 garlic cloves, minced, divided
¾ cup dry white wine
2 pounds mussels, scrubbed clean and beard removed
1 (28-ounce) can crushed tomatoes
Red pepper flakes
Salt
Freshly ground black pepper
1 tablespoon chopped fresh parsley

Instructions
In a medium pan over medium heat, add 2 tablespoons of olive oil and half the garlic, and heat it for 1 minute. Add the white wine and mussels, mix well, cover, and cook for about 5 minutes, until the mussels open up. Discard any mussels that do not open. Strain the mussels, reserving the liquid.
Meanwhile, in a large sauté pan over medium heat, add the remaining olive oil and garlic. Heat the oil and garlic, and then add the tomato sauce and the broth from the mussels and cook for 10 minutes.
Add the mussels, red pepper flakes, salt, and pepper, and simmer, covered, for an additional 5 minutes. Garnish with parsley before serving.
*This recipe and others like it can be found in my first cookbook: The Five Ingredient Italian Cookbook. Get your copy here!

Cosa Mettere in Valigia per l'Italia
Everyone is always asking me what they should pack for Italy,
so I've created a quick reference guide that you can use for your next trip.
Hint: You don't need nearly as much as you think you do!