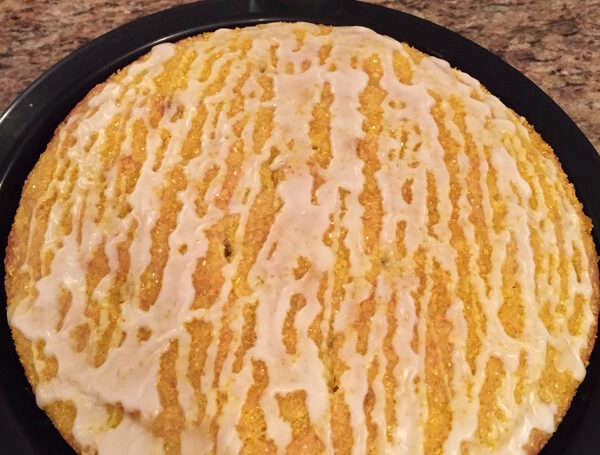 Limoncello & Olive Oil Cake 
Let them eat cake!
There are days when only cake will do. If you have a sweet tooth, like I do, those days are often! I love anything lemon, so this cake's right up my alley. Plus the fact that it comes together in only a few minutes, makes it that much more appealing. I didn't call my blog "lazy Italian cooking" by coincidence.
When it comes to ease, it doesn't get any easier than this for a cake. A boxed cake wouldn't be any easier! Yet this is all homemade! You can bake it the day before serving and glaze it the day of. It stores well for a few days, not that I have had it last that long. It goes well with a shot of limoncello, of course, or tea or a good cup of coffee. It's surprisingly light and moist.
I tell myself that because this has olive oil in it as the fat, as oppose to butter, that it's healthier for you. Whatever helps me justify a second piece is what I will tell myself! The ingredients are basic, I bet you already have them in your pantry! I use extra-light tasting olive oil in this recipe, because, well, EVOO is just too strong for my taste. I don't want my baked goods to taste like a salad! That said, you can use EVOO, but it will effect the overall taste a bit, so personally, I would not recommend it. Enjoy!
Ingredients:
Cake
2 cups all-purpose flour
2 teaspoons baking powder
½ teaspoon baking soda
½ teaspoon salt

1 cup sour cream
2 large eggs
¾ cup sugar
¼ cup extra light-tasting olive oil
4 tablespoons Limoncello
zest of one lemon

Glaze
1 cup powdered sugar
2 tablespoons limoncello
1 -2 teaspoons milk (if needed)

Directions:
1) Preheat over at 350
2) In a small bowl, mix the flour, baking powder, baking soda and salt, set aside.
3) In a larger bowl or stand mixer blend the sour cream, eggs, sugar, olive oil, limoncello and lemon zest until blended.
4) With the mixer on low, add the dry ingredients to sour cream mixture. Do not over mix.
5) Pour cake batter in a 10-inch cake pan that has been sprayed with baking spray.
6) Bake for 35-40 minutes. Start checking the cake at about 30 minutes, since everyone's oven is different, if could be done sooner or take a few minutes longer. Test with a toothpick in the center, if it comes out clean, it's fully cooked. If it looks at all moist, leave it in the oven a few more minutes.
7) Cool completely before removing from pan.

Glaze
1) Prepare the glaze by mixing the powdered sugar with limoncello. If it looks dry, add a teaspoon of milk.
2) Using a teaspoon or kitchen squeeze bottle, drizzle glaze over cake. Allow glaze to dry before serving or wrapping for gift-giving.

Cosa Mettere in Valigia per l'Italia
Everyone is always asking me what they should pack for Italy,
so I've created a quick reference guide that you can use for your next trip.
Hint: You don't need nearly as much as you think you do!