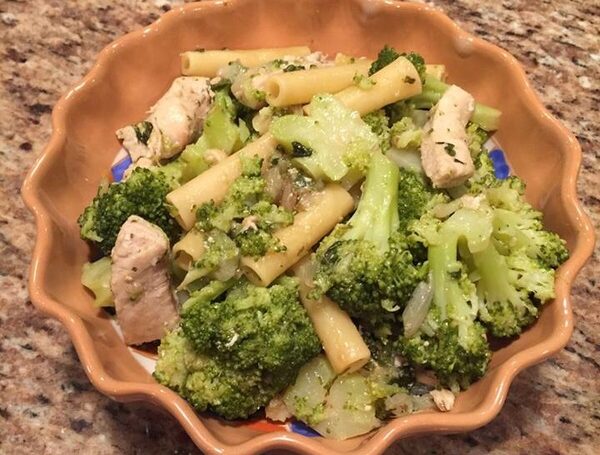 Chicken, Ziti & Broccoli
A lot of Italian restaurants in the US sell this dish but unfortunately, many get it wrong. It's usually drowning in alfredo sauce, or some other questionable liquid and the ratio of chicken to ziti to broccoli is always off. It's like you have to go hunting for a broccoli floret or piece of chicken in a sea of overcooked ziti!! Restaurants of course do this because the pasta is substantially cheaper than the other ingredients. This dish is more Italian-American than strictly Italian, but delicious none the less. It's a great week night meal as leftovers make a great workday lunch!
This recipe is pretty generous on the chicken and broccoli. Of course, the ratio of each is completely up to you, but I find that this works well and is to my liking.
4-6 servings, depending on serving size
Ingredients:
1/3 cup of olive oil
1 to 1.5 lbs of boneless chicken breast, cut into dices
1 large onion, thinly sliced
2 garlic gloves, thinly sliced
1 tablespoon of chopped Italian parsley
1 teaspoon oregano
salt to taste
1 lb of broccoli florets
5-6 oz of ziti
​Directions: 
1. Clean your broccoli and remove any visible stems. Cut into florets, wash them and set them aside.
2. In a large skilled add the oil, diced chicken, sliced onion and garlic, parsley, oregano, salt and start cooking over medium heat.
3. While the chicken is cooking, bring a large pot of salted water to boil and add your ziti. About two minutes after the zit has been cooking, add the broccoli florets and boil together. (The broccoli takes a few less minutes than the pasta.) Alternatively, you can cook them in separate pots. Total cooking time is about 9-10 minutes.
4. Continue cooking the chicken and onions until the onion is translucent and the chicken is cooked. About 10-12 minutes. 
5. Drain the ziti and broccoli and add them to the chicken, cook them together for another few minutes until the flavors are well blended. Add additional olive oil and salt, if needed.
6. Remove from stove and enjoy hot or warm.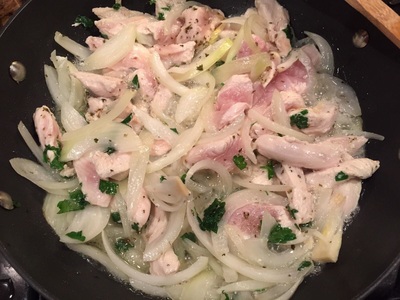 Cosa Mettere in Valigia per l'Italia
Everyone is always asking me what they should pack for Italy,
so I've created a quick reference guide that you can use for your next trip.
Hint: You don't need nearly as much as you think you do!