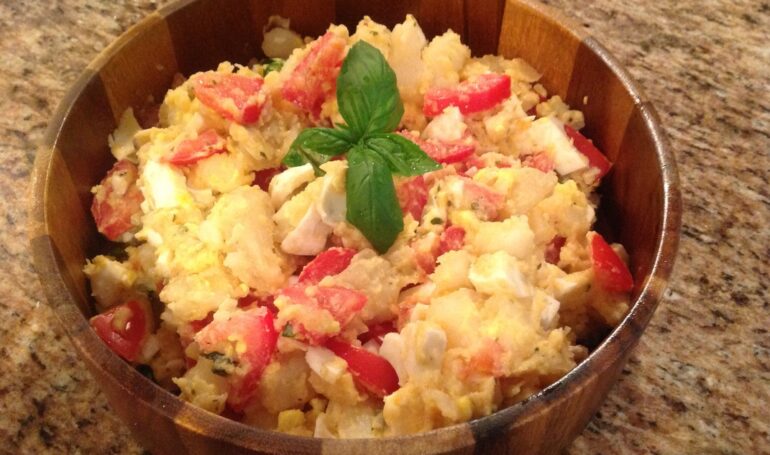 Italian Potato Salad
The much celebrated and loved Forth of July holiday will be here before you know it and if you're mentally preparing your menu and wondering what will go well with your traditional BBQ, why not consider a nice potato salad? We've been making this recipe in my household since I can remember. We used to make this in Italy with the wonderful summer tomatoes and our own olive oil and it's just so addictive! It's a very easy recipe (salads usually are) and I suggest using farm tomatoes as they're juicer and overall just that much tastier. Since it doesn't have all that many ingredients, be sure to use the best you can find. As far as proportions, it's a salad so it's very hard to quantify, so the below are really just estimates, adjust depending on the number of servings you need. As far as the olive oil, this will require more than you might think. Potatoes are like sponges and will soak it right up, which will make it really tasty! This makes the perfect accompaniment to BBQs or enjoyed by itself for a wonderful lunch on the porch.
​Ingredients
5 – 6 medium size potatoes (I prefer red ones)
4 – 6 eggs
2 – 3 vine ripen tomatoes
2 – 4 fresh basil leaves, chopped, plus a few more for decoration
¼ cup olive oil
salt and black pepper to taste

Directions
In a large pan bring the potatoes and eggs to boil until cooked – time depends on size so test the potato with a pointed knife.
While the potatoes and eggs are boiling, dice your tomatoes and add them to a large salad bowl. Sprinkle some salt on them so that their juices are released, which adds great flavor to the salad.
Peel and dice your potatoes and add them to the tomatoes. (I prefer the salad warm, so I don't cool the potatoes under cold water before peeling, just use a paper towel to help you with the temperature of the potatoes or allow them to cool slightly)
Dice your hard-boiled eggs and add them to the salad.
Dress salad with the oil, additional salt, pepper, and chopped basil.
Using two large serving spoons, mix salad well, you might end up needed more oil than what is listed above.

Cosa Mettere in Valigia per l'Italia
Everyone is always asking me what they should pack for Italy,
so I've created a quick reference guide that you can use for your next trip.
Hint: You don't need nearly as much as you think you do!