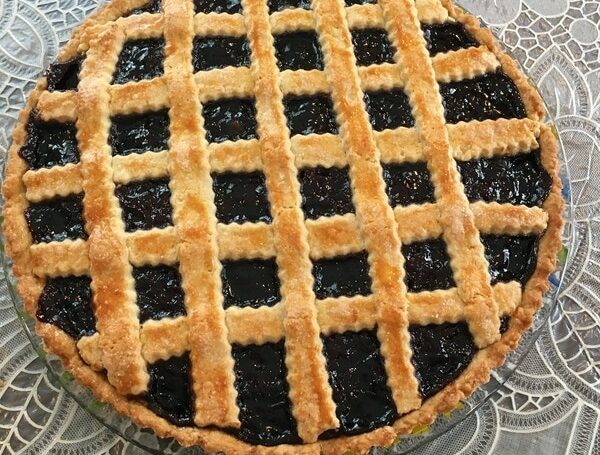 Jam Crostata
In the summer of 1997, I was in between jobs and decided to spend the summer in Italy. My aunt Ida made a delicious jam tart, or as it's called in Italian, "crostata" and I just had to master it myself. I was young and just learning my ways in the kitchen and I must say that this is one recipe that I am very proud for having mastered. Every time I make it, it always brings me back to that wonderful summer of 1997. As you can see, once you make the crust a few times and have mastered the process, you can make numerous variations. I plan on making it with ricotta and pastry cream for the upcoming Easter holiday. I will be sure to post a recipe of that one, as it is unbelievably delicious! It's also sinfully delicious made with Nutella. That and orange zest makes for a great combination.
Spread the crostata dough even on a 12-inch tart. Here, you can see that beautiful orange zest!
Using a fork, prick the dough numerous times. This will prevent air bubbles from forming while baking.
Look at how beautiful it's starting to look! Spread jam of your choice over it. Here, I've got Stonewall Kitchen's Blueberry Jam. It's one of the best ones I have found and is so delicious! The tart cherry one isn't bad either. 😉
Here, we're creating the topping. I've tried the over and under proper lattice topping. I've yet to master it and frankly, whose got time for that! This looks just as beautiful, if you ask me!
Looks good enough to eat!
​Jam Crostata
Ingredients
11 Tablespoons Butter, at Room Temperature for Several Hours
2/3 Cups Sugar
1 Large Egg
1 Large Egg Yolk
2 ½ Cups Flour
Zest of 1 Orange or 1 Lemon
2 Teaspoons Baking Powder
Dash of salt
1-2 Tablespoons Milk
1 13 – 15 Oz Jar of High Quality Jam (do not use jelly)

Directions
Preheat oven to 350 degrees
With a stand or hand-held mixer, mix soft butter with sugar and add egg and egg yolk and mix well.
Slowly add flour, it will look dry and crumbly but it will come together nicely.
Add the zest and baking powder and a dash of salt.
Add 1-2 tablespoons of milk. (Amount will depend on the softness of butter and if the eggs you are using are on the smaller side)
Invert crust on a slightly floured surface and work the dough until it comes together in a ball. Cut about 1/3 of the dough and set aside for topping.
Press the remaining 2/3 of dough into a 12-inch pan that has been sprayed with cooking spray for baking. (If you are concerned about being unable to remove the crostata from the pan after baking, use a tart pan with a removable bottom)
Poke the crust with a fork at least 15 -20 times, this will prevent any air bubbles from forming while baking.
Spread jam evenly on crust.
With a rolling pin, roll out remaining dough and cut 8-10 equal strips of dough about ½ inch wide. Using a pastry wheel will make a decorative topping, otherwise, you can also use a pizza cutter.
Decorate crostata with a lattice topping.
Bake for 35 minutes, cool completely before removing from pan.
Here is one I made with Nutella. It was so amazing, I think I cried a little at the first bite! ​
​
***************************************************************************************************************************
Ready to make your 2019 Italian Travel Dreams come true? Consider joining us in one of our Culinary Adventures! We have three planned!
​
TUSCANY: MAY 1 – 8, 2019. Click here for all trip info and to sign up!
PUGLIA: SEPTEMBER 1 – 8, 2019. Click
here for all trip info and to sign up!
SICILY: SEPTEMBER 10 – 18, 2019. Click here for all trip info and to sign up!

Cosa Mettere in Valigia per l'Italia
Everyone is always asking me what they should pack for Italy,
so I've created a quick reference guide that you can use for your next trip.
Hint: You don't need nearly as much as you think you do!