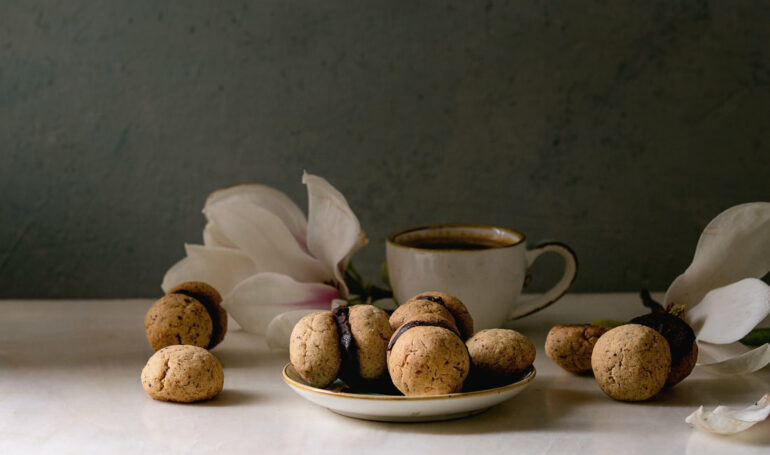 Baci di Dama
Because we now have the "major" holidays behind us, the retail shops are quick to tell us that Valentines Day is next. Truth be told, I was seeing merchandise for Valentines Day well before Christmas!

And what could be more romantic to bake for the most romantic day of the year than Baci di Dama, which translates to "Lady Kisses" in English? These diminutive sandwich cookies are a staple in the hazelnut-growing region of Piedmont. They are crunchy and melt-in-your mouth, all at once. Packed with a major hazelnut flavor, these tiny temptations are addictive. They are said to resemble two lips kissing, brought together by a hint of chocolate in the middle, hence their name. Call them what you will, they are certainly to become a favorite in your household.

For the chocolate, I prefer using baking chips instead of melting bar chocolate. Chocolate chips have emulsifiers, which when cooled, tend to solidify better than using a bar of chocolate. When looking at the ingredient doses, you might thing you will not never get 80 cookies out of this (40 sandwiched cookies), keep in mind, these are supposed to be pretty small. So you have an excuse to go on seconds and thirds.

Baci di Dama
Yields approximately 35 – 40 sandwich cookies

Ingredients
1 cup hazelnuts, (ideally toasted and skinned)
½ cup all-purpose flour
¼ cup sugar
2 tablespoons cornstarch
¼ teaspoon salt
5 tablespoons unsalted butter, cut into ½-inch pieces (chilled)
1 teaspoon vanilla extract
½ cup bittersweet chocolate chips

Instructions
Preheat oven to 350 degrees. Line 2 baking sheets with parchment paper.
Add the hazelnuts, flour, sugar, cornstarch, and salt in food processor and pulse until finely ground, about 30 seconds.
Add butter and vanilla and process until dough comes together, about 30 additional seconds.
Transfer dough to counter and divide into 4 equal pieces. Roll each piece into a 10-inch-log. Using a sharp knife, cut log into 20 equal pieces, then roll each piece into balls. Space them 1 inch apart on prepared sheets.
Bake until edges are lightly browned, 16 to 18 minutes, switching and rotating sheets halfway through baking.
Microwave chocolate chips in small bowl, stirring occasionally, until melted. Spread a bit of chocolate over bottom of half of cookies, then top with remaining cookies, pressing lightly to adhere. Plate and cool for about 10 – 15 minutes before serving.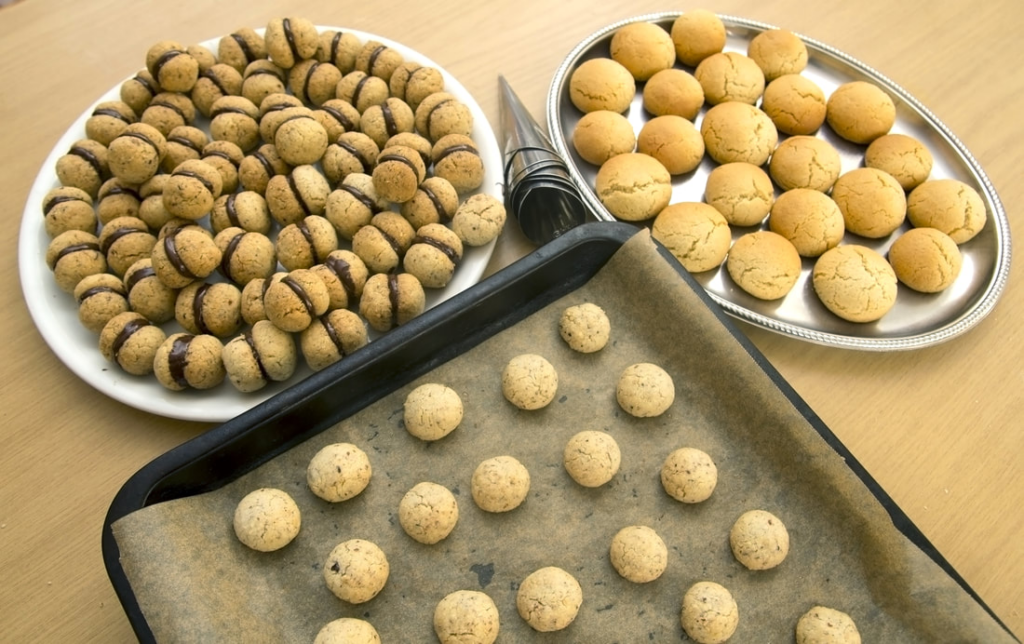 Cosa Mettere in Valigia per l'Italia
Everyone is always asking me what they should pack for Italy,
so I've created a quick reference guide that you can use for your next trip.
Hint: You don't need nearly as much as you think you do!