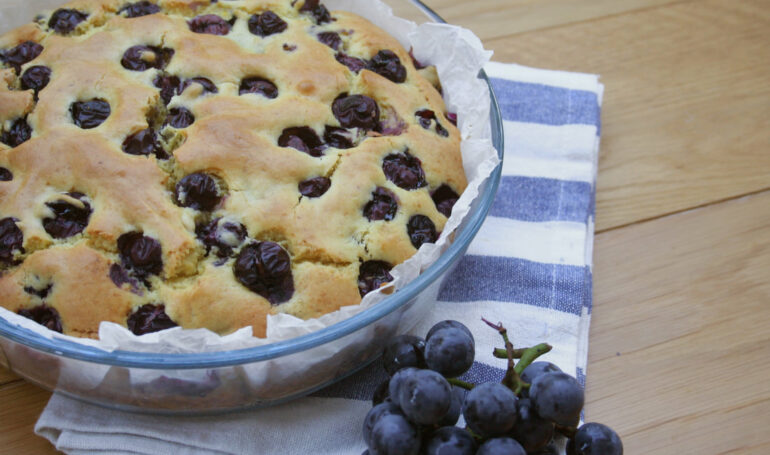 Fall Harvest Cake
It's that time of year in Italy. The grapes are being harvested for this year's wine production! It's an exciting time, to say the least, as well as a delicious period when the locals are enjoying the bounty the land has to offer. Making wine is no small task, so I will leave that to the pros, but one way I am enjoying the season, even though I am not in Tuscany, is by eating and baking with grapes. One of Tuscany's most preferred method of baking with grapes is in schiacciata, which is similar to a sweet focaccia. While I love making fall schiacciata, I love this cake just as much. This cake is a bit more, well, cakey, that schiacciata, which tends to be a bit more bread-like and with added rosemary on top, can be a bit savory. This cake is wonderful for dessert, to be enjoyed with coffee or tea, or even for breakfast. Be sure to use small seedless grapes, as anything large will sink to the bottom of the cake. Topping it with a tablespoon of sugar and some slivered almost is purely optional, but they do add a nice touch. Go ahead and make prepare this delicious cake this fall, you will not be sorry. 
 
Fall Harvest Cake 
Ingredients 
2 cups small seedless grapes (Thompson or Concord grapes) 
11/3 cups all-purpose flour (plus extra for dusting the grapes) 
1½ teaspoon baking powder
¼ teaspoon baking soda
1 large egg
1 large egg yolk
½ cup + 3 tablespoons sugar
Zest of 1 orange or 1 lemon
1 teaspoon vanilla extract 
¼ cup light tasting olive oil (or vegetable oil)
½ cup plain Greek yogurt
¼ cup milk (whole/skim/2%)
Optional: 1 tablespoon sugar
Optional: 2 – 3 tablespoons slivered almonds
 
 Instructions
1. Pre-heat oven to 350F, grease and flour an 8-inch springform or regular cake pan, or spray it with Pam non-stick spray. 
2. Lightly dust the grapes in 1 tablespoon of flour. Set aside. 
3. Whisk together flour, baking powder and baking soda together in a medium bowl, set aside. 
4. In a large mixing bowl, or the bowl of your stand mixer, beat the eggs and sugar on medium speed until light and fluffy, about 3m inutes. Add the zest and vanilla beat until combined.
5. Reduce speed to low and slowly add the oil. Slowly add the yogurt and milk and beat until combined. 
6. Still with speed on low, slowly add the flour just until combined, do not overmix. 
4. Turn the mixer off and add half the grapes into the batter and mix with a spatula. Pour into the pan, and spread evenly. Top the batter with remaining grapes, and very gently press them down with your hand or spatula. 
5. Optional: Sprinkle 2 tablespoons of granulated sugar on top and top with slivered almonds. Bake the bake for approximately 40-45 minutes. Cool before removing from the pan. 

Cosa Mettere in Valigia per l'Italia
Everyone is always asking me what they should pack for Italy,
so I've created a quick reference guide that you can use for your next trip.
Hint: You don't need nearly as much as you think you do!