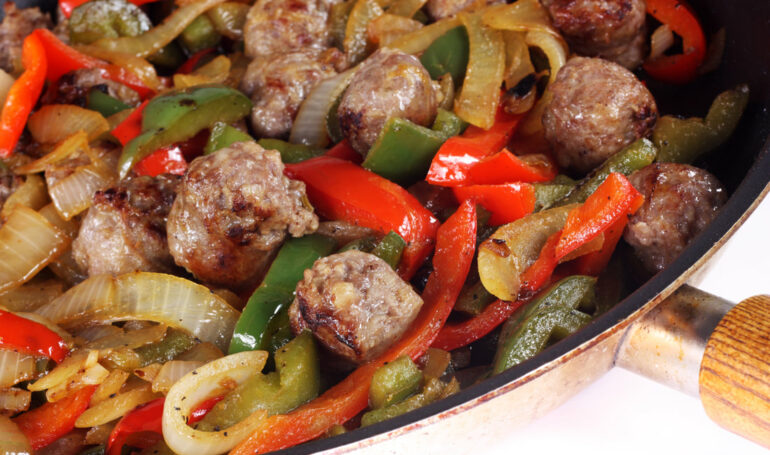 Italian Sausages, Peppers, and Onions
This time of year always brings me back to Italian Street Festivals, celebrating one Saint or another. Did you visit these festivals growing up too? They're a tradition both in Italy, and in the Italian – American neighborhoods here in the US. While growing up in Italy, I recall how all summer long, each week-end was devoted to a particular Saint. The small town I grew up in would celebrate in great fashion including a band, a procession, fireworks, street vendors, and of course, food trucks of various types selling their particular dishes. Now, living only a few minutes away from Boston's North End, one of America's best Italian neighborhoods, I occasionally visit the small neighborhood during a festival, if I am not traveling in Italy, that is.

One of the foods often sold by eager food carts during these festivals, both here and in Italy, is the classic dish of Italian sausage, peppers and onions. The smell of these ingredients frying always brings me back to summers in Italy. And I recreate it at home pretty often. It's a traditional street food of festivals and its deliciousness is adored by all. But if you're not going to Italy this year, and not visiting an Italian-American neighborhood, you can easily make this at home. It's easy, requires just one pan, is dairy, gluten and nut free, and makes the perfect dish for picnics, to take to the beach, or to enjoy on your patio or back yard. While you can use all various colors of peppers, I find red ones to be sweeter and to cook faster than other colors. Freezing the sausages for an hour before preparation will make slicing them easier. And did you know that while cooking this on the stovetop is faster, you can also add all the ingredients to a baking dish and cook at 375°F for about 40 minutes? A wonderful alternative for when you have a bit more time, and don't want to stand behind the stove!


Italian Sausages, Peppers, and Onions
​Serves 4 – 6
Ingredients
4 tablespoons olive oil
3 sweet red or green bell peppers, seeded, thinly sliced
2 small yellow or white onions, diced
1 ripe tomato, chopped
2 tablespoons chopped parsley
Sea salt to taste
Freshly ground black pepper to taste
2 teaspoons dry Italian herbs
6 Italian sausages (sweet or hot), diced

Instructions
In a large sauté pan over medium heat, add the oil and heat for 1 minute. Add the peppers, onions, tomato, and parsley. Season with salt and pepper to taste, add the dry herbs and cook for 5 minutes, until peppers are slightly softened and onion is a bit translucent. If oil is drying up too quickly, reduce the heat.
Add the sausages to the pan and stir to combine. Cook sausages and peppers together for 15 minutes, stirring during the process. If the mixture looks dry, check the heat and adjust accordingly. Add a few tablespoons of olive oil if needed. You can also add a few tablespoons of water.
Remove from the heat, add to serving platter, and serve hot or at room temperature.

Cosa Mettere in Valigia per l'Italia
Everyone is always asking me what they should pack for Italy,
so I've created a quick reference guide that you can use for your next trip.
Hint: You don't need nearly as much as you think you do!