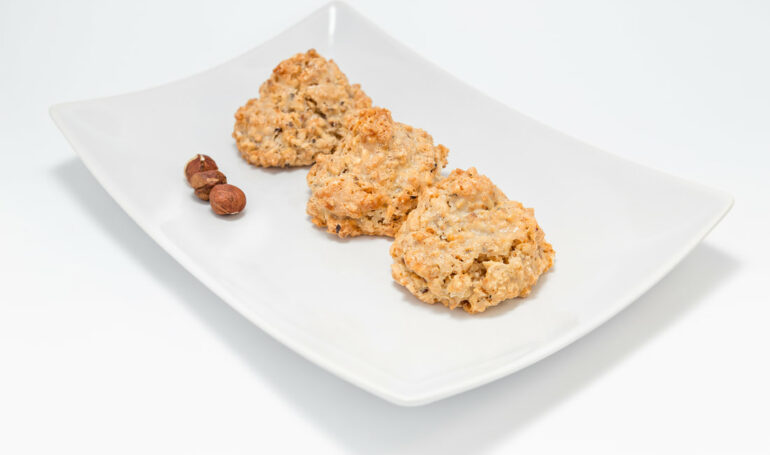 Brutti Ma Buoni
It's rather unfortunate that these delicious and light meringue cookies have such an unsavory name, but brutti, ma buoni, or "ugly but good" deserve a place on your cookie platter, despite their outwardly appearance. Believed to originate from Piedmont, the largest hazelnut-growing region in Italy, and birthplace of Nutella, these cookies have just a few ingredients, are not labor intensive and are very tasty! Prepared at home and also sold at many pastry shops, these mounds of deliciousness come together in well under an hour from start to finish, are light and crunchy at the same time, and as a bonus, they're gluten free! They also call for just a handful of ingredients! It might just become your new favorite cookie. While great with a cup of espresso or tea, these delicious treats are also wonderful to end a meal. Pair them with some Vin Santo from Tuscany or Marsala wine from Sicily for a heavenly match.

Brutti Ma Buoni
Yields 32 – 34 cookies
Ingredients
1½ cups toasted hazelnuts
1 cup sugar, divided
Pinch of salt
4 large egg whites

Instructions
Preheat oven to 300 degrees and line two baking sheets with parchment paper, set aside.
Add hazelnuts, ¼ cup sugar and pinch of salt to a food processor and finely grind the mixture until it resembles coarse breadcrumbs.
Using the whisk attachment in your stand mixer, whip the egg whites to soft peaks. While mixing, slowly add the remaining ¾ cup of sugar and continue whipping until stiff peaks form.
Gently fold in the chopped nuts into the egg whites until well incorporated.
Using a 1½ inch cookie or ice cream scoop, scoop out cookies on prepared pans, placing cookies 2 inches apart. Bake for 25 – 30 minutes. Cool for 15 minutes before removing from the pan.

Cosa Mettere in Valigia per l'Italia
Everyone is always asking me what they should pack for Italy,
so I've created a quick reference guide that you can use for your next trip.
Hint: You don't need nearly as much as you think you do!