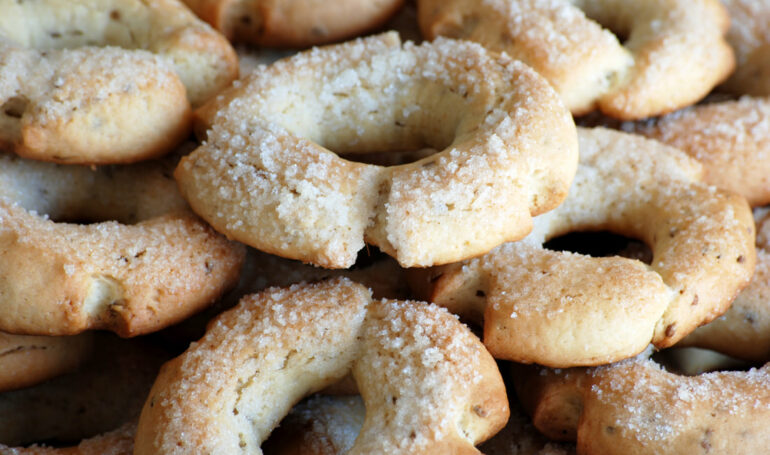 Anise Wine Rings
Sweet or savory, soft or crispy, sugared, or with black pepper or anise seeds, taralli are an institution in itself in southern Italy and just about every household has their own version, in fact, each household likely has several versions! These are a specialty of the Puglia region, but also prepared in Sicily and Calabria. The savory kind are used as appetizers, to be enjoyed with antipasti such as cubed cheese, salami or olives. The sweet version, such as these, are enjoyed with a cup of espresso for breakfast or afternoon snack to tie one over until dinner.

This recipe yields anywhere from 32 to about 38 cookies, depending on the size and thickness of the rings. These are dairy free, as there is no butter in them, so perfect for anyone on a dairy-restricted diet. A sweet or sparkly white wine such as a Spumante from Asti will pair nicely with these little taralli.

Anise Wine Rings
​Yields 32 – 38 Cookies
Ingredients
3½ cups flour + more for shaping
2 teaspoons baking powder
2 teaspoons anise seeds (or more, depending in preference)
¼ teaspoon salt
3 eggs
1 cup sugar + extra for dusting
½ cup light tasting olive oil
1 cup dry or sweet white wine

Instructions
Preheat oven at 350 degrees and line two baking sheets with parchment paper.
In a bowl, mix the flour, baking powder, anise seeds and salt and set aside.
In the bowl of a stand mixer, whisk the eggs on high speed until light and creamy, about 4 – 5 minutes. Add the sugar and continue whisking until eggs are pale yellow, about 3 additional minutes.
Reduce speed to low and add the oil and wine until combined. Slowly add the flour mixture until well incorporated, mix without overbeating the dough. The dough will be relatively soft.
Scoop a few tablespoons of the dough and with floured hands, roll into 6 – 7-inch strands that are about ½ inch in diameter. Shape into a ring and press the ends to combine. (Optional: Sprinkle a bit of sugar on top.)
Bake taralli for 22 – 25 minutes or until golden.

Cosa Mettere in Valigia per l'Italia
Everyone is always asking me what they should pack for Italy,
so I've created a quick reference guide that you can use for your next trip.
Hint: You don't need nearly as much as you think you do!