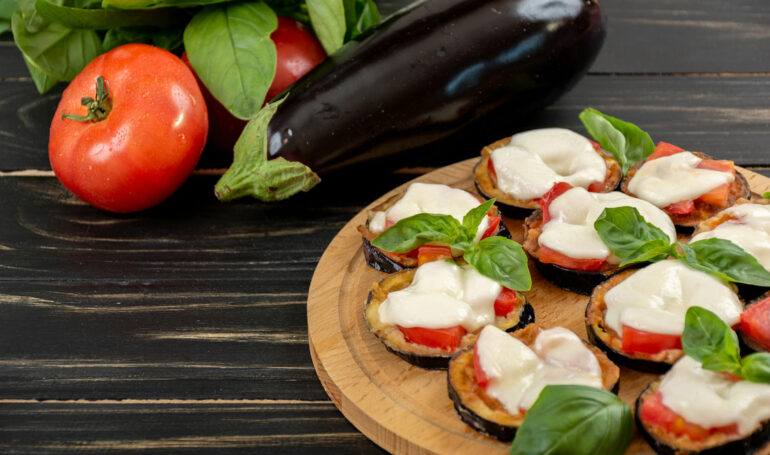 Eggplant Pizza
It's that time of year! Is your garden bursting at the seams with fresh produce, like eggplants? Or perhaps, you're like me, and your garden isn't really thriving this year because of too much rain? That's the case for me this year, so instead, I'm visiting my local farmers markets weekly. That's what I have been doing since last month, and enjoying someone else's hard work, while supporting these lovely small businesses instead. It's a win-win! I can still enjoy fresh produce, and I'm supporting local farmers in the process! Plus, my dog loves to go to the farmers markets and get some social time with other pups. One item that I recently purchased are eggplants. They're just wonderful this time of year and I cook them a variety of ways, including the 'labor of love' dish of parmigiana. It's delicious, and if you've made it before, you know it's a bit of work. Do you love the flavor of eggplant parmesan but not the work involved? Than I am here to propose to you an easier dish, with similar flavors: Eggplant Pizza! This dish takes all the flavors of the traditional Sicilian dish and diminishes the work completely. These lovely pizzette are perfect straight from the oven, but also wonderful served at room temperature or even cold. A great way to get the kids to eat more vegetables, this is a wonderful family recipe that's perfect for a quick week-night supper, or even just as a snack! In addition to being quick, this dish is also vegetarian! Try it this summer with the bounty of fresh eggplants!

Eggplant Pizza
​Serves 3 – 4
Ingredients
¾ cups fresh breadcrumbs
¼ cup grated Parmesan cheese
2 medium eggplants, sliced to ¼ inch slices
Sea salt to taste
Olive oil for drizzling
1 cup crushed tomatoes
1 cup shredded mozzarella or fresh mozzarella slices

Instructions
Preheat the oven to 400°F. Line a standard baking sheet with parchment paper and set aside.
Add the breadcrumbs and Parmesan cheese to a medium bowl, mix and set aside.
Season the eggplant slices with the desired amount of salt and dip them into the bread crumbs and cheese mixture, patting the coating to stick to the eggplant. Place on the prepared baking sheet.
Lightly drizzle some olive oil on the eggplants and place them in the oven for 12 to 13, minutes, flip them mid-way until coating is slightly browned on both sides.
Remove tray from the oven. Top each slice with 1 to 2 teaspoons of the tomatoes and sprinkle on some cheese. Return eggplants to the oven for 2 to 3 minutes, until cheese is bubbly and melted. Plate and serve.

Cosa Mettere in Valigia per l'Italia
Everyone is always asking me what they should pack for Italy,
so I've created a quick reference guide that you can use for your next trip.
Hint: You don't need nearly as much as you think you do!