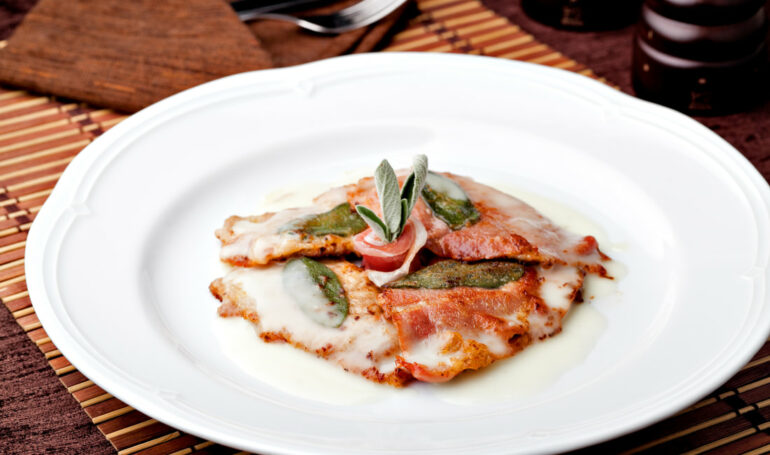 Veal Saltimbocca
If there is one dish that takes mere minutes to prepare, is ideal for week-night dinners, but worthy of guests, and is adored by adults and children alike, it would have to be veal saltimbocca. Enhanced by the flavor and saltiness of the prosciutto, this recipe is surprisingly simple to prepare. The term "saltimbocca" literally translates to "jump in your mouth," and it is believed that the deliciousness of this dish is so extraordinary, that it will literally jump in your mouth! This dish is a favorite of Roman cuisine and is often found on restaurant menus, both here and in Italy. And talk about a kid friendly recipe, children adore the saltiness of the prosciutto in this dish. Because the veal is generally very thin, this dish takes a mere 20 – 25 minutes from start to finish. You could follow the recipe as is and substitute thin chicken breasts cutlets if you prefer. Adjust cooking time accordingly as even the thinnest chicken cutlets will be thicker than veal and require a few extra minutes of cooking time.

Veal Saltimbocca
Ingredients
4 – 6 thin veal cutlets
Salt, to taste
4 thin slices of prosciutto
8 large sage leaves
½ cup flour
3 tablespoons olive oil
4 tablespoons butter, dived
¾ cup chicken stock

Instructions
Lightly season the veal with salt. Lay a slice of prosciutto over the veal. Place 1 – 2 sage leaves on top of the prosciutto.  Stitch prosciutto and sage into the veal with a toothpick. 
Dredge the veal cutlets into flour, shaking off any excess. 
Add the oil and 2 tablespoons of the butter to a large skilled set over low – medium heat. Add the veal, prosciutto side down and cook over medium heat until nearly cooked through, about 5 minutes. Turn veal and cook an additional 2 minutes. Transfer the veal to a clean plate. 
Add the remaining butter to the skillet. Add the chicken stock and bring to a boil. Cook until reduced by half, about 3 minutes.  
Return all the veal to the skillet and simmer over moderate heat for an additional 2 minutes. Transfer the veal to plates, remove the toothpicks, and pour the sauce on top.

Cosa Mettere in Valigia per l'Italia
Everyone is always asking me what they should pack for Italy,
so I've created a quick reference guide that you can use for your next trip.
Hint: You don't need nearly as much as you think you do!