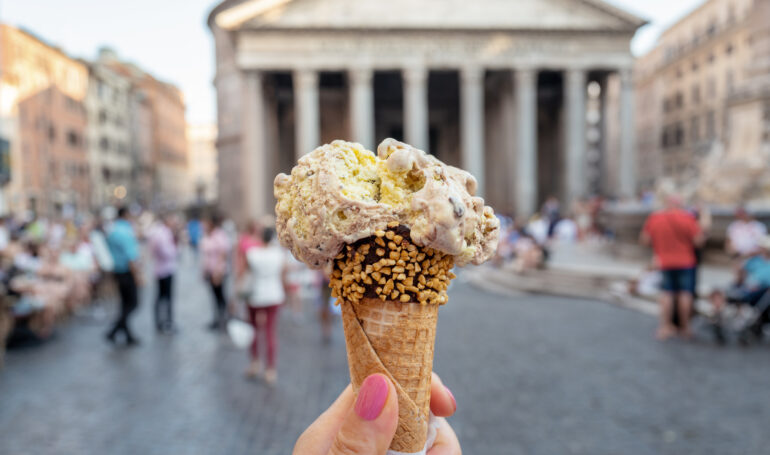 How to Order Gelato in Italy
How to order gelato in Italy? Really?
Do we really need a blog post on how to order gelato in Italy? How hard can it be? Well, it's not hard at all, but here are my insights, which I hope you'll find useful on your next trip to Italy.
First, let's not call gelato "ice cream." It doesn't matter what the guidebook or translator says. They are two different products, with different production methods and different fat contents. See image below of the main differences.
And yes, we do need a post, and here's why.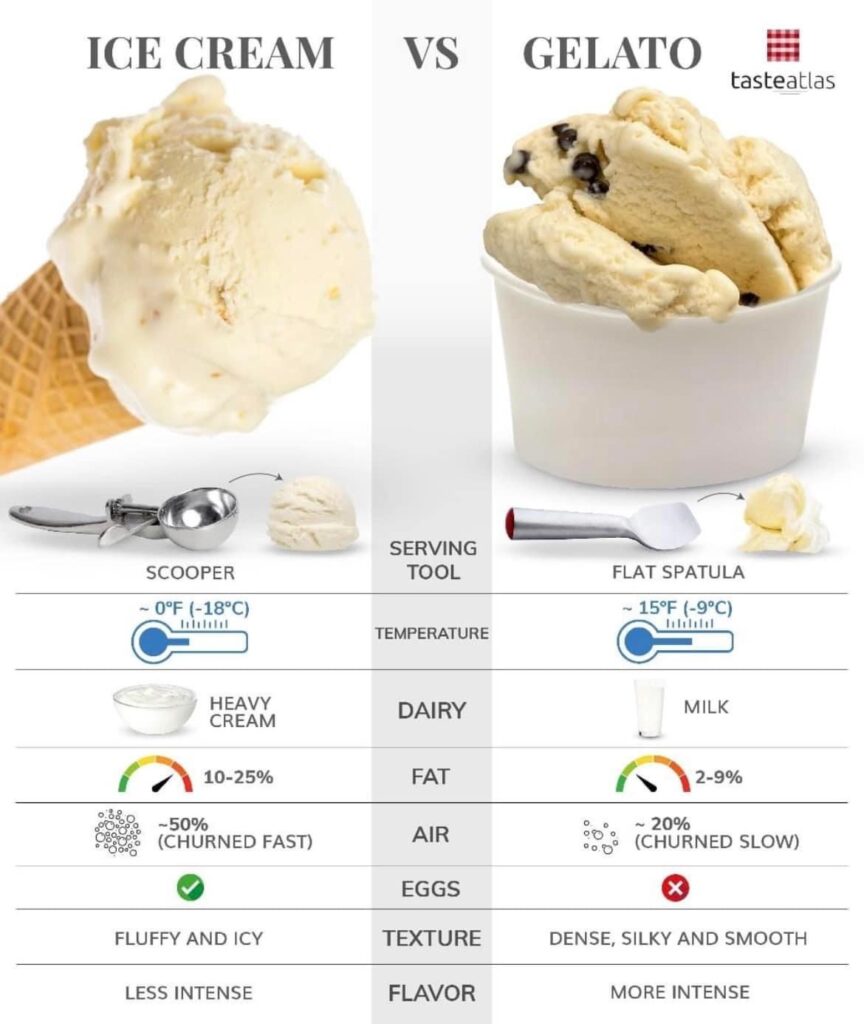 Having authentic gelato in Italy should be on everyone's must-do list when traveling to this great country. To go to Italy and not stop at a real authentic gelateria would be like going to Pisa and not seeing the leaning tower, or to Rome and not stopping at Trevi. It's practically unheard of, and you would be doing yourself a disservice and severely missing out.
How to Spot the Real, Artisanal Gelato in Italy
Yes, you actually can get bad, or improperly made gelato in Italy. Read on to learn how to avoid this form happening to you!
Color
Say goodbye to the emerald pistachio and fluorescent strawberry. The color must be natural and congruent with the declared taste. This is especially true for fruit flavors. During processing, the fruit oxidizes a little, and the vivacity of the color fades, so all the bright colors you will see in the trays are only the results of dyes added to entice you. For example, banana, one of my favorites, white, please! And pistachio? Pale green, not vivid green!
Taste
This seems clear-cut. The hazelnut? It tastes like hazelnut! And lemon, well, lemon! Every taste must be recognizable. Gelato that do not taste distinguished from each other are prepared with a common base, with the corresponding ingredient only added at the end.
The Containers
If the gelato overflows above the containers, it's not a good sign. The mountains that emerge from the trays only indicate that the ice cream is far above the cold line due to the refrigeration system inside the display cases, yet it does not melt. How can that be? That gelato was made with a dose of hydrogenated vegetable fats, which resist higher temperatures. Turn around and say goodbye to that shop immediately!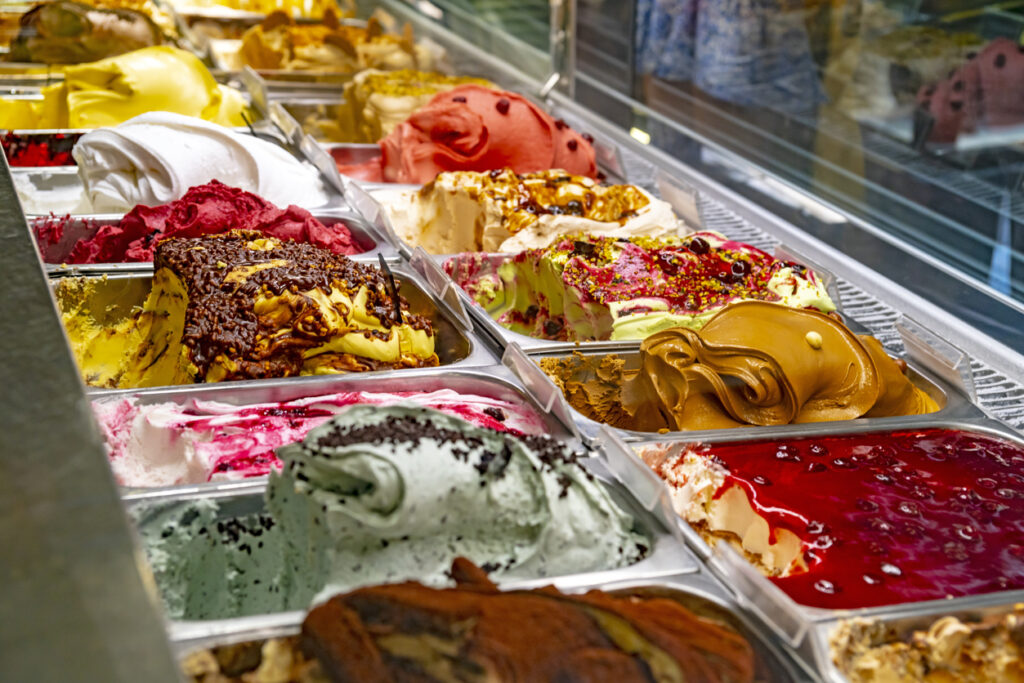 The Temperature
Unlike popular belief, gelato must not be excessively cold. Too cold can indicate poor air incorporation due to an incorrect balance in the recipe. So if it gives you an "ice cream headache," – it's a sign of improperly made ice cream and gelato.
Creamy – But Not Too Creamy
Actual artisan gelato is not oily, nor liquid and inconsistent. It must be creamy at the right point. If it seems too thick, it may contain too much fat.
No Crystals
Well-made gelato must be soft and smooth. If you find ice crystals, it's a sign of a poorly stored product. The presence of crystals also demonstrates sudden temperature changes. It's better to stay away.
Thirst
Have you ever had ice cream and immediately needed to reach for a glass of water? An excellent gelato shouldn't make you thirsty. It should be refreshing and, for some fruity flavors, almost thirst-quenching. Some industrial ice creams add vegetable oil, so if you're thirsty afterward, it could be that you've just had a mass-produced product, not an artisanal one.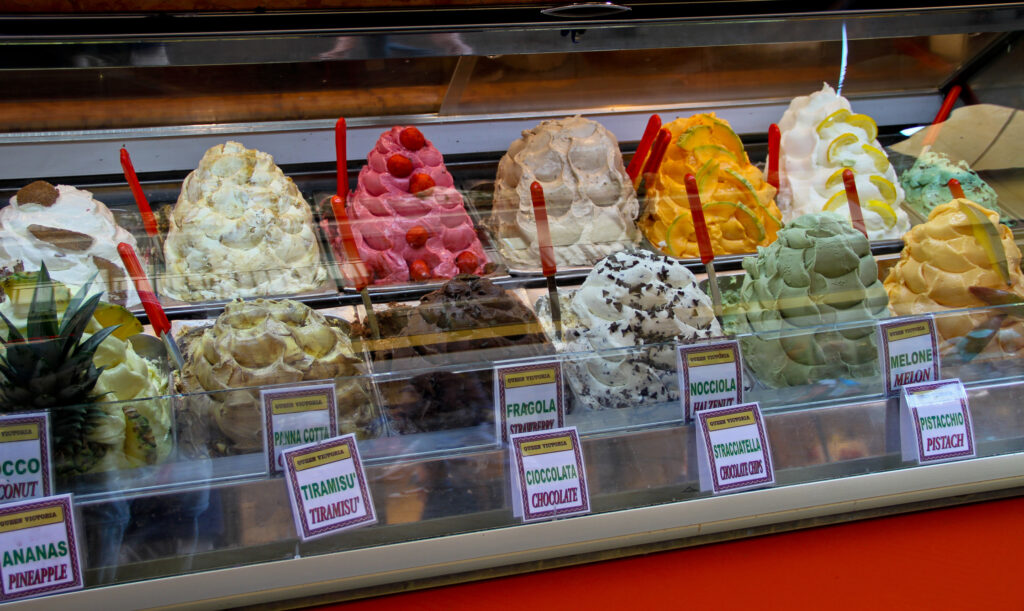 Where to Order your Gelato
Now let's identify the recommended location to purchase your gelato in Italy. You have the obvious, gelateria, but you have other options, such as the bar, and the pasticceria. But the gelateria is the place to be, where they obviously specialize in just gelato, where you will find the most extensive selection, the freshest flavors, and the most qualified staff to scoop you the perfect gelato. Up next is the bar. Remember that the "bar" in Italy isn't selling just beer and wine (although some do), but it's essentially a cafe. Their specialty is espresso, cappuccino, and morning pastry. But some frequently add gelato to their menus, especially in the summer months. Next is the pasticcerie. They specialize in pastries, such as rum babas, sfogliatelle, paragine, etc. They are delicious and glorious, but they do not specialize in gelato. Like bars, they might sell some gelato in the summer, but this is not their specialty.
Visiting the Gelateria
If you are used to eating your food first, then paying for it, you must change that mentality for the gelateria, unless you are sitting down and enjoying table service, which will cost you substantially more. If you are grabbing your cone to go, you pay first. When you walk in most shops, you will see a beautiful window displaying their goods. Tucked in some corner in the gelateria, or perhaps in full view, you will see a counter clerk sitting behind a cash register. It is there that you go and pay for your treats. Tell them what you want (cone, cup, small, large….) and how many, pay accordingly, and they will hand you a receipt. If you are still determining what you want, it's perfectly acceptable to take a peak before paying. Next up, hand that receipt to the clerk behind the counter, order and they will prepare you your requested treat. Keep in mind, gelaterie in the summer get very, very crowded, and Italians prefer to avoid forming lines, for just about anything! Be respectable, but do let them know when you it's your turn. Usually, waving your receipt to the clerk will get their attention.
Will it be a Cup, Cone, or Panino?
Cup requires little explanation; it's just that. Great for kids to eat while in a stroller, or you are looking for something easy to carry while sightseeing. Next up is the cone. The most popular cones in Italy are the sugar ones. Pointy and crisp, they are more widely used than what we know as cake cones here in the States. Some gelaterie make their own, most do not, but you will know if yours is freshly made! It's delicious and a treat in itself. A fresh cone almost tastes like a vanilla pizzella. A more oversized waffle cone may also be also available in some gelato shops. My preferred option, the most caloric option that can replace a full meal, is a panino al gelato. It's exactly as it sounds. A freshly made (sometimes it's still warm when served) butter brioche bun, cut in half and filled with gelato, topped with freshly made whipped cream. It's heaven on a plate. If the bun is warm, it melts the gelato a bit, soaking in all the deliciousness. It's a messy, over-the-top treat that everyone should experience at least once. Or once a day while on vacation. This one isn't really a grab and go option, you're going to want to sit down for this one!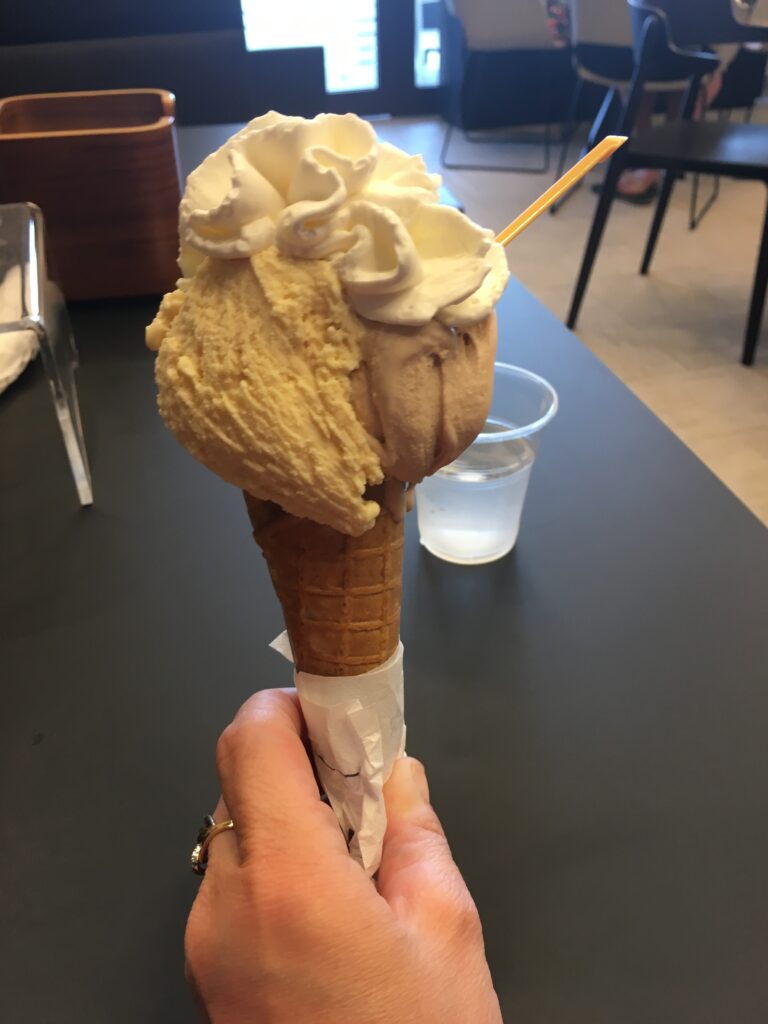 Flavors
Once you have decided on your vessel of choice and paid for it, it's time for the most critical decision: flavors. Every gelateria will have the staple flavors: coffee, hazelnut, chocolate chip, chocolate, vanilla, strawberry, pistachio, lemon, and the like. Many will have other flavors such as fig, cantaloupe or other seasonal fruit when in season. If you can't tell the taste by looking at them, don't worry; name cards are placed nearby, and many are also in English. Feel free to point to one if you are in doubt and ask: "Che gusto e'?" Meaning, what flavor is that? It's okay to ask for a sample, even two, if it's not crowded. But don't ask to taste all of them!
Flavor Combos
When combining your flavors, remember how they will complement each other. For example, my favorites include hazelnut, coffee, pistachio, lemon, banana, peach, and coffee. You can see how some of these will match well, while others do not. For example, lemon and coffee? Although I love both, combined is a no for me. But again, perhaps they are for you! Lemon and peach? Perfectly refreshing! Hazelnut and pistachio is also a great combination, and my default flavors when in southern Italy, as these are the most popular flavors of the south. I limit my selection to two flavors. And whipped cream? Always! After all, gelato is made with much less fat than US ice creams, so I am saving on calories there. Load me up on the whipped cream!
Having gelato in Italy is as authentic of an experience as anything. A delicious gelato in a great gelateria in a world-class city such as Rome or Florence (or anywhere in Italy for that matter) might be one of your favorite memories of the trip!

Where to get the Best Gelato in Italy
Click the highlighted shop name to be taken to their websites.
In the "city of a hundred towers," you will find the world-famous, award-winning shop Gelateria Dondoli. It is easily recognized by the permanent queue of people waiting in line. It runs fast, so don't worry. Mainly, local ingredients such as local milk, saffron, and Vernaccia from San Gimignano are used. Among the most popular flavors you will find Crema di Santa Fina (saffron and pine nut cream), Champelmo (pink grapefruit and sparkling wine), Dolceamaro (cream with aromatic herbs), and Vernaccia sorbet. You'll also find the classic flavors even these sound strange to you.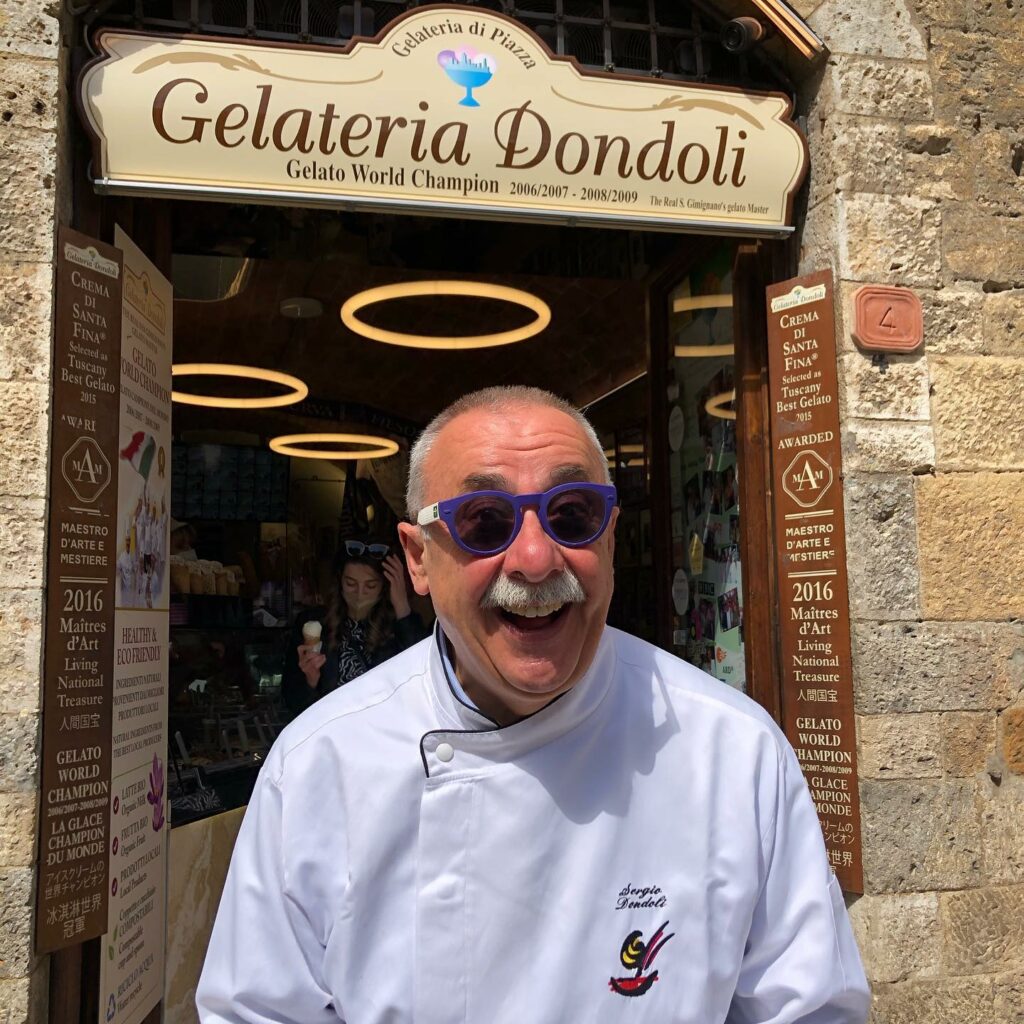 On the outskirts of Bologna, Andrea Bandiera's Cremeria Scirocco has been producing one of the best artisanal gelato in the region and beyond since 2004. The formula is simple, with excellence in the choice of raw materials, innovative flavors, and great classics. The blackberry granita is fantastic; also try the savory ice cream flavors! The range of lactose-free options is exciting.

One of the most famous, and oldest gelato parlors in Rome is Giolitti. Their extensive options, flavors and concoctions might have your head spinning. And if you are staying in Rome, you will certainly be returning more than once! Their generous portions can easily replace lunch!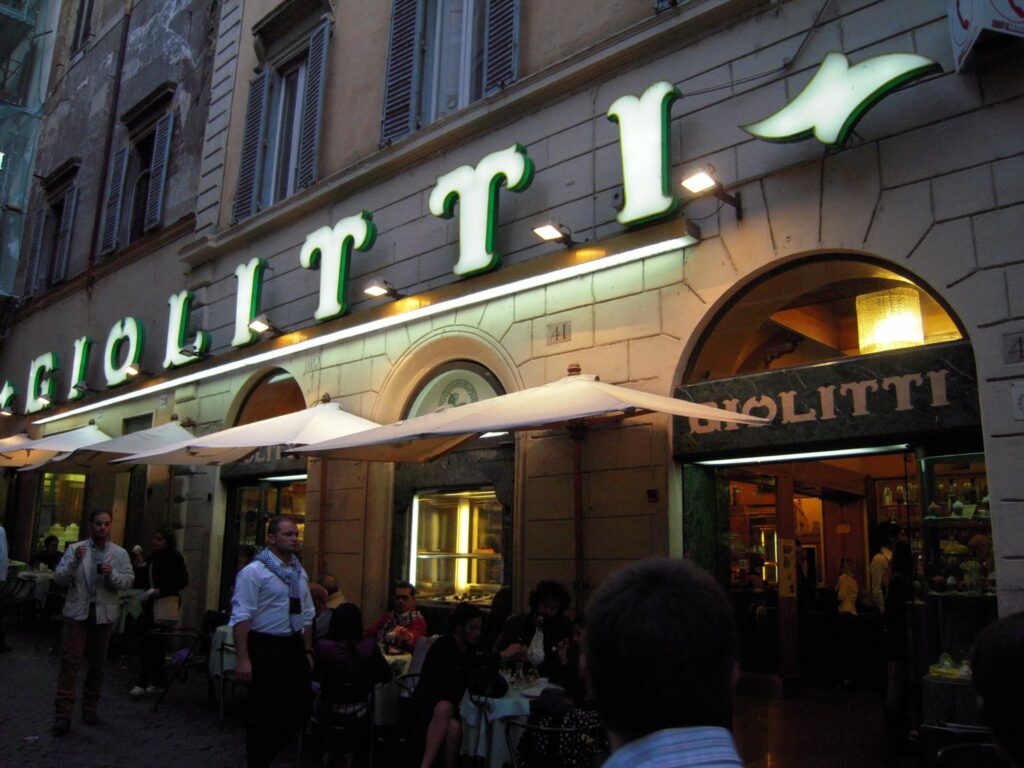 This gelateria makes super creamy and delicate gelato. It is located just after Ponte alla Carraia (the second bridge west of Ponte Vecchio, on the Oltrarno side). Even the shop window is a feast for the eyes! A favorite flavor is the delizia carraia, with pieces of white chocolate and pistachio sauce on top. As I am a sucker for anything coffee flavored, the tiramisu flavor is very creamy and tasty and has the consistency of whipped cream.

As for Me?
Io prendo un panino al gelato, con nocciola e pistaccio, con panna! I'll have the panino with hazelnut and pistachio gelato, topped with whipped cream, of course!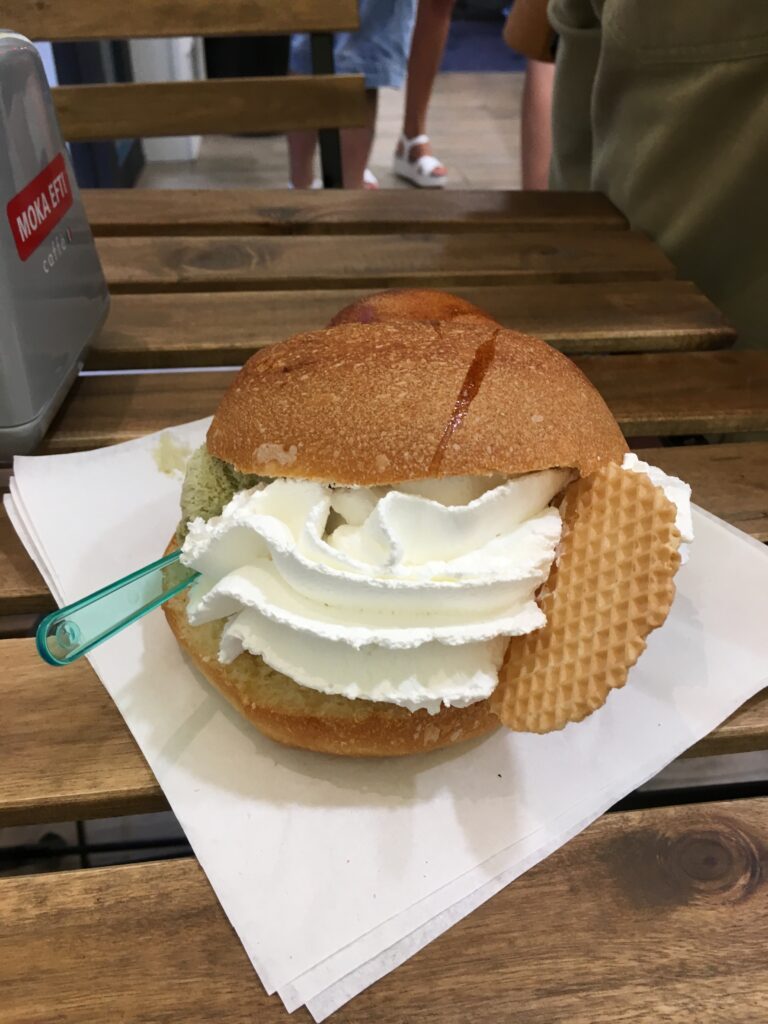 Cosa Mettere in Valigia per l'Italia
Everyone is always asking me what they should pack for Italy,
so I've created a quick reference guide that you can use for your next trip.
Hint: You don't need nearly as much as you think you do!