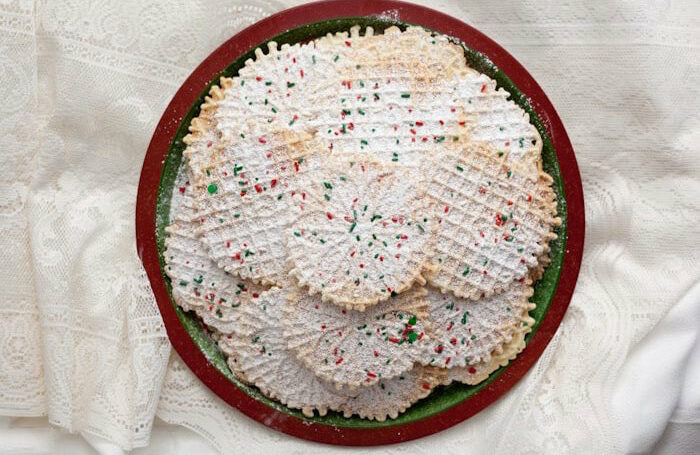 Anise Pizzelle
Oh pizzelle…. How I love thee… Whether it's Christmas, Easter, Mother's Day or just a plan ol' Sunday, (is there such a thing, really? I LOVE Sundays!), pizzelle are always welcomed in my household. Traditionally made with anise, and that is my preferred method, but they can also be made with vanilla, rum, lemon or orange or even chocolate. Some folks dip them in chocolate, but I find that to be just a bit too much (who knew chocolate could ever be too much!) and not very complimentary to the anise. I just dust mines with a bit of confectionary sugar and a few simple sprinkles here and there.
As far as the fat used in these, some recipes will call for oil, others margarine, lard or Crisco. But give me good, old fashioned melted butter and that's the only way I will ever make them. They crisp up nicely, don't have an aftertaste and cook to perfection in their special pizzelle press. Lay them on paper towels or a clean cotton kitchen towel to cool off before plating. See image below.
Pizzelle make really great ice cream cups! How, you might ask? After removing them from the press, immediately place the warm pizzelle in a small bowl and press a bowl of the same size right on top. Let them cool like that for about one minute then remove and gently place them on a baking sheet. Set aside until ready to scoop some ice-cream in them!
Ingredients:
3 eggs
3/4 cups of sugar
1 stick of butter, melted and cooled
2 teaspoons of anise extract (or vanilla, rum, lemon)
1 3/4 cups of flour
2 teaspoons baking powder
Directions
1) In a large bowl, beat the eggs and sugar with an electric mixer until combined.
2) Add melted butter and extract and blend well.
3) Slowly add flour and baking powder until well combined. Do not over mix dough. The dough will be rather stiff.
4) Plug in your pizzelle iron and heat up according to instructions, usually several minutes. Most machines make two pizzelle at a time, some machines make "mini" pizzelle that you can press four at a time.
5) Drop a rounded teaspoon of dough on each side of the the pizzelle iron, locking the press with the lock that comes with the machine. This ensures thin, crispy pizzelle. If you do not press it, the pizzelle will be relatively thicker.
6) Depending on your iron, it will take anywhere from 30 – 60 seconds to cook through. The pizzelle will be cooked when they turn into a golden color. They will be a bit soft when you remove them from the press, but they will crisp up as they cool.
7) Cool on clean paper towels or clean kitchen towel. See image above.
8) Dust with confectionary sugar, plate and enjoy.
Tips: I use cooking spray for the first two pizzelle only, just to make sure they do not stick. You do not need to spray for each pizzelle pair, just at the beginning. Each iron is different. Do not be disappointed if the first few do not come out just right. It might take a few until you get them just right. Some of the dough might spill to the outside if you are using too much, or you might not get a full pizzella if you are using too little dough. Again, it might take a few tries to get them just right, but practice makes perfect! They are worth the effort! Also, don't like anise? You can substitute vanilla, lemon or any other extract you like!
Yields: 34 – 38 Pizzelle.

TRAVEL WITH US IN 2023! CLICK LINKS BELOW FOR ALL THE INFO!
THE TUSCAN COUNTRYSIDE: MAY 6 – MAY 13, 2023.
BOLOGNA and EMILIA ROMAGNA: MAY 14 – 21, 2023
THE AMALFI COAST: MAY 22 – 29, 2023
CALABRIA: SEPTEMBER 1 – 8, 2023
PUGLIA: SEPTEMBER 9 – 16, 2023

Cosa Mettere in Valigia per l'Italia
Everyone is always asking me what they should pack for Italy,
so I've created a quick reference guide that you can use for your next trip.
Hint: You don't need nearly as much as you think you do!